Pantry Pasta Is an Essential Inflation Dish
Photo by Amirali Mirhashemian/Unsplash
Food
Features
cooking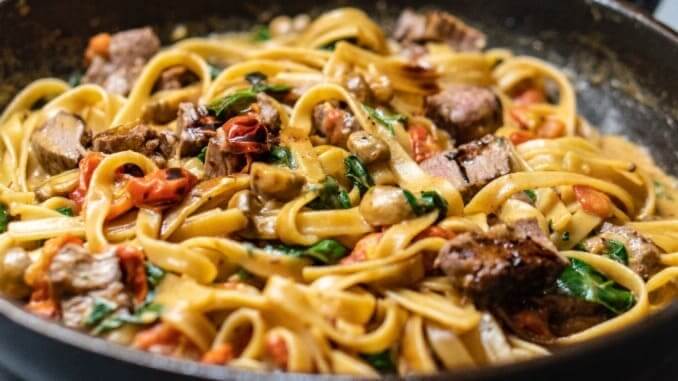 Lately, with inflation pushing essentials to all-time highs, grocery shopping has become a drag. I'll fill up my basket (which I use in lieu of a cart to limit my purchases) and head to the self-checkout, confident that I've stayed within my budget. Once I've finished scanning, though, I'm met with a shockingly high final total despite the paltry size of the pile of groceries I bag and carry home.
I'm not alone in feeling this way. The USDA reports that the consumer price index, which is a measure of the change in cost of commonly purchased food items, for at-home food purchases rose by over 11% from December 2021 to December 2022—and shoppers are feeling the pinch. These kinds of price hikes, when not accompanied by an increase in wages, leave many individuals struggling to maintain the diets and lifestyles they've become accustomed to.
For many of us, this means rethinking the way we cook at home. Perhaps that means purchasing less prepared foods or turning that beautiful salmon filet down and opting for a can of tuna instead. For me, it means limiting my trips to the grocery store. I could easily go once a day and just browse the aisles, picking out snacks and condiments that look appealing, but unfortunately, that usually leads to a waste of both my money and my food.
Therefore, I've been trying to get better at working with what I already have at home instead of running to the grocery store whenever I realize I'm missing what seems like an important ingredient. And if there's one dish that I can nearly always pull off, no matter how bare my fridge and pantry seem, it's pantry pasta.
Pantry pasta isn't just one dish. It doesn't involve any required ingredients beyond the pasta itself. And it's more of an invitation to riff than an actual recipe. As the name suggests, it's an opportunity to scour your pantry, your fridge, your freezer—whatever's in your kitchen—and find a way to bring those ingredients together to create an easy, affordable pasta dish. Not only is it a way to stretch your grocery dollars a bit further, but it's also an exercise in creativity.
When you're following a recipe, you don't have to think about what ingredients, spices and flavors go together. All that work has already been done for you. But when you're making a pantry pasta, you have to think more deeply about what you're cooking. What do your ingredients taste like when they're raw versus cooked? What effect will two spices produce when they're added to the same dish? What works with the ingredients you've already picked out, and what should you save to use in another dish? Thinking about how flavors work together in this way has made me a better cook, and now, I often use recipes more for inspiration than as how-to guides.
There are some key ingredients that can be used in almost any pantry pasta. If you ask me, garlic is an imperative. It adds an incredible amount of flavor to a pasta dish, and even if you're not working with many other ingredients, some roasted or fried garlic will go a long way in ensuring your meal turns out delicious. Similarly, onions, scallions, shallots and chives can add an intensity and freshness that can carry other flavors quite well. Lemon juice and/or lemon zest is also an easy addition that offers the kind of acidity that takes every pasta dish to the next level. In the absence of lemon, vinegar offers a similar sharp brightness.
If you ask me, chili crisp is also an invaluable ingredient to include in a good pantry pasta, but it's not absolutely essential. Spice lovers can add crushed chili flakes or diced jalapeño to their pasta to give it the heat they crave. And if you decide not to opt for an oil-heavy chili crisp, you'll likely want to add some fat to your pasta. Olive oil and butter are the standards, but you can get creative with lard or chicken fat if you happen to have some on hand.
To ensure the heartiest, most filling pasta dish possible, make sure to add some protein. There are really limitless possibilities here. Canned or tinned fish is an easy option, as you can keep some in the pantry to use whenever a pasta craving hits. Beans, whether dried or canned, are also an affordable, shelf-stable product. And of course, you can always use the leftover cooked meat or even deli slices you already have in the fridge.
These are just some ideas to get you thinking about how to make your own pantry pasta, but you shouldn't take these suggestions as gospel. The beauty of the pantry pasta is the fact that you get to decide on the perfect combination of flavors to whet your appetite. Plus, you might just find that it helps you save some money in the process. Sounds delicious to me.
---
Samantha Maxwell is a food writer and editor based in Boston. Follow her on Twitter at @samseating.