Things May Be Bad, But at Least the Cake Pop Era Is Finally Over
Photo by American Heritage Chocolate/Unsplash
Food
Features
dessert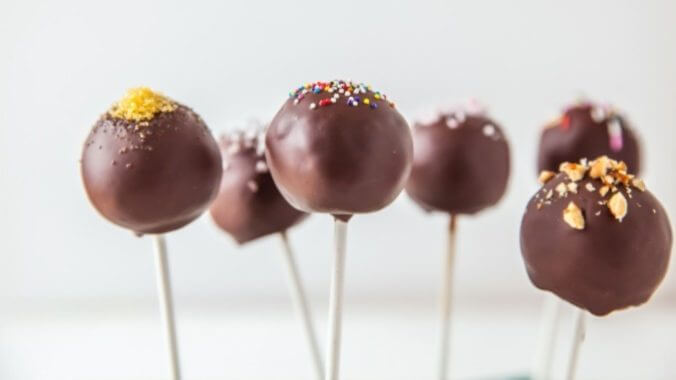 When I was in college, I worked at a gluten-free bakery for a few months. Besides selling sandy cupcakes to entitled mothers of children with unconfirmed allergies, my main job was to crumble up unsold cupcakes, mold them into balls, dip those balls into melted chocolate and cover them with sprinkles over and over again. I much preferred this task to dealing with suburban Georgia moms who repeatedly asked how many calories were in our sprinkles, so I became the designated cake pop person. Soon enough, my six-hour shifts were dedicated entirely to attempting to make old, dried-out cupcakes somewhat appealing to six-year-olds with tummy issues.
This was during the height of the cake pop craze, when Starbucks was still selling slews of cake pops at every drive-thru window across the country. These days, cake pops' popularity is seeing a major slump: Tastewise food trends reports a marked decline in mentions of cake pops in the past year. It seems like the sugary, quintessentially millennial snack may just be meeting its end.
For the cake pop lovers out there, this news may be a bummer: There's a good chance you're not seeing as many sweets-on-a-stick as you did in the past. But for anyone who has good taste in dessert, it's a welcome respite from the ridiculous reign of the cake pop, an odd dessert that absolutely nobody asked to be birthed into existence.
My first argument against the cake pop is a political one. To me, the cake pop is a physical representation of diet culture. When you order a cake pop, what you really want is a slice of cake or an actual cupcake, but instead, you restrict yourself to a single bite of a baked good. Why can't we just enjoy the whole cupcake? It's only a few bites more than a cake pop, and it actually leaves you satisfied and not just hungry for more. To make up for its lack of volume, cake pops tend to be overly sweet, covered in stupidly thick layers of frosting or chocolate and sprinkled with crunchy, flavorless sprinkles that nobody over the age of 10 has ever asked for. Any good cake shows some restraint and balance, which seems to be antithetical to the entire point of a cake pop.
Secondly, I truly believe that cake pops were never even meant to be eaten in the first place. Rather, they came to the fore around the time Instagram began its climb toward social media domination, and they were seemingly perfect for an overly filtered grid photo. After all, how else are you going to let everyone know you went to Starbucks? Cake pops became a party staple, an essential dessert for events ranging from children's birthday parties to actual weddings. Did anybody actually eat the cake pops that were handed out at these events? Nobody will ever know. But they did take pictures of them and post them all over social media; just go to any of your high school friends' profiles, scroll to the bottom and you'll see them there, pink and covered in those unattractive pearl-like sprinkles.
These days, cake pops only belong at baby showers for girls who peaked at 16, who unfortunately never got the memo that we're not denying ourselves the joy of an actual adult-sized dessert anymore. As for me, I haven't made a cake pop since 2014, when I was fired from the gluten-free bakery for attending my grandmother's funeral on the same day as another employee took time off to go to a music festival. Part of me misses the mindlessness of that job: the rolling, the dipping, the sprinkling. I used to listen to four-hour history podcasts during that cake pop-making process after smoking a jay on my lunch break and hiding my septum ring from my uptight boss. It was a simple, uncomplicated task during a time of upheaval in my young life. For that, I will always be grateful to cake pops, for giving me the time and space to ponder my existence between filling trays of the iconic sweet snacks.
But that is where my gratitude for cake pops ends. Although the world appears to be going to shit in so many ways, at least we appear to be through the worst of the cake pop era. Maybe there's hope for a brighter future after all.
Samantha Maxwell is a food writer and editor based in Boston. Follow her on Twitter at @samseating.