Flickr/Dominic Hallau
We feel your pain. Valentine's Day is a stressful holiday. Outside of trying to find the perfect gift for the person that you share your life with, you also have to come up with a romantic and personalized way to spend February 14. Unfortunately, so does everyone else in the world, which means that those of us with a penchant for procrastination end up scrambling to make dinner reservations, buy flowers, and hopefully impress the ones we love.
But it doesn't necessarily have to be that way. There's no Cupid's Law that says that you have to book one of those pricey prix-fixe dinners, and all the best restaurants are probably all booked up anyway. It may seem like a cop-out, but a low-key Valentine's Day at home may be the most special way to celebrate this romantic holiday. Check out these last-minute ideas for master procrastinators that will impress even the pickiest paramours.
1. Steak Night

Flickr/Geoff Peters
Going to a steakhouse is a traditional Valentine's Day date, but you don't have to shell out $200 plus tip for a great steak dinner. Head to your favorite butcher, and pick two of the best cuts that you see. Spend a little extra for the dry aged beef or thickest cut of filet, and sear for four minutes on each side for a perfect medium-rare. Throw a little asparagus in the oven or veggie steamer, toast a baguette, and you've got a restaurant-quality dinner that you can eat in your PJs. Or even less, if you're trying to get things going sooner rather than later.
2. Whole Foods Catering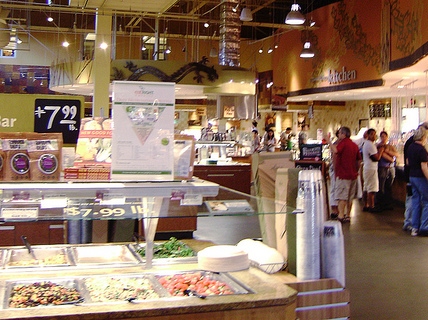 Flickr/tomatoes and friends
It's not technically a catering service, but the salad bar and food offerings at gourmet grocery stores like Whole Foods can help you bring home a restaurant-quality dinner without having to do any work at all. You can choose from an assortment of prepared proteins, like soy-glazed salmon filets and roast beef, and pair them with sides that everyone will love. Once you get home, you can either own up to your culinary laziness, or toss all of the take-out containers and make your date think you're a whiz in the kitchen by serving these dishes on your fancy China. Of course, you probably shouldn't forget to grab a bottle of wine.
3. At-Home Cooking School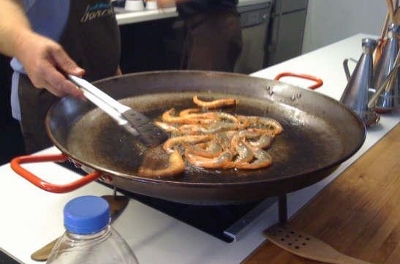 Flickr/Oh-barcelona.com
There's no better way to bond with your special someone than trying something new. Being in the kitchen together provides a kind of closeness that few other experiences offer, and it's always fun to experiment in the kitchen. Grab supplies for homemade macarons and hand-rolled chocolate truffles at the grocery store, and head home to set up your at-home cooking school for the evening. Even if the macarons turn out to be a flop and the truffles don't set, you can still enjoy licking the leftover melted chocolate off of a spoon. Or your partner.
4. Wine & Cheese, Please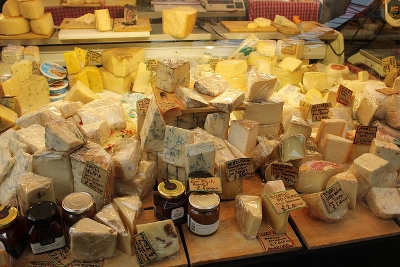 Flickr/Paul Wilkinson
If you're really a novice in the kitchen, you can still put together a spread that looks chef-prepared. Wine and cheese are great for Valentine's Day, especially considering that no one wants to be stuffed full of food when they're trying to put the moves on their sweetheart. Pick a few cheeses that are known to please, like brie, stilton, and gorgonzola, and pair with pickles, nuts, olives, and a few great bottles of wine. It will only take a few moments to set up your cheese spread, so you'll still have plenty of times to brave the shops in search of a last-minute gift.
5. Pizza Party For Two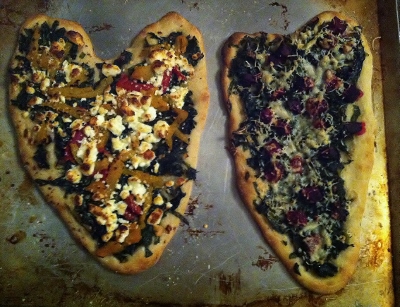 Everyone loves pizza, especially of the homemade variety. Hit up your nearby Italian deli or specialty grocery store for balls of fresh or frozen pizza dough (Trader Joe's has an excellent fresh pizza dough), mozzarella cheese, and excellent cured meats like coppa and hot sopressata. Pizza sauce from a can will do, or you could fill your home with the smell of gently simmering homemade sauce for extra culinary brownie points. Roll out the dough with your significant other, create your pizzas, and maybe even try to sneak in a quickie while they're bubbling away in the oven.
Amy McCarthy is a writer and editor living in Dallas, Texas. She enjoys lipstick, cooking, and fighting with celebrities on Twitter.