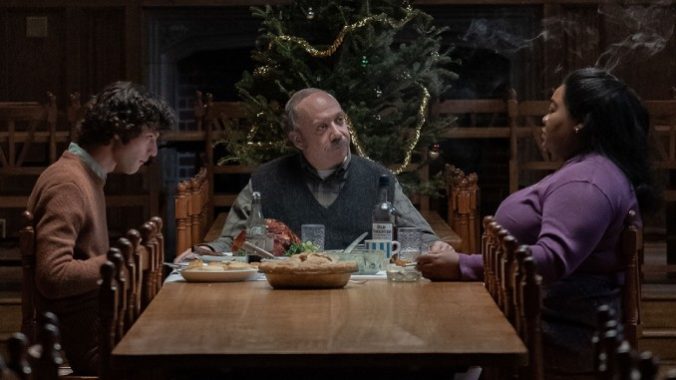 Alexander Payne takes us back to school in order to satirize the larger American political landscape in The Holdovers, but his once-acidic tone has undoubtedly taken a shift toward the sincere since newcomer Reese Witherspoon first hit our screens as know-it-all Tracy Flick in Election nearly 25 years ago. Now, with the early 1970s-set holiday drama The Holdovers, his indictment of the American Dream may burn more slowly, but the gut punch Payne packs is no less severe, so long as you aren't put off by a healthy dose of nostalgia—even the vintage opening credits are wistful. Perhaps The Holdovers is the inverse of Election; in Election, a feud between a star pupil and an optimistic teacher who loves his students wreaks havoc on a school, whereas The Holdovers is about a jaded professor who bonds with the "bad boy" of the school, the positive impact that bond has on both of their lives and the school as a whole. 
Stinky, sweaty, disgruntled Paul Hunham (Paul Giamatti with a lazy eye), a hardass Ancient Civilizations professor who makes no attempt to hide how much he despises his "vulgar" students, is put in charge of babysitting the students whose parents don't want to deal with them over the Christmas holiday break. The headmaster of Barton, the New England all-boys boarding school, chooses Paul for this job not because he thinks Paul will have a favorable effect on the boys, but as punishment for previously failing the son of a wealthy donor. When it comes to especially wealthy students, Paul has a particularly nasty chip on his shoulder, and he wants everyone to know it. 
Paul's mix of disappointment and anger at spending his holiday break babysitting instead of reading mystery novels is reciprocated by the less-than-merry band of Lost Boys placed in his care. "And I thought all the Nazis had left for Argentina," quips the smartass leader of the gang, Angus Tully (Dominic Sessa), when Paul harshly disciplines the boys for fighting. Angus has been kicked out of more schools than he can count, and touts a less-than-stellar reputation at Barton, despite his solid grades. In fact, Angus has the best grades in Paul's class, but he wouldn't want the other boys to know that. For the entire semester, he's been looking forward to his relaxing winter vacation with his mom, but she's dumped him onto Paul, in favor of spending some alone time with her new husband. 
In a stroke of luck for the boys, one of their fathers arrives in a helicopter to whisk them all away for a skiing trip. The boys' luck is Angus' misfortune however: Paul is unable to reach Angus' mother, and therefore not legally allowed to let him go on the excursion. Angus and Paul are not alone, as they are joined by Mary Lamb (Da'Vine Joy Randolph), the head of the school cafeteria, who recently lost her beloved son Curtis, himself a Barton alum, in the Vietnam war. A grandiose show is made over Curtis' passing during a schoolwide mass, but the school's culpability in the death of a young poor Black man is left unmentioned.
If this sounds like the trappings of an "unlikely family of outsiders finds understanding during the holidays" kind of movie, it's because that's exactly what The Holdovers is. Neither Payne nor screenwriter David Hemingson are afraid to lean into the romantic notion that three disparate people with vastly different circumstances can briefly come together as a family, especially during Christmastime, for Christ's sake. All three of the protagonists are hiding deeply held secrets and desires that are slowly revealed over the course of their time together, to the point that they truly come to rely on each other for trustworthy companionship. At first, it never occurs to Paul that maybe he and Angus have more in common than he might expect, that maybe he doesn't have Angus completely figured out, until Mary points this simple fact out to him. 
By the end, all three characters are putting themselves into situations they never thought they'd be in, just to protect each other from a harsh outside world that doesn't understand them. Barton men might not lie, as their school motto goes, but Paul and Angus go to great lengths for each other, including, but not limited to, dishonesty. (Mary is of course exempt, because she's a Barton woman.) All of this is only plausible thanks to Hemingson's well-developed screenplay, strong performances from all three leads and The Holdovers' refined, cozy vibe. The syrupy soundtrack and softly glowing photography set the snug tone. If Election is a shot of tequila, The Holdovers is a slow succession of sips of bourbon that you don't realize have affected your spatial awareness until you get out of your armchair. 
There is not one grand moment where our characters' perspectives shift, but rather lots of little moments (as in life) that naturally move the story to its only logical conclusion. Occasionally the mechanics of the script reveal themselves, but this is only when supporting characters become involved (a rich dad whisks away the rest of the boys so Angus is stuck with Paul and Mary; romantic interests magically introduce themselves to each of our lovely leads, etc.). Otherwise, Hemingson's writing chops, sharpened through years of writing for television, prove themselves through the sophistication of the intricate relationships between Paul, Angus and Mary. 
The Holdovers marks the first collaboration between Payne and Giamatti since 2004's Sideways, and what a sweet reunion it is. Giamatti plays the role of Paul so blissfully, one has to wonder if he missed his true calling in a career scolding students for having their shirts untucked. The petty joy Paul derives in the students' suffering and the genuine pain he encounters when he sees Angus in distress feel equally real. Payne has introduced us to yet another extraordinary first-time actor, this time Sessa, whose performance will assuredly put him on the map as an Adam Brody for a new generation. Dolemite Is My Name actress Da'Vine Joy Randolph doesn't allow Giamatti and Sessa to hog the spotlight; her turn as Mary is simultaneously hilarious and heartbreaking. 
Gone are the days of Payne shoving the ridiculousness of falsely held American beliefs in our faces through a paint-huffing degenerate seeking an abortion, such as we saw in his first film, Citizen Ruth. If only young Payne could see himself now, nostalgic for his boyhood years of the 1970s and homesick for New England, of all places. Even Nebraska—the film that scored Payne his third Academy Award nomination for directing ten years ago, a black-and-white film about aging that takes place in Payne's own hometown—doesn't hold a candle to The Holdovers in the Sentimentality Olympics. 
Of course, Payne can hardly be named as the first director to grow from youthful smart aleck into nostalgic old fart. Paul Thomas Anderson, who began his career taking a stark look at the 1970s and '80s, warmed (and broke) our hearts with his recent 1970s nostalgia piece Licorice Pizza. Amidst a flat cinematic cultural landscape, littered with failed formula blockbusters and shortform internet "content" drenched in irony, our great American directors look fondly backward for their truths. This could be a somewhat bleak stance to take, but Payne has struck such a sweet balance between nostalgia, mischief and nuance in The Holdovers that he can surely be forgiven.
Director: Alexander Payne
Writer: David Hemingson 
Starring: Paul Giamatti, Dominic Sessa, Da'Vine Joy Randolph
Release Date: October 27 2023 (Limited), November 10 2023 (Wide)
---
Brooklyn-based film writer Katarina Docalovich was raised in an independent video store and never really left. Her passions include sipping lime seltzer, trying on perfume and spending hours theorizing about Survivor. You can find her scattered thoughts as well as her writing on Twitter.