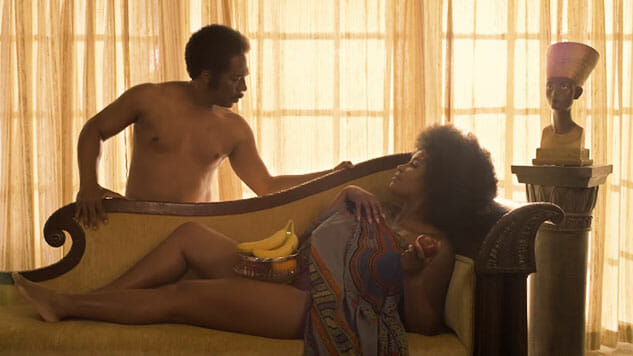 "I want the world to know I exist," Rudy Ray Moore (Eddie Murphy) declares in Dolemite Is My Name. Awareness on a grand scale is an ambitious goal—but it didn't stop Moore from trying. A figure who could have been an offensive caricature in the wrong hands, Dolemite, in Craig Brewer's film, is so much more; we go beyond the surface of the character, exploring one man's quest for stardom and the entrepreneurial risks he took to be the talk of the town. We get a film befitting of Moore's legacy while simultaneously reminding audiences the star power of Eddie Murphy.
Rudy Ray Moore is a multi-hyphenate performer looking to propel his comedy career. After seeing Rico (Ron Cephas Jones), the local homeless man that visits where Rudy works, do stand-up, Moore decides to steal and refine Rico's material. He assumes the character of Dolemite, a sharp, vulgar pimp who oozes confidence, and the "new" material kills in local clubs. Eventually, Moore signs a comedy record deal and charts on Billboard. Emboldened, he sets a new goal: to make a Dolemite film, exhausting all his personal expenses to do so.
At the heart of Dolemite Is My Name is the smooth-talking man himself, played by Eddie Murphy. The actor has, since 2012, been quiet in the public eye, taking years-long breaks between films. In 2016, he resurfaced for the drama Mr. Church, his performance praised but the film critically panned. Being hailed as his "comeback" role, Dolemite finds Murphy in fit comedy shape, tackling this lead part with gusto. He embraces Moore's slightly goofy enthusiasm and can-do attitude without a hint of mocking. For a character like Dolemite, so deeply rooted in the Blaxploitation era of the '70s and frankly riddled with so many stereotypical elements, Murphy succeeds by being earnest, even when delivering Dolemite's raunchiest lines. He reminds us he's one of the best at balancing drama and comedy.
Scott Alexander and Larry Karaszewski penned the script for the film, which makes sense coming from the duo who also wrote Tim Burton's Ed Wood, which, like Dolemite Is My Name, is a biographical film following a performer's struggling DIY approach to filmmaking. In both, we get an insider—albeit, absurdist—look into the business of film: the financers, the deals and the networking. The way Moore fights in the film, it's clear he has no formal training in martial arts, his attempts so mediocre you'd think he's joking. But again, Murphy plays it all so sincerely we root for Moore. Leaning into how shoestring the actual 1975 Dolemite film looked while still celebrating the team behind it is the best way to capture the essence of Moore's films without making fun of him.
While there's a lot to like about Dolemite Is My Name, one part of the story that isn't rounded out is the reconciliation of Dolemite's origins. It's established early on in the film that Rico is the clear originator of this character, and while Moore takes this bit and goes off to gain success from it, we never see Rico again in the film. One has to wonder: Did Rico ever get compensated for the inspiration? What was his reaction to seeing his bit being used by Rudy? Moore is portrayed as a charismatic character who takes care of his friends—so it is disappointing to never see him apologize or take care of Rico. This additional context would've helped reinforce the man Moore is while seeing him take responsibility for his actions.
Despite this, Moore's determination to forge his own way through system bent against him makes Dolemite Is My Name an unexpectedly inspiring story. Moore being an outsider, especially as a Black man, isn't surprising—the film industry has a history of gatekeeping and excluding many in marginalized communities. This film attempts to celebrate the legacy of Moore and all the good he tried to do for his circle, a legacy that feels as big as his dreams.
Director: Craig Brewer
Writers: Scott Alexander and Larry Karaszewski
Starring: Eddie Murphy, Keegan-Michael Key, Mike Epps, Craig Robinson, Tituss
Burgess, Da'Vine Joy Randolph, Kodi Smit-Mcphee, Snoop Dogg, Ron Cephas
Jones, Barry Shabaka Henley, Tip 'TI' Harris, Luenell, Tasha Smith, Wesley
Snipes
Release Date: October 4, 2019 (limited cities); October 25, 2019 (Netflix)
---
Joi Childs is a brand marketer and film/TV critic. Born and Raised in NYC, she loves writing and talking about the intersection of marketing and nerd-dom. Her work has appeared at The Hollywood Reporter, The Verge, Okayplayer and many other outlets. Follow her on social media to keep up with her great adventures in cinema and more.