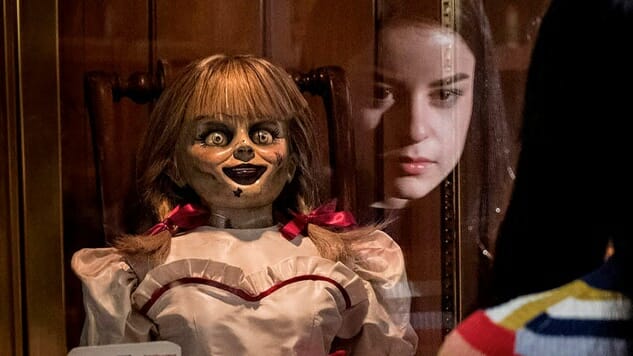 After five years and seven films, the Conjuring franchise has developed a glossy house style and nearly exhausted its repertoire of scares. There are, it turns out, only so many ways to make the same setups frightening: ghosts popping out of unlit corners to scare the willies out of unsuspecting humans, ghosts appearing right in front of unsuspecting humans who have just cast a cautious glance over their shoulders, ghosts gliding about in the background of a shot, ghosts stalking past windows and through walls in 360 arcs. Each tactic gets deployed with the same deliberate care in each movie, but the craftsmanship isn't the issue. The routine is.
So props to Annabelle Comes Home, the latest chapter in the Conjuring expanded universe and the third film to center on the creepy doll of the title, for playing all of the series' hits with gusto. Compared to its predecessors in its spin-off trilogy, to The Nun, the disastrous lead-off for a second spin-off, to The Curse of La Llorona, and to The Conjuring 2, Annabelle Comes Home is lively, energetic and even fun. "Fun" is what most of these movies aspire to be: They're carnival rides built to entertain , uniting audiences in shared terrified delight. But that funhouse energy fluctuates in each entry. Their common flaw is inconsistency.
Annabelle Comes Home remains a hoot from start to finish, in part thanks to the joys of variety and in part because it pulls a fast one by reintroducing Patrick Wilson and Vera Farmiga, once again playing famed demonologists Ed and Lorraine Warren, before quickly ushering them out of the picture. For the early going, it's assumed that the story belongs to them, that they'll do as the Warrens usually do and stumble upon supernatural shenanigans, and that they'll send evil packing. The film occurs somewhere in between the prologue and primary narrative of 2013's The Conjuring, the moment where the Warrens bring the Annabelle doll to their house for safekeeping in their private collection of accursed bric-a brac.
But Gary Dauberman, stepping into the role of director after writing screenplays for just about every Conjuring spin-off project, pivots focus to Judy Warren (McKenna Grace), Ed and Lorraine's daughter, who's a good deal more compelling as a protagonist than her folks this many movies into the franchise. What kind of life can a kid lead growing up in a household where Mom and Dad guard countless malevolent objects, regularly blessed by a priest, behind a heavily locked door?
Unsurprisingly, a freaky, lonely life. No one gets to hang out at Judy's home because her classmates' concerned parents don't want their kids associating with exorcists, so for the poor girl's upcoming birthday, the attendees list includes her parents and her babysitter, Mary Ellen (Madison Iseman). The silver lining is that Mary Ellen's a pretty rad sitter, but before festivities, Ed and Lorraine leave for an overnight, putting Mary Ellen and her ghost-obsessed tag-along BFF, Daniela (Katie Sarife), in charge. (Wisely, the movie leans on the younger cast , who scare so much more convincingly than adults.) Mary Ellen's the upright, responsible type, and Judy knows well enough to leave that damn locked room alone, but Daniela's morbid curiosity gets the better of her, and before long the girls are trapped in a house abuzz with nasty specters.
And in all shapes and sizes! There's a haunted TV, a haunted wedding dress, haunted samurai armor, a haunted cymbal-banging monkey toy, and of course there's Annabelle, everyone's favorite haunted doll. There's a robed ghost with coins covering its eyes, and there's even a werewolf, because if Dauberman is going to throw the whole kitchen sink at viewers, he might as well jam a werewolf in that sink, too. The heroic trio can't walk a foot without something leaping out at them or vomiting blood on them. If the Conjuring franchise has run low on original methods of making ghosts jump-out-of-your-seat scary, then Dauberman has found a workaround in diversity. There's more than one kind of ghost, and he's managed to stuff most of them into about 100 minutes of movie.
Think of Annabelle Comes Home as a bite-sized version of The Cabin in the Woods, Thirteen Ghosts and The Haunted Mansion all rolled into one and made with the same slick Conjuring aesthetic. There's not much to the film outside of ghoulish amusements; refreshingly, Judy's struggles have nothing to do with being haunted but with living a haunted life. Dauberman understands how death isolates people who have experienced it from people who haven't. This isn't a movie in search of a greater meaning. It just needs to be entertaining. But it does both, and better still, it bothers to be creative.
Director: Gary Dauberman
Writer: Gary Dauberman
Starring: Mckenna Grace, Madison Iseman, Katie Sarife, Patrick Wilson, Vera Farmiga, Michael Cimino
Release Date: June 26, 2019
---
Boston-based culture writer Andy Crump has been writing about film and television online since 2009 (and music since 2018). You can follow him on Twitter and find his collected writing at his personal blog. He is composed of roughly 65% craft beer.