Baby Driver Soundtrack Squeals Into Number One Spot on iTunes
Image via 30th Century Records
Movies
News
Baby Driver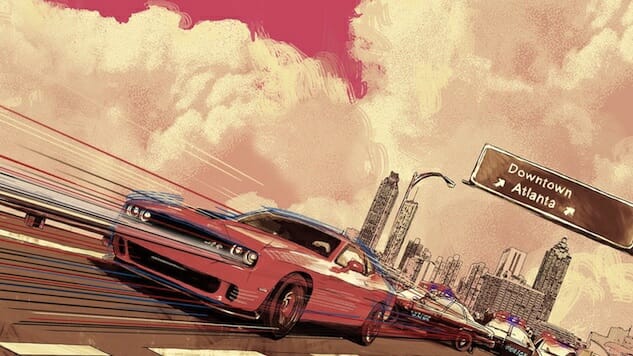 Baby Driver has already made more money in America than any of director Edgar Wright's previous films. Whether that speaks more to the greatness of Baby Driver or to how criminally overlooked Wright has been here in the States, it's great to see Wright gaining some well-deserved recognition from us dumb colonials.
But it's not just butts in seats that's making Baby Driver a success, it's also earbuds in ears. It makes sense that a film built around its soundtrack would have exceptional music, and Baby Driver certainly delivers in that regard. The rocking soundtrack, stuffed with delicious ear worms from almost every musical genre and spanning multiple decades, was released last week on award-winning producer and artist Danger Mouse's Columbia Records imprint 30th Century Records. Music aficionados quickly took notice, and the film's soundtrack has leapt to the #1 slot on iTunes.
The #BabyDriverMovie Soundtrack is the #1 Album on @iTunes – get your copy and see the movie TODAY! https://t.co/fhMG014bcC ???????? pic.twitter.com/t3klLnhI0L

— Baby Driver (@BabyDriverMovie) July 6, 2017
The soundtrack can be purchased both physically as a two LP and two CD set, as well as digitally across all retailers. Buy it now to provide the perfect soundtrack for your personal criminal activities—you'll find the tracklist below.
Baby Driver Soundtrack Tracklist:
01. Bellbottoms – Jon Spencer Blues Explosion
02. Harlem Shuffle – Bob & Earl
03. Egyptian Reggae – Jonathan Richman & The Modern Lovers
04. Smokey Joe's La La – Googie Rene
05. Let's Go Away For Awhile – The Beach Boys 
06. B-A-B-Y – Carla Thomas
07. Kashmere – Kashmere Stage Band
08. Unsquare Dance – Dave Brubeck
09. Neat Neat Neat – The Damned
10. Easy (Single Version) – The Commodores
11. Debora – T. Rex
12. Debra – Beck
13. Bongolia – Incredible Bongo Band
14. Baby Let Me Take You (in My Arms) – The Detroit Emeralds
15. Early In The Morning – Alexis Korner
16. The Edge – David McCallum
17. Nowhere To Run – Martha Reeves & The Vandellas
18. Tequila – The Button Down Brass
19. When Something Is Wrong With My Baby – Sam & Dave
20. Every Little Bit Hurts – Brenda Holloway
21. Intermission – Blur
22. Hocus Pocus (Original Single Version) – Focus
23. Radar Love (1973 Single Edit) – Golden Earring
24. Never, Never Gone Give Ya Up – Barry White
25. Know How – Young MC
26. Brighton Rock – Queen
27. Easy – Sky Ferreira
28. Baby Driver – Simon & Garfunkel
29. Was He Slow (Credit Roll Version) – Kid Koala
30. Chase Me – Danger Mouse featuring Run The Jewels and Big Boi