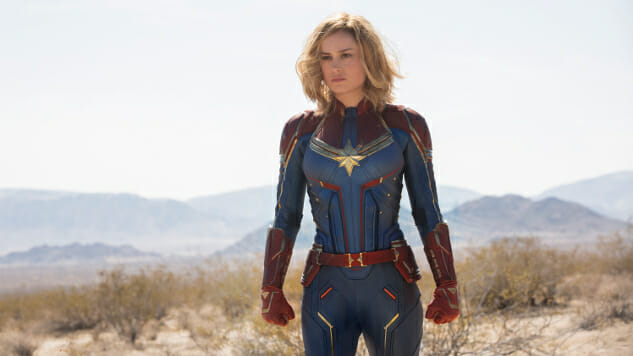 Marvel Studios has shared a new poster for the highly anticipated Captain Marvel, which arrives right before the premiere of a second trailer tonight (Dec. 3) on ESPN's Monday Night Football.
The flashy new poster doesn't reveal much about Brie Larson's debut as Carol Danvers in the Marvel Cinematic Universe, although there is one particularly notable billing choice for the film's star-studded ensemble.
Samuel L. Jackson is second-billed as the MCU's Nick Fury, suggesting that he will play a prominent role in Captain Marvel, as teased in the final post-credits sequence for Avengers: Infinity War. The character was also a major player in the first trailer for the film, which gave fans their first look at Jackson as a de-aged Fury in the '90s-set Marvel installment.
Captain Marvel also features returning MCU cast members Lee Pace and Djimon Hounsou, reprising their Guardians of the Galaxy roles as Ronan the Accuser and Korath, respectively, plus Clark Gregg as the Avengers Initiative's Phil Coulson. Newcomers are Ben Mendelsohn as main antagonist Talos, Lashana Lynch as Carol's friend and fellow Air Force pilot Maria Rambeau, Gemma Chan as geneticist and fellow Starforce fighter Minn-Erva, and Annette Bening and Jude Law in still-unknown roles.
Captain Marvel lands in theaters on March 8, 2019.
Stay up to date on everything we know about the film here and check out the new poster below.