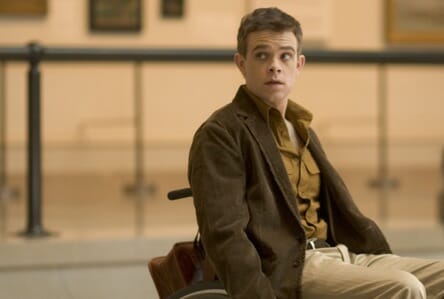 Relese Date: June 13
Director/Writer: Carlos Brooks
Cinematographer: Michael McDonough
Starring: Nick Stahl, Vera Farmiga
Studio/Run Time: Magnolia Pictures, 82 mins.
Thoughtful film about strange subculture surprises
Billed as a steamy detective story about voluntary paralytics and their corresponding "wannabes," Quid Pro Quo surprises with its depth and artistry. Isaac, a paraplegic public-radio journalist (Stahl) receives a tip-off from an erratic, beautiful woman (Farmiga) about a man who bribed a doctor to cut off his healthy leg. As he delves into this odd subculture, it starts to seep into his subconscious and prompt his own disturbing self-discovery.
First-time feature director Brooks channels the inherent shock value of his material into a thoughtful, measured meditation on the nature of healing, wholeness and desire. Stahl and Farmiga are finely and unnervingly subtle, leaving unsettledness about what just happened and what it all means. The film, intimately shot, sidesteps exploitative potential, and the finely tuned screenplay obscures its titular theme (colloquially translated "tit for tat") in multiple layers of narrative and a hit of noir.