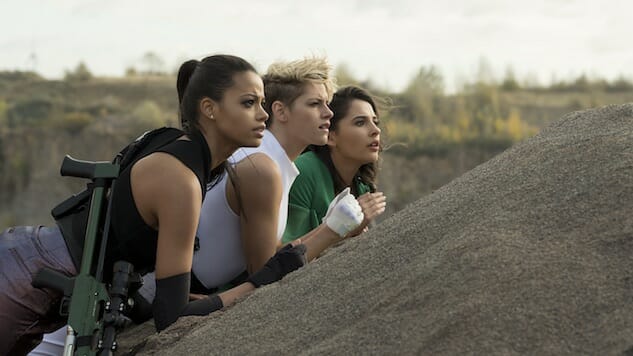 Kristen Stewart, explosions and other good things: The first trailer for Elizabeth Banks' forthcoming Charlie's Angels remake—yes, the one starring Stewart, Naomi Scott and newcomer Ella Balinska—has been released.
The trailer is one giant montage of the Angels doing backflips in sequined dresses, ripping off seven different types of wigs and cocking firearms in hatchbacks. We receive our first glimpse at the expanded Townsend Agency and see the first inklings of the film's plot—looks like Scott's character is recruited into the organization after her involvement in programming a product that has the power to transform the energy industry puts a target on her back.
Noah Centineo also shows up as a hot scientist, so—there's that.
The trailer also features a snippet of the original song Ariana Grande, Miley Cyrus and Lana Del Rey wrote for the film. The title or release date of the full song have yet to be revealed.
Banks' Charlie's Angels focuses on three skilled private investigators working for the mysterious Charles Townsend, whose security and investigative agency has expanded internationally. Whereas past Charlie's Angels installments only mentioned the three women working for the millionaire, the new film reimagines the agency as a full-fledged operation.
In addition to directing, Banks also served as a screenwriter on the film, and stars as Bosley alongside Djimon Hounsou, Sam Claflin and Patrick Stewart.
Charlie's Angels is set to hit theaters on Nov. 15. You can check out the trailer below.