New Coco Companion Short Dante's Lunch Balances Out Familiar Gags With Gorgeous Animation
Images via Disney/Pixar
Movies
Video
Coco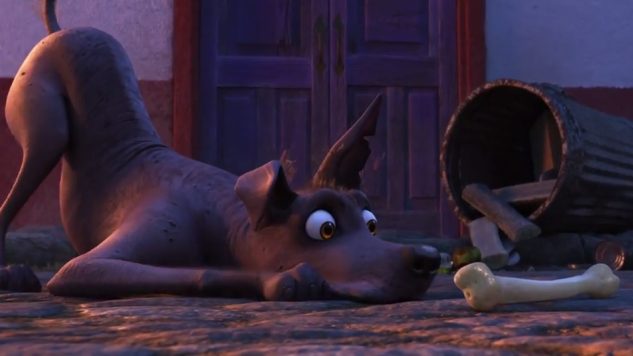 Even when a Pixar movie looks generic, one would do well to give it the benefit of the doubt because Hollywood's leading animation studio didn't gain its prestige by routinely letting viewers down.
The film in question is Coco, which, while not coming across as being outright hackneyed, per se, does seem to be at least partially boxed in by trappings built by other films (just last year, we had Kubo and the Two Strings, another tale of a boy with a special guitar who finds a conduit to the afterlife). The film's teaser suggested as much, and now, a companion short, titled "Dante's Lunch: A Short Tail" and featuring a derpy-looking dog's elaborately unsuccessful attempts at securing a bone in the streets of Mexico, continues the impression of formulaic-ness by cribbing heavily from another source. Swap out streets for glaciers, the dog for a squirrel and the bone for an acorn, and you'd have a convincing edition to the Ice Age short films starring Scrat the hungry squirrel; you wouldn't even have to change the trailer's gags, which feature the same brand of zany slapstick that made the Scrat routine a welcome marketing ploy (that is, before the little guy overstayed his welcome and became a nuisance).
In other words, the newest marketing bit for Coco has "bland" written all over it, but we continue to hold out hope for a good film, partially because Pixar's name is attached, and partially because the animation is, as usual, stunningly fluid. The amazing nuances of movement that are represented, from the dog's incredibly dexterous tongue to every drop of spittle that flies from the creature's maw, suggest a film that matches the peerless animation standards the studio has set for itself thus far. Indeed, even if Coco's story falls flat, one could conceivably still get multitudes from admiring the film's immaculate visual design on the big screen.
Check out the full companion short above and the film's first teaser here. Coco premieres on Nov. 22.