Shudder Is Rebooting Creepshow With Walking Dead Showrunner Greg Nicotero
Photos via Shudder
Movies
News
Creepshow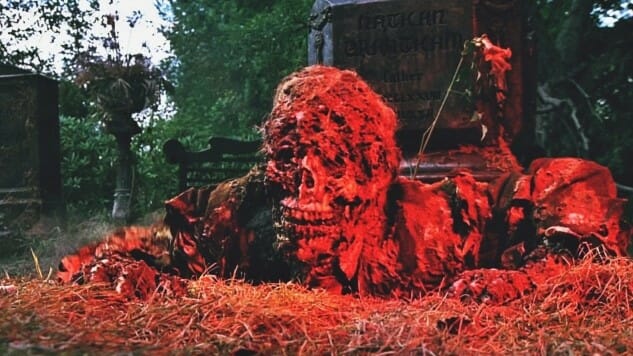 Everyone loves a good horror anthology, especially when that film is 1982's Creepshow, regarded by many as one of the best horror anthologies ever—it's on our list of the 100 best horror films of all time for a reason. The partnership between director George A. Romero (Night of the Living Dead) and author Stephen King was the stuff of legend—one of horror's great examples of two great minds meeting to produce a classic piece of schlock. They did so by creating a somewhat campy tribute to EC Comics staples such as Tales From the Crypt and Vault of Horror, and the results were magical—a pitch-perfect blend of sophomoric humor and genuine creepiness. Followed by one decent sequel Creepshow 2 and the insipid Creepshow 3, it laid the groundwork for many other horror anthologies to come.
And now, when it was least expected, Creepshow is back, in the form of a new series on horror streaming service Shudder from The Walking Dead executive producer Greg Nicotero. The special effects and makeup wizard will executive-produce and supervise the creative elements of the new show, while also directing its first episode. The collaboration makes sense, given that Shudder is owned by AMC Networks, which is host to The Walking Dead. The service has also shown a recent interest in catering to horror nostalgia, hosting a (somewhat botched, due to technical issues) marathon of classic horror movies hosted by former TV personality Joe Bob Briggs.
"Creepshow is one of the most beloved and iconic horror anthologies from two masters of the genre, George A. Romero and Stephen King," said Shudder general manager Craig Engler in a press release. "We're thrilled to continue their legacy with another master of horror, Greg Nicotero, as we bring a new Creepshow TV series exclusively to Shudder members."
Nicotero referred to Creepshow as a project "very close to my heart," which again makes sense, given his history with the franchise. Nicotero trained under the classic horror movie effect master Tom Savini, who provided effects for the original film, and later collaborated with Romero on zombie films Day of the Dead and Land of the Dead.
"It is one of those titles that embraces the true spirit of horror," Nicotero said. "Thrills and chills celebrated in one of its truest art forms, the comic book come to life! I'm honored to continue the tradition in the 'spirit' which it was created."
The new Creepshow series will arrive at some point in 2019, with a pilot episode directed by Nicotero. What hasn't been announced is who might be directing future episodes of the series, although with this kind of project one can only assume that up-and-coming names in the horror genre will be featured. It will be very interesting to see who Nicotero is able to wrangle up, in that regard. Stay tuned for more Creepshow updates in the new year.