Will Smith Is His Own Worst Enemy in Explosive First Trailer for Ang Lee's Gemini Man
Images via Paramount Pictures
Movies
News
Gemini Man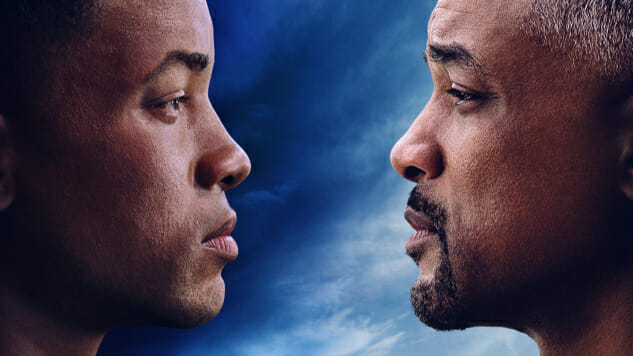 The trailer for Ang Lee's new sci-fi action-thriller Gemini Man has blasted its way onto the web this Tuesday morning, offering us our first look at the Oscar-winning Life of Pi filmmaker's latest grand visual experiment.
Lee's Billy Lynn's Long Halftime Walk follow-up employs that film's hyper-realistic 120fps, 4K, 3D format in service of a far more fantastic story: the story of Henry Brogan (Will Smith), an elite assassin who finds himself being tracked by his lethal younger self. "25 years ago, they made you from me," Brogan explains to his impressively rendered clone, who, as Clive Owen's villainous scientist later explains, has "all of his gifts without his pain." It's up to Brogan and his allies (played by Mary Elizabeth Winstead and Benedict Wong) to unravel the mystery of this mind-bending threat before Brogan 2.0 can get the better of his predecessor.
This idealized copy of Smith's character is Gemini Man's biggest draw—it's clear Lee and his team are pushing some serious VFX boundaries, utilizing advanced motion-capture and digital de-aging techniques to create Brogan's young clone. And they're doing so in a high-frame-rate format, which makes achieving their stated goal of "deliver[ing] a fully convincing digital human," as the film's Oscar-winning VFX head Bill Westenhofer has put it, an even taller task.
Sounds fascinating, right? This is a must-see on paper. So why does this trailer inspire a sinking feeling in our stomachs? Well, Gemini Man is produced by shoot-'em-up aficionado Jerry Bruckheimer, whose influence is troublingly plain to see in the trailer's cookie-cutter action, gratuitous explosions and moody rendition of a popular song—the man behind the Smith-starring Bad Boys franchise, for one, is far more interested in making things go boom than telling, say, a cerebral, existential sci-fi story. We can only hope Lee's latest, scripted by David Benioff (Game of Thrones), Billy Ray (Overlord) and Darren Lemke (Shazam!), manages a narrative worthy of all its technical wizardry.
Gemini Man comes to theaters Oct. 11. See the trailer and poster below.