The Monsters Brawl in Second Trailer for Godzilla: King of the Monsters
Images via Daniel McFadden, Warner Bros.
Movies
News
godzilla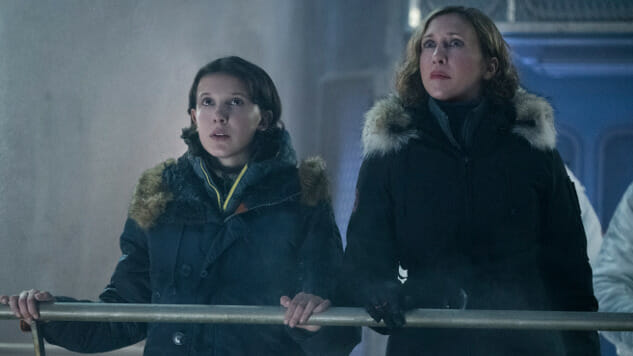 The second trailer for Warner Bros. and Legendary's Godzilla: King of the Monsters emerged Monday, and it looks like we're in for some serious monster brawls.
Unlike the stirring first trailer released back in July, the latest look is all about the action, including an epic shot of Godzilla squaring off with his ultimate nemesis, the three-headed King Ghidorah. The sequel to Gareth Edwards' 2014 Godzilla, King of the Monsters also finds the giant lizard up against the likes of Mothra and Rodan.
The official King of the Monsters Twitter account also shared an epic poster to accompany the new trailer.
New trailer tomorrow. #GodzillaMovie – in theaters May 31. pic.twitter.com/uFmmo4FnMi

— Godzilla: King of the Monsters (@GodzillaMovie) December 10, 2018
Written and directed by Michael Dougherty, perhaps best known for the 2007 cult horror favorite Trick 'r Treat, King of the Monsters features an all-star human cast including Millie Bobby Brown, Kyle Chandler, Vera Farmiga, Sally Hawkins, Thomas Middleditch, O'Shea Jackson Jr., Ken Watanabe and Zhang Ziyi.
Godzilla: King of the Monsters is the third installment in the Legendary MonsterVerse, following 2017's Kong: Skull Island, which introduced the iconic King Kong to the fold. Godzilla and Kong will face off in the franchise's next installment, Godzilla vs. Kong, due out in 2020.
Godzilla: King of the Monsters lands in theaters on May 31, 2019.
Keep track of everything we know about Legendary's MonsterVerse so far here and watch the new trailer below.