New on HBO Now: All the Movies and TV Coming in March
Image via Universal Pictures
Movies
Features
HBO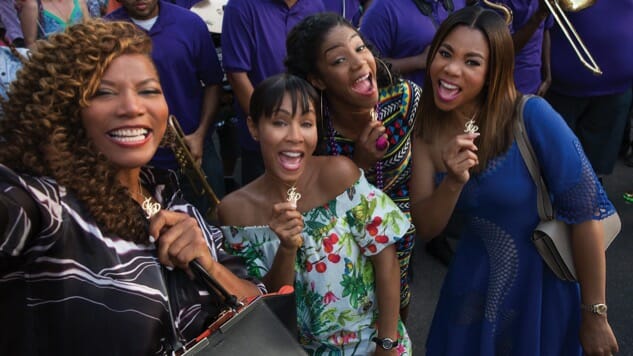 As winter turns to spring, you're going to have an increasingly difficult time making excuses for staying indoors on your couch all the time. HBO is here to help, though: The pay-cable channel's streaming platform is adding an impressive pile of film and TV titles to its library in March, making it far easier for your friends and loved ones to understand why you're barricading yourself inside and eschewing all human contact. Here's our take on everything you pop culture-loving shut-ins need to see next month.
HBO Now's film slate for next month is particularly impressive, with a number of new theatrical premieres topping the list. Perhaps the foremost highlight is smash-hit comedy Girls Trip, the summer 2017 box-office sensation that launched its breakout star Tiffany Haddish into the Hollywood stratosphere. The film found commercial and critical success alike, making more than six times its $19 million production budget and scoring an impressive 90 percent on Rotten Tomatoes. Girls Trip follows four lifelong friends—Regina Hall, Queen Latifah, Jada Pinkett Smith and Haddish—who embark on a fun-filled trip to New Orleans, so whether you missed Mardi Gras earlier this month or you just miss it, you'll most definitely want to take the Trip when it debuts on March 31. That's just the first on a long list of noteworthy movies, by the way: HBO Now's other theatrical premieres include Ridley Scott's surprisingly decent Alien: Covenant (streaming March 3), Sofia Coppola's 2017 take on The Beguiled (March 17), Colin Trevorrow's fascinatingly bad drama The Book of Henry (March 21) and David Leitch's display of Charlize Theron kicking all kinds of ass, Atomic Blonde (March 24). And moving on to older fare, there's even more to be excited about, including beloved action classic (and hotly debated Christmas film) Die Hard (along with its two sequels, 1990's Die Hard 2 and 1995's Die Hard with a Vengeance), 1971's original, Clint Eastwood-starring The Beguiled, William Friedkin's Oscar-winning '70s crime drama The French Connection, Jonathan Demme's mesmerizing serial killer thriller The Silence of the Lambs (and its 2001 sequel Hannibal), the first film in the popular Ice Age franchise, iconic '80s sci-fi flick WarGames and Spike Jonze's 2009 Where the Wild Things Are adaptation, all of which debut on March 1.
As eye-popping as HBO Now's March film slate is, its TV lineup stands out, as well, with the return of an Emmy-winning comedy and the debut of a unique new series leading the way. The former is Silicon Valley, premiering its fifth season—and its first without T.J. Miller's fan-favorite character Erlich Bachman—on March 25, and the latter is Barry, a new dark comedy starring Bill Hader as an eccentric hitman who gets the acting bug while carrying out a hit in L.A., making its series premiere on the same date. A trio of acclaimed HBO original comedies will wrap up their second seasons next month: Crashing, Divorce and High Maintenance. And the service will also be gaining a pair of promising documentaries in March: Judd Apatow's two-part doc The Zen Diaries of Garry Shandling explores the life of the late, legendary comic, while Arthur Miller: Writer offers an intimate portrait of the renowned 20th-century playwright, as painted by his daughter, filmmaker Rebecca Miller.
HBO Now giveth, and HBO Now taketh away: The streaming service will be losing a few noteworthy titles next month, including Oliver Stone's Oscar-winning Born on the Fourth of July, Steven Soderbergh's iconic Julia Roberts drama Erin Brockovich, 2016 historical drama Jackie starring Natalie Portman as Jacqueline Kennedy, Liam Neeson-starring 2004 Alfred Kinsey biopic Kinsey, Tom Ford's acclaimed romantic thriller Nocturnal Animals and Stone's iconic Vietnam War classic Platoon, which we recently numbered among the 100 greatest war films ever made. Last and least is the rightfully maligned DCEU blockbuster Suicide Squad, to which HBO Now users will no longer be subjected as of March 31.
See HBO Now's full slate of incoming and outgoing programming for the month of March below.
Original Programming:
HBO First Look: Pacific Rim Uprising (3/12)
Arthur Miller: Writer (3/19)
HBO First Look: Isle of Dogs (3/21)
The Zen Diaries of Garry Shandling Part 1 (3/26)
The Zen Diaries of Garry Shandling Part 2 (3/27)
Entre Nos, Part 3 (3/30)
Season Premieres:
Barry, Series Premiere (3/25)
Silicon Valley, Season 5 Premiere (3/25)
El Negocio, Season 4 Premiere (3/18)
Season Finales:
Crashing, Season 2 Finale (3/4)
Divorce, Season 2 Finale (3/4)
High Maintenance, Season 2 Finale (3/23)
Theatrical Premieres:
Alien: Covenant, 2017 (3/3)
Incarnate, 2016 (3/1)
Live by Night, 2016 (3/8)
My Cousin Rachel, 2017 (3/10)
The Beguiled, 2017 (3/17)
The Book of Henry, 2017 (3/21)
Atomic Blonde, 2017 (3/24)
Girls Trip, 2017 (3/31)
Estrenos:
La Casa De Beatriz, 2017 (3/1)
Soy Nero (AKA I am Nero), 2016 (3/2)
La región salvaje (AKA The Untamed), 2016 (3/9)
Starting March 1:
The Beguiled, 1971
Die Hard, 1988
Die Hard 2, 1990
Die Hard with a Vengeance, 1995
The French Connection, 1971
Friday the 13th (Extended Version), 2009
Hannibal, 2001
Ice Age, 2002
The Last Boy Scout, 1991
Mercury Rising, 1998
Observe and Report, 2009
Rock Star, 2001
Sgt. Bilko, 1996
She's Out of My League, 2010
The Adventures of Ford Fairlane, 1990
The Silence of the Lambs, 1991
To Be or Not To Be, 1983
Undercover Brother, 2002
Wargames, 1983
Where the Wild Things Are, 2009
Win a Date with Tad Hamilton!, 2004
Ending March 31:
About a Boy, 2002
Australia, 2008
Bean, 1997
Born on the Fourth of July, 1989
Death Race, 2008
Erin Brockovich, 2000
Hamlet 2, 2008
Jackass: The Movie, 2002
Jackie, 2016
Kinsey, 2004
Life with Mikey, 1993
Lucas, 1986
Nocturnal Animals, 2016
Platoon, 1986
Rules Don't Apply, 2016
Suicide Squad, 2016
The Golden Compass, 2007
The Pink Panther, 2006
Wanted, 2008
White Fang, 1991