You'll Float, Two: IT Sequel Gets 2019 Release Date
Image via Warner Bros. Pictures / New Line Cinema
Movies
News
It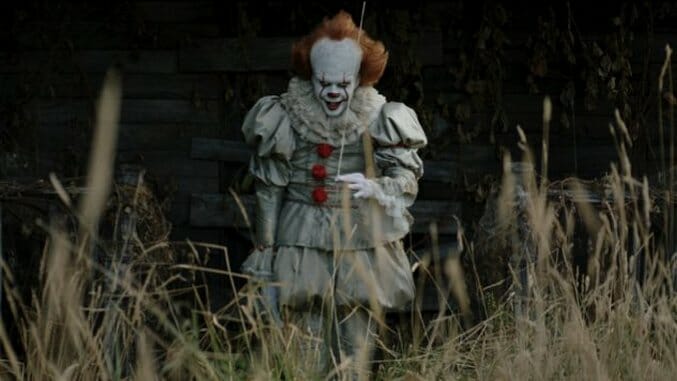 At long last, Warner Bros. and New Line have confirmed that the highest-grossing horror movie of all time will get a sequel. The follow-up to Andy Muschietti's IT will haunt theaters starting Sept. 6, 2019, the studios announced today. Muschietti is expected to return to direct the sequel, and Gary Dauberman has already begun work on the script.
This is a no-brainer: IT, with a budget of only $35 million, has already grossed a record-breaking $266.1 million domestically and $478.1 million globally (per Variety), surpassing The Exorcist to become the most profitable horror film ever made. More impressive still, the film, released on Sept. 8, accomplished all that in just a little over two weeks, and during a down summer at the box office, no less. And while some critics weren't exactly floored by IT, the movie currently holds a Certified Fresh rating of 84 percent on Rotten Tomatoes.
IT stars Bill Skarsgård as Pennywise, an evil being that takes the shape of a clown to feed on fear, and Jaeden Lieberher, Sophia Lillis, Finn Wolfhard, Wyatt Oleff, Chosen Jacobs, Jack Dylan Grazer, Nicholas Hamilton, Jeremy Ray Taylor and Jackson Robert Scott as the Losers' Club, a group of kids who fight "It." The sequel will focus on the second half of Stephen King's classic horror novel, in which the Losers return to Derry, Maine, to face Pennywise once again, 27 years later. Muschietti has said that the second film will include "flashbacks that take us back to the '80s and inform the story in the present day."
Celebrate the good news with Pennywise the Dancing Clown right here, and find our breakdown of IT's astonishing success here.