Guardians of the Galaxy's James Gunn Opens up About Being Fired and Re-Hired by Marvel
Photos by Christopher Polk/Getty
Movies
News
James Gunn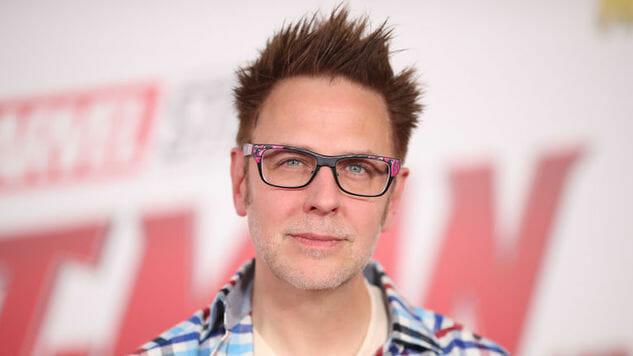 2018 was not particularly great for James Gunn. The man responsible for Marvel Studios hit Guardians of the Galaxy and its 2017 sequel was infamously fired from working on the third installment last July after alt-right journalists seeking retaliation for Gunn's outspoken stance on President Trump uncovered a series of decade-old tweets containing offensive jokes about pedophilia and rape. The House of Mouse very publicly dropped Gunn from any future sequels, and Gunn apologized and owned his mistakes, but the Slither director's very successful run to that point looked all but over.
But in March 2018, apparently swayed by Gunn's public regret, Walt Disney Studios chairman Alan Horn gave the filmmaker his job back. He would, in fact, write and direct the second Guardians sequel.
Gunn, who is also writing and directing the forthcoming Suicide Squad sequel, sat down with Deadline to discuss what the experience taught him about his place in the entertainment industry and himself.
The events of last summer were difficult for Gunn, who recalled the day of his firing as "the most intense of my entire life." For someone whose self-described "apparatus of being loved" was his work and being famous, Disney's decision left him lost, he said.
Gunn detailed the responses from those closest to him that inspired him to reevaluate that "apparatus":
And then came this outpouring of real love. From my girlfriend Jen; my producer and my agents; Chris Pratt calling me and freaking out; Zoe Saldana and Karen Gillan, all calling and crying. Sylvester Stallone FaceTime-ing me. And, of course, Dave Bautista, who came out so strong. That amount of love that I felt from my friends, my family, and the people in the community was absolutely overwhelming. In order for me to have fully felt that love for the first time, the thing that needed to happen was the apparatus by which I was feeling falsely loved had to be completely taken away. So a part of that day was the worst of my life, and a part of it was the greatest day of my life. I certainly haven't been perfect in my spiritual journeys since that time, but I have been better.
The director also commented on securing a deal with Warner Bros. Studios and DC Comics to helm the second Suicide Squad movie—which is apparently a total reboot, rather than a straight sequel—soon after his relationship with Disney fell through. Did the get show him his career wasn't over after all?
Gunn admitted it helped "allay his fears," but that his reaction was much more complex:
The studios, for the most part, said, "We'd love to have you." They called within the first two days. But I didn't believe it. That's the thing that I have to be honest about. On some theoretical level, I was like, "Well, maybe I do have a future." I'm a fairly logic-oriented person and that helped, but emotionally, there was not a whole lot there to hold onto. That was good for me, too, because what I needed to do was stop making my career be what makes me worthwhile and start making me just be OK as myself. That is what I concentrated on. I concentrated on the fun.
Gunn also touched on what the characters in the successful Marvel franchise mean to him, explaining a particular affinity for Bradley Cooper's wisecracking raccoon, Rocket:
When you asked me what was saddest for me when I thought it was gone—and anybody at Marvel can tell you—it's this very strange and attached relationship to Rocket. Rocket is me, he really is, even if that sounds narcissistic. Groot is like my dog. I love Groot in a completely different way. I relate to Rocket and I feel compassion for Rocket, but I also feel like his story has not been completed. He has an arc that started in the first movie, continued into the second and goes through Infinity War and Endgame, and then I was set to really finish that arc in Guardians 3. That was a big loss to me—not being able to finish that story—though I was comforted by the fact that they were still planning to use my script.
The third volume of Guardians of the Galaxy is due to start filming in 2020. Gunn's The Suicide Squad is scheduled to open Aug. 6, 2021.