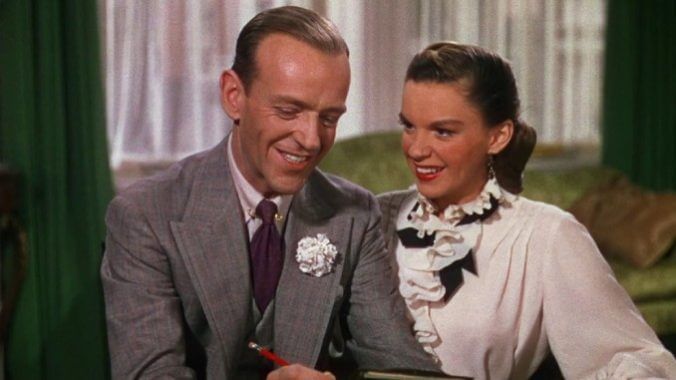 Judy Garland's "Have Yourself A Merry Little Christmas" has taken on so many different iterations that it is hard to feel the song's coldness rush over you, now worn shiny and frictionless with use. In its original iteration, performed at the end of Meet Me in St. Louis, it is sung by Esther (Judy Garland) to comfort her sister Tootie (Margaret O'Brien) on the eve of their family move. Guided by Judy Garland's prowess and Vincente Minnelli's careful direction, the song argues that memory is a potent force, serrated by something unsettled and dishonest. Garland would become defined by moments like this, bathed in an inviting, soft glow, but expressing a kind of longing which feels violent. These holidays are, for many of Garland's characters, loaded with a kind of nostalgia that feels closer to a haunting.
Garland's start in the industry is so infamous it is practically synonymous with the trappings of child stardom. Her voice, raspy and mature, boomed out of her childish frame, drawing in a bewildered, entranced audience. Soon she was recruited to enliven the predictable slate of Mickey Rooney collaborations which were predicated on the need to "put on a show" in order to save something (usually the barn, the farm or some other communal resource). This trope has been reimagined in numerous configurations, given a fresh, era-specific coat of fluorescent paint and now largely consigned to the Disney Channel. Ironically there is an eerie personal cost to the construction of this trope that remains non-exact, ephemeral and unnerving. Google "Judy Garland" and you will be confronted with numerous articles charting the "tragedy" of her life, each extending back to this time, when she was propped up by a studio quantifying her talent at the cost of her wellbeing. For her, there was an inarguable cost to "putting on a show"–one that would inform her adult characters going forward.
Garland's characters were still governed by this need for performance in her adulthood, none more so than the sparkling and simple Hannah Brown in Charles Walters' Easter Parade. Spanning across a year, from one Easter parade to the next, the film charts the highs and lows of dancers Hannah (Garland) and Don (Fred Astaire), as they navigate the complicated relationships that pattern the industry. Hannah's sweetness invites many to take advantage of her, but Garland ensures that there is an edge to her, a sense of knowingness that lingers behind the wide-open eyes. Following such a formulaic structure implies that future Easter parades will continue to welcome Hannah and Don in their various modes of companionship. Like life itself, this is a cycle terrifying and promising in its open-endedness. They sing of the photographers snapping them, they sing of capturing the crowds' attention as the shiny center of the Easter parade—but with so much potential to change, the waning spotlight is sure to skew away from them eventually. 
The lesser-known Judy Garland Christmas number would come in Robert Z. Leonard's In the Good Old Summertime, a lesser interpretation of the loving-pen-pals-slash-real-life-business-rivals plot, and as such the ugly duckling of the You've Got Mail and The Shop Around The Corner triple bill. Her rendition of "Merry Christmas" is simple, as she sits at the piano, floating between the piano stool and the crowd of onlookers. The song itself has a melancholic edge, opening with the long, muted notes of organ music, like the start of a funeral dirge. "Dream about your heart's desire," she sings, "Christmas Eve when you retire." It is a somber expression of the mandated isolation for many single people around the holidays, with nothing to look forward to besides the absence necessitated by Christmas busyness. All of this is especially true for Garland's Veronica, whose grand romantic hopes have been unfairly dashed.
In all these films, the holidays are markers of aging, stumbling upon the realization that getting older demands killing your younger tendencies. Each musical roughly covers a year, and at some point in its runtime will be mired in the grief that is implicit to time passing. "Through the years we all will be together," Garland warbles with her teary vibrato in Meet Me in St. Louis, "if the fates allow." The darkness which wedges itself into the space between these phrases is earned, seeping in through the window, blanketing the room. Her delivery is brittle, incapable of reasoning with the issue she is trying to explain. She is wrestling with hollow traditions and the meaningless attempts to bind families together with tinsel and tape. She admits this, and more: "we'll have to muddle through somehow."
Each of these films fulfill the comic promise of their genre, ending on a Technicolor, saccharine note. When Hannah makes amends with Don, clad in her Sunday best, they dance around Don's mahogany bachelor pad, alight with the promise of their reunion. But the final shot zooms out on the hordes lining the street, as the chorus swells: "Oh I could write a sonnet, about your Easter bonnet, and of the girl I'm taking to the Easter parade." It is a poignant note to conclude an otherwise easy, slight experience, but in a way, it characterizes what Garland brings to these stories. Her own sense of childish ease is sacrificed to the faceless audiences, to comfort young watchers and to complicate narrower, traditional takes on these stories. She is the performer best equipped to expose the darkness that undercuts the nostalgia of holiday-time and she offered her interpretations up as warm, twisted acts of self-sacrifice.
---
London-based film writer Anna McKibbin loves digging into classic film stars and movie musicals. Find her on Twitter to see what she is currently obsessed with.