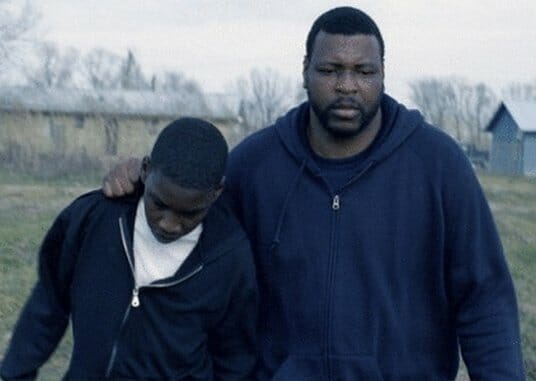 Release Date: ?Oct. 1 (limited)
Director/Writer: Lance Hammer
?Cinematographer: Lol Crawley
Starring: Micheal J. Smith Sr., Jim Myron Ross, Tarra Riggs
?Studio/Run Time: ?Required Viewing/Alluvial Film Company, 96 mins.
Stunning debut about lives on the margin in Mississippi

Brave and uncompromising, Ballast is an often bleak testimony to the mystery of compassion and the surprising ways human beings can transform misery into hope. The film's message, though, is in no way a platitude. Director Lance Hammer—who also edited this intimate character study and workshopped the screenplay with a cast of mostly non-actors—captures the lowly wisdom of small-town Mississippi through glinting observations and the somber, pristine clarity of the flat and open natural landscape in winter light.
It's the story of how a nearly catatonic man (Smith) comes back to life after his brother's drug overdose—and his own clumsy suicide attempt—by taking responsibility for his 12-year-old nephew (Ross) and coming to terms with the child's angry mother (Riggs), when all of them seem to have hit rock bottom. The minimalist dialogue is as elliptical as a Thelonious Monk solo, as if the characters have been so submerged by their circumstances that it's a struggle to find the will to articulate their pain. And yet, when they do speak, their words have a soul-deep urgency.
The film, which won top prizes for directing and cinematography at Sundance, captures something essential about rural Mississippi, a depopulated nowhere that's at once empty and full of portent. Shot in natural light with a visual sensibility that makes nearly every shot fresh and compelling, Ballast evokes a documentary feel that extends to its performances. Young Ross, especially, is remarkable as a restless kid whose infatuation with a local drug dealer becomes a catalyst for a seeming tragedy. That the story spins boldly in a different direction is only one reason this ranks among the best American film debuts of the year.