In a New PSA, Larry David Reminds People to Stay at Home
Larry David wants "to address the idiots out there" who aren't practicing social distancing
Image via The Office of the Governor of California/Twitter
Movies
News
Larry David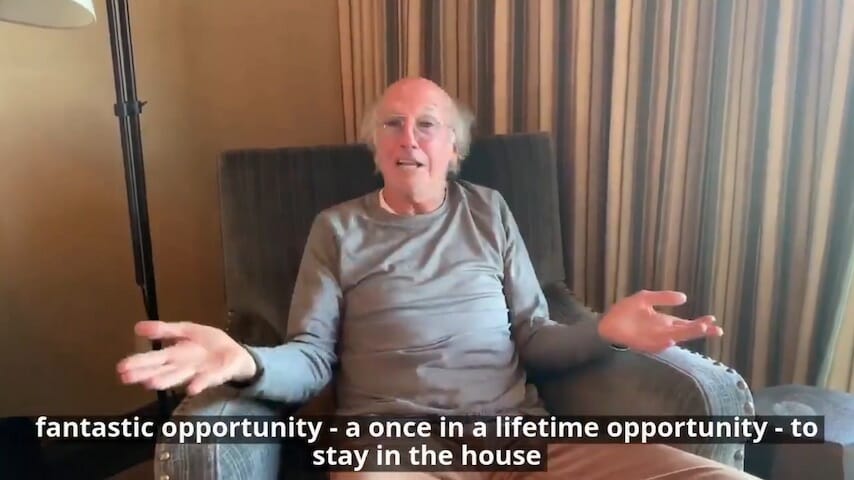 In a new PSA, Curb Your Enthusiasm star Larry David reinforces the importance of social distancing. In a video posted by the Office of the Governor of California on Tuesday, March 31 on Twitter, the comedian sits in a chair, looks into the camera, and tells people to stay at home.
"Obviously, somebody put me up to this 'cause it's generally not the kind of thing I do but I basically want to address the idiots out there—you know who you are. You're going out, I don't know what you do, you're socializing too close, it's not good," says David.
David's PSA follows a familiar format, as many celebrities from former Governor of California Arnold Schwarzenegger to Danny DeVito, have taken to social media to reinforce the importance of practicing social distancing to help contain the spread of COVID-19.
David says, "You're hurting old people like me. Well, not me, I have nothing to do with you, I'll never see you. But, you know, other, let's say other old people who might be your relatives, who the hell knows."
He tells us that by not staying home, we're missing out on one thing: TV. "The problem is, you're passing up a fantastic opportunity, a once in a lifetime opportunity to stay in the house, sit on the couch and watch TV." If there's one market that's been doing well in the time coronavirus, it's the TV industry.
Check out Larry David's PSA.
"You're hurting old people like me. Well, not me… I'll never see you."

Larry David wants everyone to stay home to protect older Californians from #COVID19!
He does not do these things.
Listen to Larry.#StayHomeSaveLiveshttps://t.co/snYe5v55Rwpic.twitter.com/C5cKOaAufE

— Office of the Governor of California (@CAgovernor) March 31, 2020