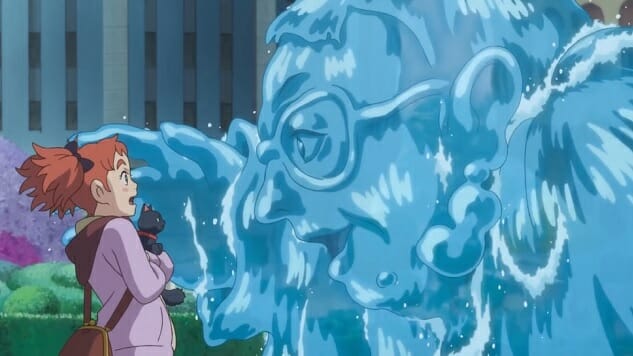 There's something heartbreaking to the idea of a child who's eager to help around the house but creates more of a mess than they end up cleaning. That's Mary, the title character of Hiromasa Yonebayashi's new film Mary and the Witch's Flower, released in Japan last July and now running in U.S. theaters. She wants to be useful to her great-aunt Charlotte (Lynda Baron), and to Charlotte's housekeeper, Miss Banks (Morwenna Banks), but she can't relieve Charlotte of an empty teacup without dropping it on the floor. She can't lend a hand to the gardener, Zebedee (Rasmus Hardiker), without accidentally killing one of his plants. She can hardly set foot outside without getting caught in a bucket of dead leaves. The kid's a walking disaster. It's practically tragic.
Mary, voiced by the winsome Ruby Barnhill (The BFG) in the film's English dub, putters around Charlotte's home in part out of love for her great-aunt, in part for want of anything better to do. Yonebayashi sets Mary and the Witch's Flower in the English countryside during the summer, when all the other kids are away and Mary is left bored out of her gourd. She's a good kid, she just has nothing to do, until she meets a couple of outdoor cats who lead her to a clutch of glowing blue flowers which capture her curiosity on sight. Not knowing exactly what they are (hint: they're witch's flowers), Mary takes them back to Charlotte's and quickly discovers that the flowers bestow temporary magical abilities on whoever touches them.
Mary and the Witch's Flower's plot—and, boy, there's a lot of plot—kicks off from there: Mary is whisked away by a flying sentient broom to an academy for witches, led by Madame Mumblechook (Kate Winslet) and Doctor Dee (Jim Broadbent), who put on a kindly front that disguises unsavory intentions. (Turns out that the flowers' powers make them a hot commodity for anyone interested in scientific experimentation.) There's a familiarity to Mary and the Witch's Flower as narrative: Harry Potter-lite by way of Studio Ghibli-lite with a dash of Yonebayashi's past thematic interests. It isn't a Ghibli film, of course, being the first feature by Studio Ponoc, but it's hard to separate Yonebayashi's time working with Ghibli from Mary and the Witch's Flower (just as it's hard to separate Ghibli's influence on Japanese animation from Japanese animation as a non-monolithic aesthetic).
Like his second film, When Marnie Was There, Mary and the Witch's Flower is about a girl lacking identity who ends up on a quest that leads her to it. Like Harry Potter, that identity is wrapped up in a heretofore unknown affinity for sorcery. Like a majority of Ghibli films, the whole thing is spirited, gentle and unfailingly lovely. You'll know whether or not that summary appeals to you the minute you've scoped out the movie's credentials, but there's literally something in here for everyone. Who doesn't like a good-natured Ghibli lookalike? Who doesn't enjoy Harry Potter? Who isn't fond of magic in all of its forms, whether it be the magic of hand-drawn animation or actual spellcraft?
Granted, the line between the two is deceptively thin here. Once or twice, a palette swap happens so quickly that you'd swear Yonebayashi and his animation team made Mary and the Witch's Flower by waving around wands instead of pencils. Mary's fire-red hair, too, is described aloud as frizzy, but we don't need dialogue to articulate her difficulties in keeping her tresses in line. There's buoyancy to the artwork, liveliness that gives the film a spark from start to finish.
Unfortunately, the script suffers from being composed of just a hair too much exposition for its own good. Mary in particular is saddled with the burden of relaying information to the audience that's readily apparent from Yonebayashi's storytelling. The stakes are first clear, then obvious when Mary goes out of her way to outline them for us, but repetition isn't the worst faux pas Mary and the Witch's Flower could make. At least it has the courtesy of establishing drama before articulating that drama aloud for inattentive viewers. The movie never drags its feet, either, which has the surprising effect of softening its habit of telling us what we already know. Yonebayashi doesn't let us stew in tautology. He's also likely aware that he's making a movie for kids, just as his source material, Mary Stewart's novel The Little Broomstick, was written for kids.
Which doesn't give Mary and the Witch's Flower a pass on its over-pronounced screenplay, but it does help us understand the film's targeted audience. Besides, the fluidity of Yonebayashi's filmmaking exceeds the occasional clumsiness of his dialogue. Not a moment goes by where the animation feels less than alive: Movement, both the camera's and the characters', suggests vitality, and vitality goes a long way when the medium is so often characterized by synthetic manufacturing. Mary and the Witch's Flower isn't molded in plastic. It's life distilled into a cartoon. We all look for magic in the world around us, and when we do the world routinely lets us down. Movies like this remind us that there's magic, and life, in art—and perhaps especially in animation.
Director: Hiromasa Yonebayashi
Writer: Hiromasa Yonebayashi, Riko Sakaguchi, Mary Stewart (novel)
Starring: Ruby Barnhill, Kate Winslet, Jim Broadbent, Lynda Baron, Ewen Bremner, Louis Ashbourne Serkis, Morwenna Banks, Rasmus Hardiker
Release Date: January 19, 2018
Boston-based pop culture critic Andy Crump has been writing about film and television online since 2009, and has been contributing to Paste since 2013. He also writes words for The Playlist, WBUR's The ARTery, Slant Magazine, The Hollywood Reporter, Polygon, Thrillist, and Vulture, and is a member of the Online Film Critics Society and the Boston Online Film Critics Association. You can follow him on Twitter and find his collected writing at his personal blog. He is composed of roughly 65% craft beer.