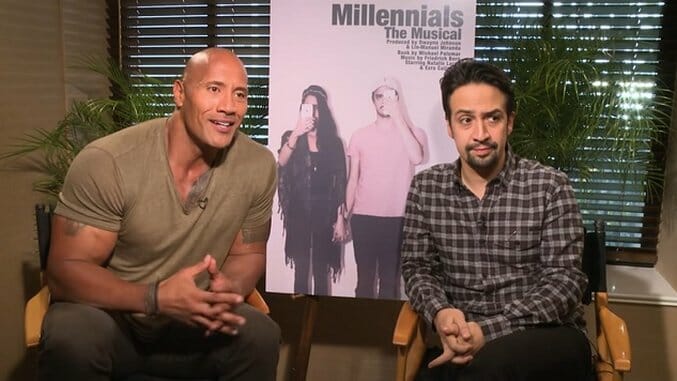 Dwayne "The Rock" Johnson and Lin-Manuel Miranda seem kind of like the perfect pair. They're both increasingly ubiquitous in pop culture, they met while working on Disney's Moana, and now they're embarking on another project together: producing Millennials: The Musical. In a mockumentary about the YouTube musical's production released Tuesday, they discuss how they turned a "140-character idea" into a full-blown musical.
"Theater is a beautiful, living, breathing thing. To tread the boards is a beauty and a blessing," Miranda says as the video begins. "As long as you don't fuck it up," Johnson adds.
The concept behind the musical came from Michael Palomar, who wrote and directed the project, and Johnson and Miranda decided to produce it in spite of their busy schedules. Miranda offers sage advice throughout the video, and reminds the audience that the relationship between choreographer and his director is key, which gives Johnson an opportunity to show off some of his dance moves.
"The night before opening night, it always feels like you're on the precipice of doom," the Hamilton creator and star said. "But then every time, like a miracle, it always comes together." As you'll see in the video, that might not be the case this time around.
Check out the video above, and watch Millennials: The Musical when it premieres next Tuesday, Nov. 29, on The Rock's YouTube channel.