Adam Sandler and Jennifer Aniston Are Dangerously in Love in Netflix's Murder Mystery Trailer
Image courtesy of Netflix
Movies
News
Netflix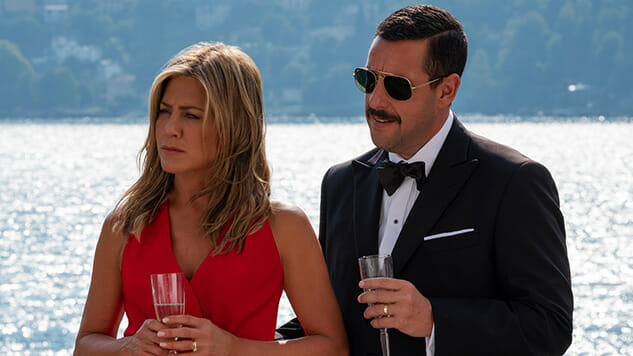 Netflix has released the trailer for Adam Sandler and Jennifer Aniston's forthcoming action-comedy Murder Mystery.
The film follows Sandler and Aniston as an exhausted married couple who, fortunately for their stalled love, become prime suspects of a murder while vacationing in Italy.
The official synopsis of the first from Sandler's binding four-film Netflix deal reads:
When an NYC cop (Sandler) finally takes his wife (Aniston) on a long promised European trip, a chance meeting on the flight gets them invited to an intimate family gathering on the Super Yacht of elderly billionaire Malcolm Quince. When Quince is murdered, they become the prime suspects in a modern day whodunit.
Alongside the summer-blockbusting duo, who previously starred together in 2011's Just Go With It, Murder Mystery also features Luke Evans, Gemma Arterton, Luis Gerardo Mendez and Terence Stamp. The Netflix original was directed by Kyle Newacheck (Workaholics) from a screenplay by The Amazing Spider-Man writer James Vanderbilt.
See what Netflix made them do in the trailer below ahead of Murder Mystery's release on June 14.