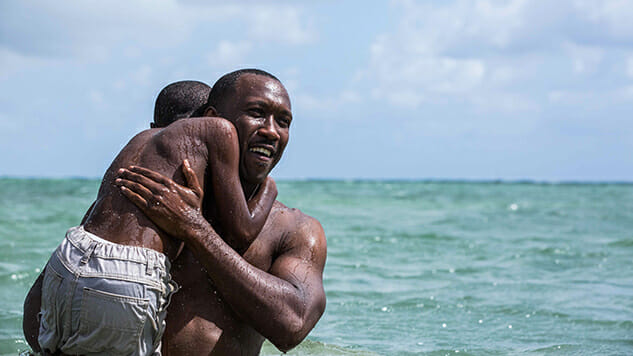 By the time the Oscar winners are announced on February 26th, the majority of the nominees will be available to stream on most major services (Netflix, iTunes, Hulu, Google Play, Amazon Prime and Vudu—sorry Crackle). But if you're only catching the movies then, it'll be too late to play along.
So we've tried to compile as thoroughly as we can every possible way you can both see and plan to see the Academy Award nominated films before the big night.
A few caveats: In many cases, films are available to own digitally before they're available to rent, and so we've tried, based on the information accessible to us, to make that differentiation clear. These dates, and the platforms on which the films are hosted, are obviously subject to change.
Additionally, if a film is streamable on Netflix, Hulu, or Amazon Prime, then we've only noted those options. We figure that you'll want to know about the "free" streaming options first, and that in most cases, if they're streaming on a major service, they're probably also open to rent or buy pretty much everywhere else (unless, of course, you're a Netflix Original—shout out to 13th).
It's worth noting too that because we live in exciting times, a service like Amazon Prime is going to be winning Oscars, and so, though it has no set date, Amazon Studios films like Manchester by the Sea and Asghar Farhadi's The Salesman will undoubtedly end up on Amazon Prime before the year's out. (Also, because we live in dark times, Suicide Squad is included in our list.)
With all that prequalification out of the way, start catching up with our alphabetized list below, and check in often over the course of the next month as we update this page to reflect whatever news surfaces.
---
13 Hours: The Secret Soldiers of Benghazi
Nomination: Best Sound Mixing: Greg P. Russell, Gary Summers, Jeffrey J. Haboush, Mac Ruth
Where to Find: Available to stream on Amazon Prime and Hulu
13th
Nomination: Best Documentary Feature
Where to Find: Available to stream on Netflix
4.1 Miles
Nomination: Best Documentary (Short Subject)
Where to Find: Available to stream on The New York Times
Arrival
Nominations: Best Picture; Best Director: Denis Villeneuve; Best Adapted Screenplay: Eric Heisserer; Best Cinematography: Bradford Young; Best Production Design: Patrice Vermette, Paul Hotte; Best Sound Editing: Sylvain Bellemare; Best Sound Mixing: Bernard Gariépy Strobl, Claude La Haye; Best Film Editing: Joe Walker
Where to Find: Available to own January 31st; available to stream February 14th on Amazon, iTunes, Google Play and Vudu
Captain Fantastic
Nomination: Best Actor: Viggo Mortensen
Where to Find: Available to stream on Amazon Prime starting February 27th; available to stream on Amazon, iTunes, Google Play and Vudu
Deepwater Horizon
Nominations: Best Visual Effects: Craig Hammack, Jason Snell, Jason Billington, Burt Dalton; Best Sound Editing: Wylie Stateman, Renée Tondelli
Where to Find: Available to stream on Amazon, iTunes, Google Play and Vudu
Doctor Strange
Nomination: Best Visual Effects: Stephane Ceretti, Richard Bluff, Vincent Cirelli, Paul Corbould
Where to Find: Available to stream February 14th on Amazon, iTunes, Google Play and Vudu
Extremis
Nomination: Best Documentary (Short Subject)
Where to Find: Available on Netflix
Florence Foster Jenkins
Nominations: Best Actress: Meryl Streep; Best Costume Design: Consolata Boyle
Where to Find Available to stream on Amazon, iTunes, Google Play and Vudu
Hacksaw Ridge
Nomination: Best Picture; Best Director: Mel Gibson; Best Actor: Andrew Garfield; Best Sound Editing: Robert Mackenzie, Andy Wright; Best Sound Mixing: Kevin O'Connell, Andy Wright, Robert Mackenzie, Peter Grace; Best Film Editing: John Gilbert
Where to Find: Available to own February 7th; available to stream February 21st on Amazon, iTunes, Google Play and Vudu
Hail, Caesar!
Nomination: Best Production Design: Stuart Craig, Anna Pinnock
Where to Find: Available to stream on HBO GO and HBO NOW
Hell or High Water
Nominations: Best Picture; Best Supporting Actor: Jeff Bridges; Best Original Screenplay: Taylor Sheridan; Best Film Editing: Jake Roberts
Where to Find: Available to stream on Amazon, iTunes, Google Play and Vudu
Jim: The James Foley Story
Nomination: Best Original Song: "The Empty Chair" by J. Ralph and Sting
Where to Find: Available to stream on HBO GO and HBO NOW
Joe's Violin
Nomination: Best Documentary (Short Subject)
Where to Find: Available to stream on The New Yorker
The Jungle Book
Nomination: Best Visual Effects: Robert Legato, Adam Valdez, Andrew R. Jones, Dan Lemmon
Where to Find: Available to stream on Netflix
Kubo and the Two Strings
Nominations: Best Animated Feature; Best Visual Effects: Steve Emerson, Oliver Jones, Brian McLean, Brad Schiff
Where to Find: Available to stream on Amazon, iTunes, Google Play and Vudu
Life, Animated
Nomination: Best Documentary Feature
Where to Find: Available to stream on Amazon Prime
The Lobster
Nomination: Best Original Screenplay: Yorgos Lanthimos, Efthimis Filippou
Where to Find: Available to stream on Amazon Prime
Loving
Nomination: Best Actress: Ruth Negga
Where to Find: Currently available to own; will be available to stream February 7th on Amazon, iTunes, Google Play and Vudu
A Man Called Ove
Nominations: Best Foreign Language Film; Best Makeup and Hairstyling: Eva von Bahr, Love Larson
Where to Find: Available to stream on Amazon, Google Play and Vudu
Manchester by the Sea
Nominations: Best Picture; Best Director: Kenneth Lonergan; Best Actor: Casey Affleck; Best Supporting Actress: Michelle Williams; Best Supporting Actor: Lucas Hedges; Best Original Screenplay: Kenneth Lonergan
Where to Find: Available to own February 7th; available to stream February 21st on Amazon, iTunes, Google Play and Vudu
Moana
Nominations: Best Animated Feature; Best Original Song: "How Far I'll Go" by Lin-Manuel Miranda
Where to Find: Available to stream February 21st on Amazon, iTunes, Google Play and Vudu
Moonlight
Nominations: Best Picture; Best Director: Barry Jenkins; Best Supporting Actress: Naomie Harris; Best Supporting Actor: Mahershala Ali; Best Adapted Screenplay: Barry Jenkins, Tarell Alvin McCranley; Best Original Score: Nicholas Britell; Best Cinematography: James Laxton; Best Film Editing: Nat Sanders, Joi McMillon
Where to Find: Available to own February 14th; available to stream February 21st on Amazon, iTunes, Google Play and Vudu
Nocturnal Animals
Nomination: Best Supporting Actor: Michael Shannon
Where to Find: Available to own February 7th; available to stream February 21st on Amazon, iTunes, Google Play and Vudu
O.J.: Made in America
Nomination: Best Documentary Feature
Where to Find: Available to stream on Hulu
Pearl
Nomination: Best Short Film (Animated)
Where to Find: Available to stream on YouTube but you'll need a Virtual Reality headset
Star Trek Beyond
Nomination: Best Makeup and Hairstyling: Joel Harlow, Richard Alonzo
Where to Find: Available to stream on Amazon, iTunes, Google Play and Vudu
Suicide Squad
Nomination: Best Makeup and Hairstyling: Alessandro Bertolazzi, Giorgio Gregorini, Christopher Nelson
Where to Find: Available to stream on Amazon, iTunes, Google Play and Vudu
Sully
Nomination: Best Sound Editing:
Where to Find: Available to stream on Amazon, iTunes, Google Play and Vudu
Tanna
Nomination: Best Foreign Language Film
Where to Find: Available to stream February 7th on iTunes
Toni Erdmann
Nomination: Best Foreign Language Film
Where to Find: Available to stream April 11th on Amazon, iTunes and Google Play
Trolls
Nomination: Best Original Song: "Can't Stop the Feeling" by Justin Timberlake, Max Martin, Karl Johan Schuster
Where to Find: Currently available to own; will be available to stream February 7th on Amazon, iTunes, Google Play and Vudu
The White Helmets
Nomination: Best Documentary (Short Subject)
Where to Find: Available to stream on Netflix
Zootopia
Nomination: Best Animated Feature
Where to Find Available to stream on Netflix