The Man Who Killed Hitler and Then the Bigfoot Will Officially Hit VOD in February
Movies
News
Sam Elliott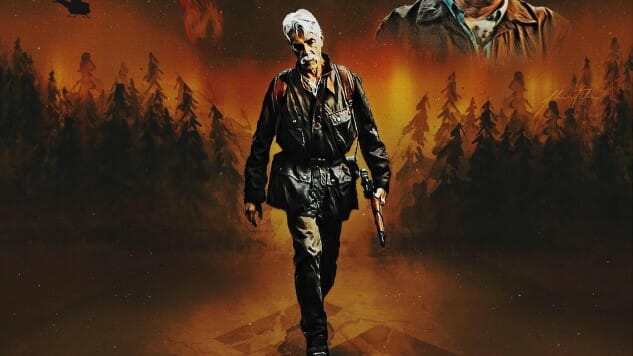 There's no trailer yet, so it's a little bit hard to properly gauge its tone, but you'd be forgiven for making the assumption that The Man Who Killed Hitler and Then the Bigfoot was an absurdist, historical action movie in the style of FDR: American Badass!. Although it's apparently about exactly those things mentioned in its own title, early word on the street seems to indicate that The Man Who Killed Hitler and Then the Bigfoot is actually a pretty sober drama at heart. Shocking, I know—but we'll all have a chance to see for ourselves when the film hits VOD (and limited theatrical screenings) on Feb. 8, 2019. Perfect Valentine's Day movie? We think so.
Here's the official synopsis:
Since WWII, Calvin Barr has lived with the secret that he was responsible for the assassination of Adolf Hitler. Now, decades later, the US government has called on him again for a new top-secret mission. Bigfoot has been living deep in the Canadian wilderness and is carrying a deadly plague that is now threatening to spread to the general population. Relying on the same skills that he honed during the war, Calvin must set out to save the free world yet again. Starring Sam Elliott (A Star is Born), Aidan Turner (Poldark), Caitlin FitzGerald (Masters of Sex) and Ron Livingston (Office Space), The Man Who Killed Hitler And Then The Bigfoot follows the epic adventures of an American legend that no one has ever heard of.
How funny is it to see A Star is Born referenced during the synopsis of a film titled The Man Who Killed Hitler and Then the Bigfoot? Regardless, after the film debuted at this year's Fantasia International Film Festival, early buzz has been pretty darn good. Many are calling the film surprisingly emotional or profound. Says Andrew Todd over at Birth.Movies.Death, "As ludicrously silly as that sounds, Man/Hitler/Bigfoot is actually a surprisingly sedate, meditative picture, more about the concept of legend than it is about Hitler and Bigfoot. Elliott gives a restrained and moving performance as an unknown pillar of 20th-century history nearing the end of his life, and even the Bigfoot material gets surprisingly emotional. It's a truly unique film, and I hope all who see it enjoy it for what it is, rather than for what they think it will be."
Okay then. We'll do our best to approach a film with such a ludicrous title without too many expectations set in stone.