Being Alive in 2019: The Year Sondheim Saturated Pop Culture
Stephen Sondheim, alive at 89, has strangely haunted pop culture in 2019.
Movies
Features
Stephen Sondheim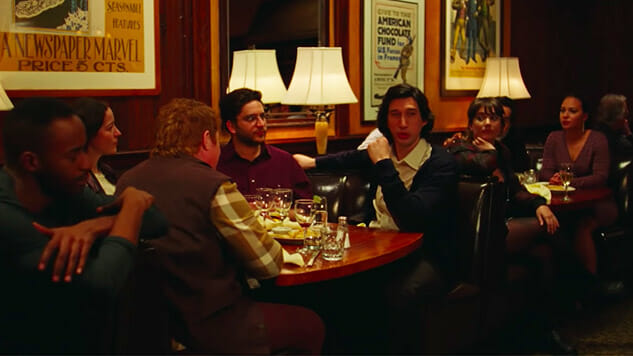 The way that Adam Driver ends "Being Alive," which his character in Marriage Story has just sung in full (including dialogue asides from Company's lead's friends), is like watching him drain what's left of his spirit out onto the floor, in front of his small audience (which includes us). The performance starts off kind of goofy, the uninvited theater kid taking the reins to sing one of Broadway's greatest showstoppers, but then, in another aside, he says, "Want something… want something…" He begins to get it. He begins to understand the weight of life, the dissatisfaction of squandered intimacy and what it might mean to finally become an adult: to embrace all those contradictions, all that alienation and loneliness. He takes a deep exhalation after the final notes, after the final belt; he finally realizes he's got to grow up, take down his old life, make something new.
It's a lot like living on the Internet these days, all these prolonged messages encouraging togetherness, trying to posit joy and excitement, yet drowned out by competition, imposter phenomenon, condescension, glibness. The impossibility of crafting an "authentic self," negligible the term may be, is compounded by a cultural landscape that refuses to admit that "authenticity" is as inauthentic a performance as anything else. Working through identities is painful and ugly, but also totally transfixing. Arguably, we're all working through how to be ourselves in relation to those around us.
That's what Bobby, the 35-year-old at the center of Stephen Sondheim's 1970 musical Company, is doing. Caught in an identity limbo between a litany of friends in various marital states and girlfriends growing tired of his antics, he launches into the final song. At first he's skeptical and dismissive of what his friends have, but finally he realizes that he, most importantly, has to figure out what he wants for himself—seemingly made all the more difficult by being trapped in the highly mechanized metropolis of 1970s New York.
Sondheim, alive at 89, has strangely haunted pop culture in 2019. He's not only in Noah Baumbach's Marriage Story (the film also features "You Could Drive a Person Crazy"), but in Joker, Rian Johnson's murder mystery Knives Out, Apple TV+'s The Morning Show, two Ryan Murphy joints (FX's Pose and Netflix's The Politician), and IFC Channel's parody series Documentary Now!, with an episode called "Original Cast Album: Co-Op," which is based on DA Pennebaker's film Original Cast Album: Company. Additionally, film critic David Ehrlich uses "Being Alive" as a song cue in his end of 2019 video supercut over The Irishman, Knives Out, Alex Ross Perry's Her Smell, the Safdie Brothers' Uncut Gems and Nadav Lapid's Synonyms. Though these examples seem unrelated, one realizes that the pop culture of 2019 has the explosive emotion, the frustrated ambivalence, and the deep yearning of Sondheim—of "Being Alive" in particular—pulsating through it. Regardless if there's a showtune in the text. Sondheim's preoccupations bring them together, like a unifying vision.
There are ludicrous examples of Sondheim needle drops—Wall Street finance bros singing "Send in the Clowns" at Joker (Joaquin Phoenix) for an unbroken three verses; Patti LuPone showing up on Pose to do "I'm Still Here" just because—yet even the most absurd and deranged examples (Jennifer Aniston and Billy Crudup dueting on "Not While I'm Around" on The Morning Show) speak to a strange sense of isolation, frigidity and, ultimately, mistrust. Aniston and Crudup are on opposite sides: Her Alex Levy is the tenured morning anchor fighting for her agency, while his Cory Ellison is the network executive ready to push her out in favor of new blood. Their rendition is ironic, cutting, but also a gambit and a deal. The question of a real alliance hangs over the song, as Alex wrestles with her professional obligations (and secrets), with her legacy, and Cory evaluates how he wants to gain leverage in the company. They're both hardened professionals, used to being burned, so the song takes on irony: Maybe through performance they find intimacy and trust.
For Aniston and Crudup, as off the walls as the show's writing may be, there's a there there. There's interiority and psychology. The core of a human spirit, one might say. Those qualities are exactly what aspirational high school student body president Payton Hobart (Ben Platt) doesn't have. In the sixth episode of the series, he, with maybe-ill Infinity Jackson (Zoey Deutsch), sings "Unworthy of Your Love" from 1990's Assassins, a macabre musical revue about and starring the people behind presidential assassinations, both successful and failed. The inclusion of Assassins reads at first as obvious and cheeky, but Murphy's usage is inspired: The song, a love letter (in the style of a folk love song) from John Hinkley Jr. to Jodie Foster and from Squeaky Fraum to Charles Manson, essentially encapsulates the somewhat controversial musical's overall challenge to the audience. Can you humanize someone who, we are told, is fundamentally inhuman?
Putting aside the impossibility of untangling the ways in which media narratives obfuscate humanity, deservedly or otherwise, the best thing about The Politician is that it knows its cast is basically a bunch of robots. Not least of all Payton, who is also performing, even when he's trying not to perform. When he admits that he loved his late boyfriend (and former opponent) to Infinity's mother (Jessica Lange), is he being honest or is he strategizing? What if there's no difference for him? Watching Platt sing "Unworthy of Your Love" calls to mind two things: 1) Platt is a good song stylist, even though he does basically the same thing for every song (sad boy charms), and 2) we find another example of someone whose artificiality is the only way they can channel any sense of authenticity. His adoptive mother (Gwyneth Paltrow) off-handedly mentions how conditioned young people are to spill their guts and post about their own anxieties on the internet, and yet still struggle to foster closeness in person. Payton's performance feels like an embodiment of that lost-ness. He doesn't really have anyone. Sondheim's music feels like when you realize that reality and it all comes crashing down on you.
The shadow of "Being Alive" stretches beyond the work in which Sondheim explicitly appears. The snarl of "someone to hold you too close" and its aching transformation into an unbearable, craving demand, "Somebody hold me too close." So many characters in 2019 feel as if they are hiding how close they are to splintering apart. They hesitate, then defiantly reach out their hand, in the hopes that they'll feel something, though someone once hurt them too deeply.
Scorsese's crime drama The Irishman front loads illusory pleasure and decadence, searching for trust amongst the knotty triad of mob hitman Frank Sheeran (Robert De Niro), boss Russell Bufalino (Joe Pesci) and Teamsters leader Jimmy Hoffa (Al Pacino). Stuck between loyalties and brotherhoods, Frank rarely interrogates the consequences of his actions, even within his own made family. He tries to grasp onto fraternal security desperately and unsuccessfully, wondering what will ultimately make himself whole. His daughter (Anna Paquin) knows the emptiness within him. For moments at a time, the relationships Frank has cultivated with Russell and Jimmy, though simultaneously unsustainable, are Frank's Heaven and Hell. He's the kind of man who bristles with need but refuses to admit it.
Becky Something (Elisabeth Moss) is no different. The brilliance of her career success with her punk band Something She has haunted her for years, and Her Smell functions as a possession film not unlike John Cassavetes' Opening Night. Becky's emotional and psychological displacement looks and feels like someone plummeting, but in ultra-slow motion, in mid-air, suspended from nothing, the safety net cut, flailing arms moving glacially as if in water. Her Smell is an addiction drama, in some respects, yet the tragedy feels especially compounded with Perry's dramaturgical approach: long takes, structured in long moments of time; a camera that luxuriously embeds itself in the trashy rooms and hallways of music venues, spaces big enough so that the consequences of Becky's unhinged actions reverberate off the walls and faces of the people around her.
Her savior might be her daughter, Tama (Daisy Pugh-Weiss). Fame, or perhaps the modern world, contorts our desires and renders our identities unrecognizable: We see magazine covers and interviews and B-roll when the band was younger, more naive. But Becky's daughter is pure innocence. Untainted by that world. Even if she feels isolated and alone, her daughter could be the "somebody" she can hold "too close." Deep into recovery, she sits beside Tama at the piano and sings a simple, naked version of Bryan Adams' "Heaven." "Baby you're all that I want, when you're lyin' here in my arms, I find it hard to believe, we're in heaven," she trills. Perry doesn't break away from this moment, nor does he intrude upon it in a gawking manner; Becky sings like doing this for her daughter is the only way to piece herself back together.
In Synonyms Yoav (Tom Mercier) wants to do that, piece himself back together, to create a new self, basically. He is an Israeli refugee who decides to make Paris his new home. No, that's not quite right—were it up to him, maybe Paris would be the beginning and the end of his background, his story. He tells lots of stories, like to the couple next door who help him. As he tries to strip himself of one national identity in favor of another, the mere attempt reveals that displacement runs deep. Society, though, won't let him in. Yoav tried to make himself a blank slate, ready to be the personification of a good Parisian, but when that fails, what else is left of him?
All Howard Ratner (Adam Sandler) has is his debts. Nervousness lurks beneath the charm, informing his compulsive gambling. Maybe attaining a certain class and social status will never be enough? In Uncut Gems, one wonders if the illustrious life that Howard, who works in the diamond district of New York, has created for his family (but maybe mostly for himself) is the product of an endless stream of gambles. Not just literal betting on games and what have you, and the exploitation of people of color not to mention, but a gamble on whether the American Dream can be an adequate substitute for a sense of self and identity, disconnected from capital. Or maybe, after Howard has squandered his relationships with his family, his wife, his mistress, the film's ultimate indictment is that capital has perverted our identities and desires. Towards the end of Company, Bobby frantically asks, "What do you get?" Confronted with all the options, with his friends trying to direct and dictate what he wants, he bellows his question with fury. If he listened to them, to all the hemming and hawing and pushing, he might end up like Howard, always gambling on how easily he can transform intimacy into a transaction. That's the kind of thing he would lose.
Fear of losing ignites much of Baumbach's work, but, so too, Lulu Wang's The Farewell, whose title has both regality and fragility. Billi's professional trajectory has hit a wall, as has her understanding of her identity: as an artist, as a woman of color, as someone existing in the liminal space between East and West. Her closest connection to the former—her Nai Nai (Zhao Shuzhen), who may also be her most intimate familial relationship—may soon be gone. As she sorts through grief and family duty across Asian American diaspora, she has to learn to want something, to want something. Even to understand what intimacy and vulnerability may mean to her, in the complicated, multifaceted context of her diasporic experience.
There are those whose relationships to intimacy and vulnerability are so disjointed and so fragmented that it shapes the entire form of the film. There's The Goldfinch and A Beautiful Day in the Neighborhood, whose protagonists' core trauma informs the subtle changes in line readings and the deafening silence that follows a deep look into the abyss of the soul. Both Ansel Elgort and Matthew Rhys hide, and then unveil, the gaping longing for connection in their eyes, and both directors John Crowley and Marielle Heller give them space to pull the audience into their gaze.
When trauma becomes both key to and the act, as in the Alma Har'el directed, Shia LaBeouf penned film Honey Boy, the lead, Otis (Lucas Hedges/Noah Jupe), like Sondheim's Bobby, must reconcile with which honest parts of himself he will expose, and whether he can do that at all. Acting comes so easily to them because they always have an audience onto whom they can project a version of themselves. But that must fall away when they're the only ones left on stage. Same goes for the queer sex workers and porn performers of Knife + Heart, compounded by the notion that the art they're creating is the purest version of themselves, of their being. The films that Anne Parèze (Vanessa Paradis) makes are as much a part of her as her beating, bleeding heart.
The Beach Bum's poet laureate-cum-stoner extraordinaire Moondog (Matthew McConaughey) might be the one character that Bobby should aspire to be: He offers himself whole to his wife, to his friends and to his art. Even in bereavement, he knows who he is and who he wants to be, for himself and for others. He doesn't need the song as badly as Becky or Frank or Howard or anyone else needs it. Knowing what it means to be alive has always been his personal and artistic ethos. His journey is harnessing that as a power, which speaks to 2019's Sondheim predilection by eschewing the disaffectedness that colors other films and, more broadly, the tone of pop culture and the Internet.

Many of these movies don't have any music by Sondheim in them, nor do they need to. Yet, the specificity of the emotions Sondheim expresses have a knack for becoming communal and spiritual, as if you could lay one of his tracks down on the best of these movies and they would become a dialogue with one another. A few of the aforementioned films I did not especially care for on first viewing, but, when viewed through the lens of this artistic dialogue, I found a greater understanding of their accomplishments, their verve, of the deep sadness that surges through their veins.
The current cultural landscape doesn't know what to do with sincerity, especially as it relates to ideas of authenticity. In a late capitalist, postmodern world, everyone has a little bit of a jaundiced eye, viewing earnestness with skepticism or undermining it with a weird joke. If our entertainment is a little more cynical, it's only because we became that way first. In a letter to director and producer Hal Prince, composer Richard Rodgers said, "I think Company is to cynicism what The Sound of Music is to sentimentality." Sondheim's music is for the cynic trying to be positive, the jaded person trying to confront what being authentic might mean in a material way. His characters are alienated and lonely; many of us are that way, too, pulled in as many ways as social media and the content machine want us to be pulled.
I think we've all found Sondheim this year because we were trying to make sense of our broken world and broken selves. We're trying to figure out how to salvage parts of us to make sure they still work, to keep them for ourselves away from prying eyes or Google Analytics.
Thinking about the way "Being Alive" could flow easily in any number of films and shows in 2019 hits almost as hard as when Adam Driver sings it in Marriage Story, precisely because it forces the viewer to make connections about their humanity, the art they're experiencing, and the ever deadening world in which it all exists. Charlie grabs the microphone, drained, realizing that he has to figure out what he has to do next, to re-put his life together again. All of us, we're putting it together too. Or trying, at least. That counts for something.