Aaron Sorkin: "There Should Be a Sequel" to The Social Network
The Social NeTWOrk, anyone?
Photo by Kevin Winter/Getty
Movies
News
The Social Network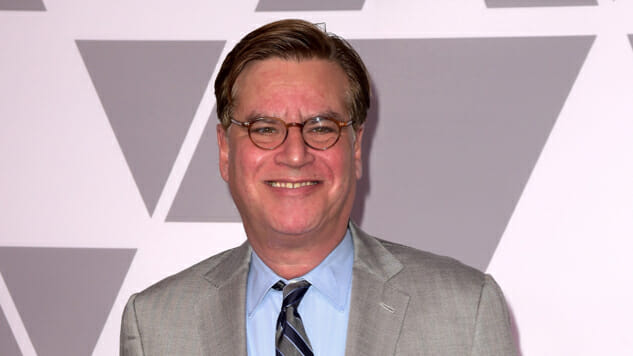 Think David Fincher's 2010 Facebook biopic The Social Network needs a sequel? The film's Oscar-winning screenwriter Aaron Sorkin sure does.
Sorkin, who won his Academy Award for adapting The Social Network's script from Ben Mezrich's 2009 book The Accidental Billionaires: The Founding of Facebook, a Tale of Sex, Money, Genius and Betrayal, revealed his desire to script a sequel to Fincher's film in a recent interview with the Associated Press.
"First of all, I know a lot more about Facebook in 2005 than I do in 2018, but I know enough to know that there should be a sequel," Sorkin told the AP. "A lot of very interesting, dramatic stuff has happened since the movie ends with settling the lawsuit from the Winklevoss twins and Eduardo Saverin. And Scott [Rudin], who produced The Social Network, I've gotten more than one email from him with an article attached, saying, 'Isn't it time for a sequel?'"
You don't have to dig particularly deep into Paste's various coverage of Facebook to see that Sorkin has a point: Between the social media giant's role in the 2016 election and its many scandals since, surely there's more than enough material for the screenwriter to work with. Just imagine Jesse Eisenberg recreating Mark Zuckerberg's Congressional testimony! There aren't enough "likes" in the world.
The Social Network was widely acclaimed upon its release, earning Oscars for its editing and original score in addition to the win for Sorkin's adapted screenplay (out of eight total nominations). The film's reputation has somehow only grown since then—nowadays, it's widely regarded as the single best film of 2010, not to mention one of the best dramas of the decade.
One hopes Fincher, Eisenberg and company would be able to return, should The Social NeTWOrk move forward—that said, both are currently at work on zombie-related sequels: Fincher, who recently wrapped on Mindhunter season two, is prepping to shoot World War Z 2 this summer, while Eisenberg is currently shooting Zombieland 2.
Sorkin recently made his directorial debut with Molly's Game, starring Jessica Chastain as an underground poker ring mastermind. Paste film critic Oktay Ege Kozak gave Molly's Game a mixed review, deeming it "a technically competent but messy and awkwardly paced mish-mash of The Social Network, Moneyball and Steve Jobs."
See Sorkin's comments regarding the still-hypothetical Social Network sequel below.
MORE TO THE STORY: Aaron Sorkin says "The Social Network" producer Scott Rudin has reached out to him about revisiting the subject of #Facebook on film. pic.twitter.com/hE5iOwEik1

— AP Entertainment (@APEntertainment) January 11, 2019