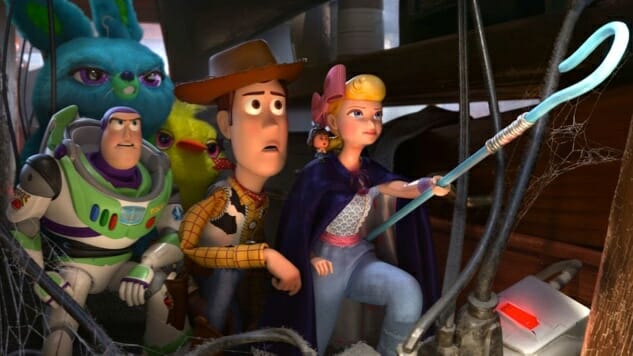 1. We were all concerned about Toy Story 4. How could we not be? This is perhaps the most beloved animated franchise of the last 50 years, and, in the eyes of many, each movie has been a little better than the last one. That final one, Toy Story 3, ended in such a perfect, emotionally devastating fashion that trying to follow it up felt like the ultimate fool's errand. And in the nine years since that installment, Pixar, as a company, has changed, becoming more corporate, more sequel-focused, more … Disney. (Or, really, more Apple.) Could this Pixar be that Pixar again? It's one thing to cough out another Cars sequel. When you're messing with Toy Story, you better be sure you get it exactly right.
2. What a relief it is, then, that Toy Story 4 is such an immense joy. It might not reach the heights of Toy Story 3—which manages to be a prison escape movie that also happens to be a profound dissertation on grief and death and features a surrealist tortilla—but it is a more than worthy member of the Toy Story family. The overarching theme in Toy Story 4 isn't as much death as it is loss—loss of purpose, loss of meaning, loss of value. What do you do with yourself when the best thing you'll ever be a part of is already over? How do you find drive in life when your lifelong goal has been accomplished? How do you handle getting old and not being needed anymore? If these seem like heady concepts for a Toy Story movie … you've never seen a Toy Story movie.
3. While the last couple of Toy Story movies have focused on the toys as an ensemble, this one focuses mostly on our hero Woody, voiced as ever by Tom Hanks in what honestly has always been one of his best roles. (The rest of the gang all gets their individual moments, but on the whole, they're just along for the ride here.) The film opens soon after the events of the last film, with Bonnie, the toys' new child, about to head off to her first day of Kindergarten. She's less enamored with Woody than Andy was—the first time we see her, she's taking off his sheriff's badge and putting it on Joan Cusack's Jessie, and then leaving Woody in the closet—and Woody feels the need to prove his worth. He does it by sneaking into her backpack to school, where he discovers Forky (a fantastic Tony Hale), something Bonnie created by taping some junk to a spork but which somehow gains sentience. Forky doesn't want to be a toy (he's convinced he belongs in the trash), so he keeps running away, and Woody takes it upon himself to keep chasing him. This ultimately leads the whole gang to a carnival, where they meet a sad lost doll named Gabby Gabby (Christina Hendricks), two plush toys literally bonded together (Key & Peele, back together again), a Canadian stunt devil named Duke Caboom (Keanu Reeves) and, most crucially, his old flame Bo Peep (Annie Potts), who has learned how to survive on her own in her years since becoming a lost toy.
4. The first thing to note about Toy Story 4 is that it is extremely funny: I'd argue it's the most consistently comedic of the entire series. Key & Peele and Keanu are the obvious crowd pleasers—the movie even gives Duke a "whoa" that has the most pristine timing—but the creation of Forky is a masterstroke, a creature who isn't even sure why he's a creature and one who just keeps reacting to the world with confusion and awe. But this is Woody's story, first and foremost, and how he learns, as the movie goes along, that his best days are behind him … and why that's okay. It's a legitimately daring move to turn the hero of a long-running franchise into one who slowly realizes that the best thing for him is to recede into the background of his own life, to concentrate on what makes him happy in his new phase in his life, and it tracks this series' progression. Woody has gone from the child to the parent to the grandparent: As much as he wants to stay constant and never change, the world has different plans in store for him, and for all of us. As always, Hanks as Woody keeps us grounded: They are forever impossible to root against.
5. Toy Story 4 doesn't top the film that came before it, and it never really tries to. Like its protagonist, it's less concerned with trying to do something revolutionary just because it's done it in the past and instead worries about what comes next … what the next logical progression is. It finds the next step, for Woody, and the franchise, while still being as hellzapoppin' and wildly entertaining as you have come to expect from this franchise. Heading into this, I was terrified about them messing with this series' legacy. But this franchise is so generous, and so obviously precious to those who work on it, that I shouldn't have doubted. This one more than justifies its existence. I'm ready for four more.
Grade: A-
Director: Josh Cooley
Writer: Stephany Folsum, Andrew Stanton
Starring: Tom Hanks, Tim Allen, Tony Hale, Christina Hendricks, Keanu Reeves, Keegan Michael-Key, Jordan Peele, Annie Potts, Joan Cusack
Release Date: June 21, 2019
---
Grierson & Leitch write about the movies regularly and host a podcast on film. Follow them on Twitter or visit their site.