Here's Our First Look at Tom Hardy as Eddie Brock in Venom
Photos by Jason Kempin/Getty, Ben A. Pruchnie/Getty
Movies
News
venom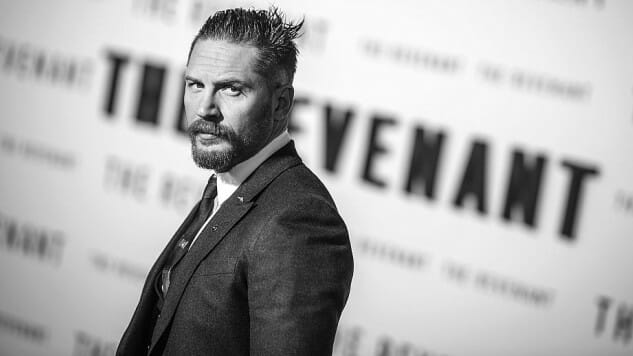 The team behind Sony's long-anticipated and highly secretive Venom has finally offered us a first look at Tom Hardy in the role of Eddie Brock, aka Venom.
The picture shows the Oscar-nominated actor as Brock working his job as a reporter, staying true to the comics. Hardy has explained his excitement for taking on the role, telling IGN at Brazil Comic Con, "I just wanted to say that I give you my word of honor that I'm going to do everything that I can to deliver the best Venom that I can possibly muster."
Venom's story distances itself from the Marvel Universe and instead offers a darker look at the iconic anti-hero. The film's director, Ruben Fleischer, said the film is inspired by the 1992 limited series Venom: Lethal Protector and the 1995 five-issue comic Planet of the Symbiotes, both written by David Michelinie.
Venom: Lethal Protector follows Eddie's story as he moves from New York to San Francisco after coming to an agreement with his nemesis, Spider-Man, while Planet of the Symbiotes examines Eddie's relationship with his symbiote and the influence it has on him, resulting in a war between Venom and his allies and the symbiotes.
Filming on Venom has wrapped in Atlanta, but continues in San Francisco later this month. Fleischer, the director of Zombieland, promises a true look at one of Marvel's most exciting, complex and mysterious characters. The director said at Brazil Comic Con, "I can promise you badass action, Venom's dark humor, and I can also promise you an absolutely stunning performance by Tom Hardy." The film also stars Oscar nominee Michelle Williams, Golden Globe nominee Riz Ahmed and Jenny Slate.
Venom arrives in theaters Oct. 5, 2018. See Hardy as Eddie Brock below.