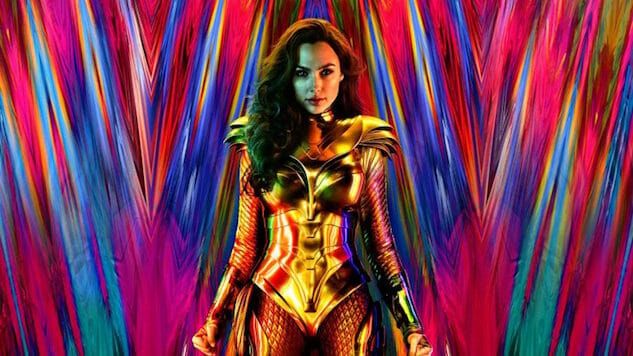 Gal Gadot and director Patty Jenkins have revealed a new poster for Wonder Woman 1984 on social media. The film, a sequel to 2017's acclaimed origin story, is set to open June 5, 2020—exactly one year after Wednesday's poster reveal.
Jaw-droppingly vibrant, the poster's blast of color is a shock to the system. In a possible nod to the film's '80s setting, the background of the poster includes multicolored patterns forming the letter "W."
But, of course, it's the costume that we're all here to see. Gadot looks fiery and ready for action as fierce Amazon warrior Diana Prince, aka Wonder Woman, in her new badass, gold-plated suit.
From what it looks like, the poster appears to be the first look at Wonder Woman's classic "Golden Eagle" armor, a ceremonial battle armor created by Pallas that Diana sometimes wears while facing a particularly powerful big bad. Made of pure gold, the armor in the comics provides the ability to fly and superhuman durability against bullets and explosions. We'll see if any of that comes into play in the film.
Jenkins first shared the poster on Twitter, saying the folks behind the film won't be heading to San Diego Comic-Con this year. So it looks like no first looks or previews from Wonder Woman this SDCC.
By now you've heard: WB isn't going to Hall H this year. We're so sad to miss you there! And waiting until Dec. to start our official #WW84 campaign in full—  But the truth is… we can just… barely… wait… pic.twitter.com/QllFzhYRA6

— Patty Jenkins (@PattyJenks) June 5, 2019
Instead, Jenkins said the marketing campaign for Wonder Woman 1984 will kick off in December. But we're not too concerned about when the marketing rolls out. No matter what, the new Wonder Woman has the look of a pre-ordained blockbuster hit, likely in battle for next summer's highest grosser.
Gadot took to Instagram with a similar message to Jenkins', saying, "Although all of us at Warner Brothers won't be seeing you at SDCC – Hall H this year. We are so excited for what's to come. So until then here's a little gift from us to you."
Wonder Woman 1984 follows the superhero's hugely successful first venture in 2017 and plops Diana in the 1980s, where she will face her classic foe, Cheetah, played by Kristen Wiig. We're also hyped to see the iconic cheetah suit in action.
Also among the cast are Chris Pine, returning somehow to reprise his role as Steve Trevor, and Pedro Pascal in a currently unknown role. Mysterious, indeed, but hopefully there's more to come soon.
Check out the poster below and revisit the film's first-look photos here.