Wonder Woman's Second Weekend Breaks Box Office Records
Photo by Clay Enos/Warner Bros.
Movies
News
wonder woman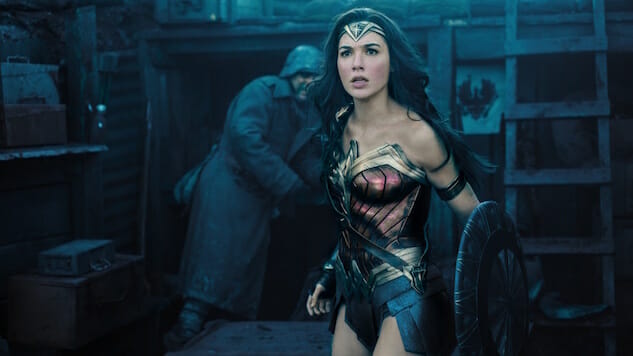 The results are in: Wonder Woman is kicking ass. The film is a huge success for DC, bringing in $103.1 million in its domestic opening weekend and $57 million its second weekend in theaters. The 45-percent drop in viewers isn't just impressively low; it's the smallest such drop-off in modern superhero movie history.
Batman v Superman: Dawn of Justice was the worst in terms of first-to-second week viewership loss at 69 percent, and Suicide Squad—which contained the line, "We're some kind of … suicide squad?"—fared similarly with a disappointing 67-percent drop. Most films hover in the 58 to 60 percent range. Check out a graphic comparing superhero flicks below.
Box office: With $57.2M, #WonderWoman has the lowest 1st to 2nd domestic weekend drop for a modern superhero movie. It is a phenomenon. pic.twitter.com/OcssHZ5nYR

— Adam B. Vary (@adambvary) June 11, 2017
There's an immense burden on the Wonder Woman franchise to burn bright, instead of fizzling out like other superhero movies centered around women, i.e. Elektra and Catwoman. It's apparent that moviegoers are craving a good story that's well-told, and Wonder Woman is giving them just that. The film's performance is proof that when studios financially support female-led films like they would male-led films, they reap the benefits by reaching out to an entire demographic that has been ignored.