Amazon Studios Returns U.S. Distribution Rights to Woody Allen's New Film
Photo by Dimitrios Kambouris/Getty
Movies
News
Woody Allen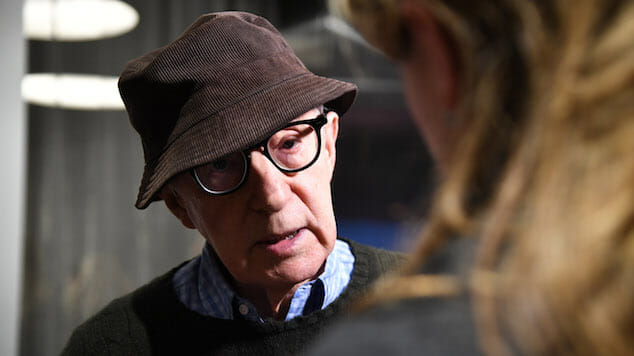 Amazon Studios has returned domestic distribution rights to Woody Allen's A Rainy Day in New York, marking a turning point for the estranged director, who can now pursue a U.S. release himself, per Variety. (Whether he'll be able to secure domestic distribution, of course, is another question entirely.)
The news comes after Allen independently released the film's trailer and a promotional poster with the caption "Coming soon" on his official Facebook page to much confusion.
Originally set for release in 2018, the project stalled at Amazon amid renewed attention to Allen's long-standing sexual abuse allegations (which he denies) and the growing traction of the #MeToo movement. Further controversy arose after stars Elle Fanning and Timothée Chalamet—alongside other Allen film veterans—publicly expressed their regret of working with the director.
The studio soon ended its production deal with Allen, citing the company's inability to release or promote the film amidst the negative press prevented the deal from being completed, per Vulture.
Allen responded by filing a $68 million breach of contract lawsuit, claiming the studio had no legitimate grounds for terminating the contract and was perpetuating a false allegation against him. Prior to the fractured production deal, Allen had entered into four separate deals with the studio.
The film still has international distribution commitments, but widespread U.S. distribution seems unlikely. An anonymous top film distribution chief told Variety that potentially acquiring the movie would be "death, publicity-wise."
Allen is currently in production on an untitled project in Spain with European independent film-TV company MediaPro and "has no intention to retire," Variety reports.