A Star Is Born Costars Barbra Streisand, Kris Kristofferson Reunite for Classic Duet
Photo by Dave J Hogan/Getty
Music
News
A Star Is Born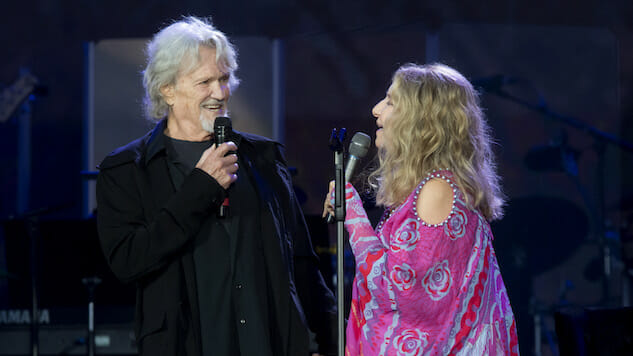 Barbra Streisand and Kris Kristofferson have us lost in the music after their rendition of "Lost Inside of You" from the 1976 film A Star Is Born, the predecessor to Lady Gaga and Bradley Cooper's award-winning remake released last year.
The two A Star Is Born costars reunited onstage Sunday as Streisand headlined British Summer Time in London's Hyde Park, offering up the touching treat of a duet to 65,000 onlookers.
Streisand started off by performing "Evergreen," another song from the movie and a truly evergreen classic, before introducing Kristofferson as "one of my favorite leading men."
"Here's a song that we sang together in the movie, right?" Streisand said, looking toward Kristofferson as he came out onstage. "I love this song."
The song was basically 1976's "Shallow"—so, pretty iconic—and it was just as romantic and bittersweet as we remember from the now-43-year-old previous iteration of the movie.
Getting to see Streisand perform "Lost Inside of You," is a rare treat for audiences, as she's only ever included the track on her setlist during her 2012 and 2013 tours, and the song has taken a clear backseat to the rest of her discography. But we guess a chance to reunite with her much-loved co-star was too much to pass up.
Streisand had already hinted at a reunion with Kristofferson back in April when she posted a picture on Instagram of the two together with the words, "Stay tuned" and a winky-face emoji.
Kristofferson was featured on the Hyde Park show's lineup, which also included the David Bowie-esque glam-rock crooner behind "Slave to Love" and "Don't Stop the Dance," Bryan Ferry.
Streisand took the reins after Kristofferson's performance, offering up a nostalgic setlist chock-full of classic songs including "As If We Never Said Goodbye," "Alfie," "Second Hand Rose," "Silent Night," "What the World Needs Now" and "The Man That Got Away."
Streisand also brought Lionel Ritchie onto the stage as a surprise guest as he joined her in singing "The Way We Were," her classic melancholic tune that many critics credit as the start of Streisand's career revival.
But Streisand's career has taken a ding recently after controversy over her comments about Michael Jackson after the stirring documentary Leaving Neverland was released. She was accused of downplaying the molestation allegations against Jackson.
Streisand later released a statement clarifying her comments. "To be crystal clear, there is no situation or circumstance where it is OK for the innocence of children to be taken advantage of by anyone," she said. "The stories these two young men shared were painful to hear, and I feel nothing but sympathy for them."
Check out Streisand and Kristofferson's "Lost Inside of You" duet for yourself below, and hear a 1982 Kristofferson performance from the Paste archives further down.