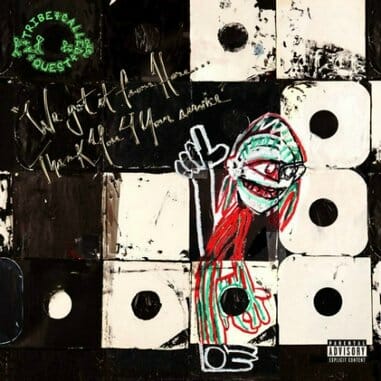 The first lines on A Tribe Called Quest's first album in 18 years are "It's time to go left and not right / Gotta get it together forever / Gotta get it together for brothers / Gotta get it together for sisters." On November 8, we did nothing of the sort. But it's gotta be for the best that the late, great Malik "Phife Dawg" Taylor left this world without ever finding out how it ends; he won't have to witness the "mass unblackening" foretold on astonishing opening track "The Space Program." As Tribe's funniest member, it's appropriate that Phife gets the last laugh: a finale more jamming than Bowie's, Prince's and Cohen's combined.
But We got it from Here… Thank You 4 Your service also frequently makes the strong case that it's the best thing this group's ever done, too. (Yes, The Low End Theory and Midnight Marauders are great Tribe albums. But We got it from Here… is a great Tribe album that has André 3000 and Kendrick Lamar. That's just math.) With absolute certainty, "The Space Program" and "We the People…" are the greatest one-two opening punch in their catalog, and fairly strong arguments that a band would make a better President than our current elect.
On the latter, these everymen know what unites America ("The ramen noodle"), and they know the bigotry that rips it apart ("Muslims and gays / Boy we hate your ways"). And in one career-best verse on the former, Q-Tip rightfully salutes Confederate flag-capturer Brittany Newsome, the murdered Eric Garner and a doomsday premonition from his own "Excursions." Inverting a storied history of legendary African-American musicians from Sun Ra to George Clinton to Lil Wayne, Tribe cement their rep as the most earthbound crew of all time: "There ain't a space program for niggas / You stuck here nigga." Call it "Incursions."
Breezy Phife tribute "The Donald" (the only thing here that could've appeared on an old Tribe album) is certainly not threatening the all-time posse cut "Scenario" as Tribe's album closer for the ages, though it's a crucial comedown/roll-credits/peace-God to the lost soul who blesses rather than haunts this LP. And all manner of highlights are strewn throughout the in-between: the soulful lament "Movin Backwards," the mystical "Melatonin" ("Everything's my dying wish"), the bluesy, Ironman-style boom bap of "Mobius."
We got it from Here… proceeds from one crucial innovation since Tribe last made a record in 1998: the jazz-rap album you cannot relax to. Kendrick himself pioneered this with last year's unanimously received masterpiece To Pimp a Butterfly, and Tribe's most political album by miles is almost as fraught. All sorts of arresting, arrhythmic junk clutters their chewiest grooves while Q-Tip, Jarobi and the one-of-a-kind Busta Rhymes one-up their own high-anxiety flows in these secretly recorded tracks like the Navy playing war games. Just listen to Q-Tip's hiccuping breathlessness on "The Donald" or Busta's exorcisms on "Dis Generation." These guys never rapped like this before, and they never will again, at least not in this configuration.
Obviously, the production is totally anachronistic as well, not just because it probably cost Q-Tip an arm and a leg to sample "Bennie and the Jets" on "Solid Wall of Sound," but because the upright bass and crack snares that mark "The Killing Season" and "Whateva Will Be" don't even sound like the indie-rap community in 2016. One of the best beats, for the geeky-lusty "Enough!!" actually repurposes the sitar hook from "Bonita Applebum" without making an, um, ass of itself. There are hooks here, though they are, as these guys put it ages ago, "abstract," with Harmolodic piano and oddly triggered samples and Jack White twisty guitar at its most Beefheart, all clicking into place along one chain with no signs of rust. Or, if you prefer, they instinctively travel along the paths of rhythm.
Besides the miracle that this album's key players conspired to put this thing together at all before Phife tragically succumbed to diabetes-related complications earlier this year, it's currently holding the Number One spot on Billboard's Top 200 albums, a record-making surprise considering they last held the position 20 years ago with the cautious Beats, Rhymes, and Life. It's trite to get sappy about how this is proof our country still has "taste," but taste does take on new meaning in racism-wracked 2016. Even though Phife (and effectively A Tribe Called Quest) is gone, the runaway success of We got it from Here… on all fronts is inspirational in an abstract way. Or to paraphrase Leonard Cohen, it's a crack where the light gets in. You Want It Blacker would've been too concise a title for these wordy nerdies. But we need it to be so.