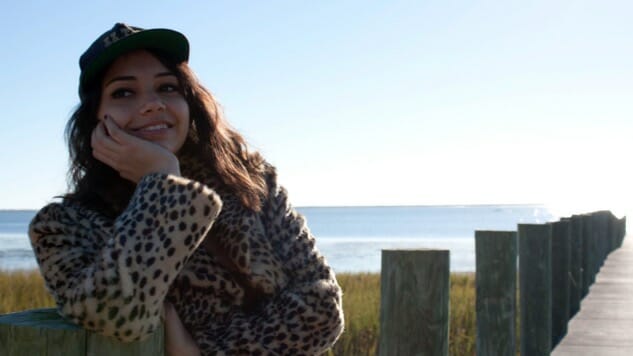 One spooky, windswept night not so long ago, Los Angeles-bred singer Angelica Garcia was riding home to the forlorn Virginia hamlet of Accomac with her Episcopalian-minister stepfather—where he ran a small church—when she saw something almost otherworldly. Post-services, the family was leaving its second, even tinier (and cemetery-encircled) chapel in Pungoteague, 20 minutes away, where—thanks to an attempted coffer robbery, wherein thieves had tried to smash the safe open on a nearby headstone—a new doorway-mounted security light had been installed by the groundskeeper. Looking out the car window, she shuddered. "I was like, 'Whoa, dad! Look at that! Nobody's going to break into our church now!"" she says in a conspiratorial whisper. "Because the shadow illuminated under it was like a big, dark cross over the door, really eerie. It was creepy looking," she adds. "But cool."
This, however, is the stark black and white world in which Garcia suddenly found herself when her stepfather—a former music biz honcho who had overseen the early careers of Dwight Yoakam, Los Lobos, Lou Ann Barton and others—decided while she was still in high school to become ordained as a deacon, then a full-fledged pastor, and relocate his clan to Accomac. Gone was the colorful Hispanic culture she'd taken for granted in California, where her mother sang traditional mariachi music with relatives, replaced by the stark, foreboding landscape of Virginia's Eastern shore, where she rarely saw any adults of Latino ancestry, let alone girls her own age. Still, she somehow managed to find color in her natural surroundings, which beamed optimistically into her Warner Brothers debut disc, Medicine For Birds, across ominous, reverb-drenched tracks like "Tangerine," "Orange Flower," "Magnolia is Medicine" and "Little Bird" (for the "baby bird" nickname her mom had for her as a child). There's a cross protecting its portal, but the songs—even delicate hymns like "Pray," "Bridge Is On Fire," "The Devil Can Get In"—are nonetheless warm and inviting.
Garcia, only 22, may lack the Southern drawl of other country performers, but she is in touch with its rustic, backwoods spirit. And she's managed to craft a unique hybrid of West Coast bohemia and rural Americana, even down to the lonesome folk-twanged ballad "Loretta Lynn," where, in Faulkner-frank lyrics, she imagines a '60s summit meeting with said legendary artist at the fabled Tootsie's Orchid Lounge, behind the Grand Ole Opry in Nashville. She never met Lynn, but she paints a remarkably vivid picture of the possibilities over a six-minute steel-guitar plaint, wherein they discuss the music business, world events, life itself, over cups of strong black coffee "among the sinners and the cigarettes." And Garcia—who recently moved to more bustling Richmond—actually recorded Birds on Music Row, with Charlie Peacock at the helm. "His studio was an old church, and I was like, 'Oh, man—how can I not do it here?"" she says. "Because the whole album was written behind, in, or around my dad's church, so I thought I might as well keep this thing going and record it in a church, too. In fact, the original title was going to be Songs From the Parish House. But I didn't want to weird people out or make them think I had an evangelist agenda."
Much like The Cowboy Junkies' landmark The Trinity Sessions, Birds captures the stained-glass reverence of the chapels in which it was both tracked and composed. Garcia had already begun singing in L.A., and an old showbiz pal of her father's had come to see one of her club shows there. Suitably stunned, he offered her a development deal at 17, once she graduated from art school, then officially signed her at 20, leading to her autobiographical seven-minute album closer "Twenty," in which she maps out that turbulent year in her young life ("When you're younger people tell you that when you grow up you'll know more/ But the older that I get the less I understand the world/ And I can hardly recognize people that I knew before/ It only took me two decades to find out who they really are," she sagely observes over skeletal guitar strumming). She had never expected to find herself hanging out in a 200-year old brick parish house, surrounded by fragrant magnolias. But she put such solitude to great use, gradually perfecting her idiosyncratic sound.
Garcia often sang a cappella in her father's churches, covering religious classics like "Wade in the Water." So she quickly learned the value of its vaulted-ceiling acoustics. "Because there was nothing around, I just had to go and do my own thing," she explains of her early days in Accomac. "And it sucked for a bit—it was hard going through all of that loneliness by myself. But at the same time, I feel like that was a big, bold first step to really discovering what kind of music I wanted to make and what songs I wanted to write. And you get a lot of chances for self-reflection without so many outside distractions around you, and I practiced a lot in my dad's parish hall, this church-dinner-hall place behind the church and my parents' house, and I think I really did get a lot better at guitar and piano during that time." That's where she got her keen ear for production, she says—just testing out different tones and textures.
For extracurricular fun, the transplant visited graveyards, marveling at epitaphs etched as far back as the 1600s and others noting the short lives of Confederate soldiers. "And growing up in L.A., when do you ever see a cemetery in somebody's backyard?" she says, laughing. "Back there, it was totally Forest Lawn, which now seems a little weirder. But I see it as a daily reminder that, Hey, you're a person, and whether you like it or not, this is something that will always be here, something that isn't going to change. It kind of reminds you to make better choices, hopefully, and to live a more fulfilling life and make the most out of your days."
Garcia never saw any spectral spirits during her tombstone tours. But her family's creaky old house was another story. Doors would slam shut by themselves. Lights and appliances would switch on automatically, Twilight Zone-style. She even captured on camera a floating ball of white, ectoplasmic mist in the living room one particularly séance-sinister night. "So the house definitely had some vibes," she concedes. "One evening, I had this really weird feeling in my room—I felt like somebody was looking at me, and I couldn't go to sleep. So I sat up in my bed and turned on the light, and both doors on this big wardrobe opened by themselves, the second that I turned on the light. Maybe it was the ghost of a Confederate soldier, going, 'Who is this brown girl in my house?' I don't know. But by that time, I was so used being in a spooky house, I was like, 'Okay—y'all need to calm down. I'm going to bed now!' I mean, I was really tired."
In her new digs in Richmond, Garcia admits that she's savoring all the on-hand artistic riches. "It's totally easy to get caught up here, like, 'Oh, there's a show tomorrow!' Or, 'Wow—there's a great movie tonight!'," she admits, almost ashamedly. "Which is all awesome, because it's so great to live in a place where there's so much culture at your disposal, and I love it here." But sometimes, she sighs, she pines just a tad for her old Carnival of Souls-macabre existence. "And I just had this happen to me the other day," she says. "There are just these moments where I kind of miss being in the middle of nowhere…."