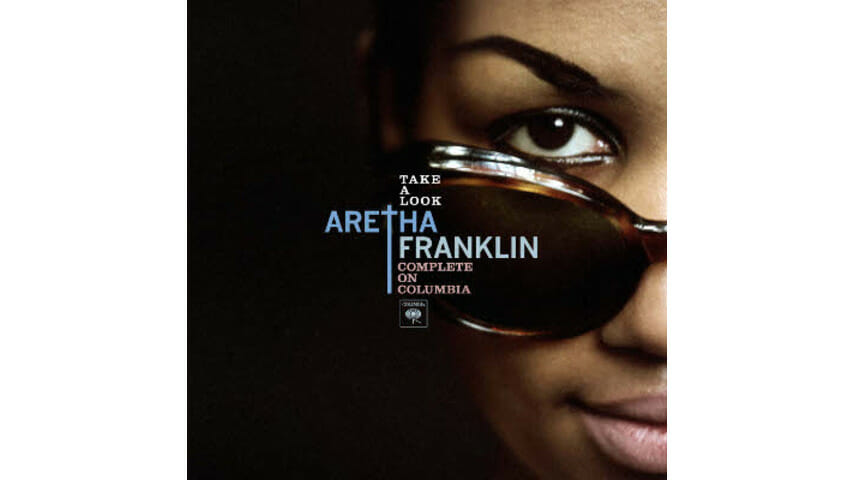 Aretha Franklin was only 19 years old when she signed with Columbia Records in 1960, but she had already established herself on the gospel circuit as a soloist at her father's church in Detroit. With his encouragement, she traded the sanctuary for the nightclub and put her heavenly voice toward songs about worldly instead of spiritual love. In five years she made seven records for the label, plus numerous singles and unreleased sessions with various bands and producers, resulting in a string of modest hits like "One Step Ahead" and "Won't Be Long."
And yet, this period remains a relatively dark corner in her immense catalog. Most greatest hits and career retrospectives focus on her later triumphs for Atlantic Records: immense, timely smashes like "Respect," "Natural Woman," and "Spirit in the Dark," which reinvented soul music as a gritty realm where a black woman could disclose her deepest concerns about her man, her race, and her world. That period, during which she ascended to the soul throne and reigned for decades, so thoroughly overshadows her early material that her Columbia albums actually fell out of print for years.
In that regard,Take a Look: Aretha Franklin Complete on Columbia
is a sorely needed corrective, an affectionately curated set featuring 11 discs of music that might as well be newly unearthed: expanded editions of her seven Columbia albums, plus two discs of sessions that were either unreleased or released as singles. One album, A Bit of Soul (1965), was never released, which seems a major oversight if not a cold felony, and another disc, The Queen in Waiting, collects highlights from her final sessions with Bob Johnston (Bob Dylan, Simon & Garfunkel) along with recordings that Columbia has since "sweetened"—i.e., lightly and respectfully remastered. Capping off the set is a DVD featuring five live performances from "The Steve Allen Show," where she was a regular guest. It's a fitting punctuation to this meaty set, proof that Aretha, even at such a young age, was an impossibly self-possessed vocalist who seemed to embody and enact the last 60 years of African-American musical expression.
It's important to note her considerable presence on those television clips and in these performances, as too many fans and historians not only dismiss these sessions but also dismiss the young Aretha as a passive agent in her own music. On the contrary, she is no label puppet gamely obeying the barked orders of executives and handlers at Columbia, although she did submit to working with the suggested bandleaders and even took finishing classes in New York. As the bonus tracks on her debut album, Aretha with the Ray Bryant Combo (1961), make clear, she was an active collaborator with her backing musicians, closely engaged with fine-tuning the arrangements. Although inexperienced in secular music, she knew exactly what she wanted and how she wanted to sound in any particular setting.
Early in her Columbia tenure, that setting was big-band jazz pop not dissimilar to the music made by Dinah Washington, Sarah Vaughn, and Nancy Wilson. It's a genre Aretha was both well- and ill-suited for: it emphasizes the fine nuance of a gifted vocalist, which she certainly was, but she preferred to work in broad, sublime strokes. On the_ Ray Bryant Combo_ album as well as on The Electrifying Aretha Franklin (1962), she strains against producer John Hammond and conductor Richard Wess' relatively staid arrangements. It's amazing to hear one young woman overwhelm such a large orchestra, but Aretha proves just as compelling when she fits her performance to the confines of the songs.
Columbia had her singing pop standards and covering American songbook hits, which will make the bulk of this set familiar to many listeners. Yet Aretha managed to put her mark on these well-known songs. She swings wildly on "Ol' Man River" and "Moon River," rejecting any hint of solemnity for a livelier, almost celebratory reading. To hear her sing the Johnny Mercer/Hoagy Carmichael chestnut "Skylark" is to hear it for the first time again, as Aretha re-surveys the composition and demarcates new and excitable possibilities. It's not so much about making the song her own; instead, she's serving the song and in doing so showing us whole new facets that we've never glimpsed before.
One of the criticisms repeated against Columbia is that the label didn't know what to do with Aretha—or, worse, that it tried to fit her into a prescribed role that obviously didn't suit her. In 1960, however, big-band jazz was the prominent and profitable style—especially at Columbia, which was also home to Percy Faith, Robert Goulet and Andy Williams. Aretha, however, was surprisingly good in this setting, and she got better during her tenure with the label. In that regard, Take a Look depicts the Artist as a Young Woman; it's a coming-of-age story that recounts the maturation of one of the best vocalists of the pop era. If she is somewhat unformed on her first album (especially on the disturbing "Rough Lover," which misspells R-E-S-P-E-C-T), Aretha cherrypicks mannerisms from her forebears to broaden her interpretive range. You can hear the gleeful cadences of Ella Fitzgerald in her cover of "Ac-cent-tchu-ate the Positive" and even "Zing! Went the Strings of My Heart," and Aretha mimics the smoky delivery of Billie Holliday on her cover of "God Bless the Child."
Ironically, it's on Unforgettable (1964), a tribute to the late singer Dinah Washington, that Aretha finally comes into her own as an artist, putting her indelible touch on songs like Hank Williams' "Cold, Cold Heart" and "Soulville." Aretha doesn't imitate Washington on these songs, although her influence is obvious. Ultimately, the album is less a tribute than a coup, as Aretha claims the songs as her own. As Take a Look progresses, she not only settles into an identifiable and unique vocal style, but the songs speed up, the arrangements pare down. Runnin' Out of Fools (1964) and Yeah!!! In Person with Her Quartet (1965) are looser, funkier, freer. "These were liberating records," writes Daphne A. Brooks in the liners, "this was liberation music." The roots of her earth-shaking Atlantic soul records can be traced to these sessions: to the seismically demonstrative verses of "Every Little Bit Hurts," to the monumental recrimination of "Runnin' Out of Fools," to the radical questioning of "If I Had a Hammer." Hers is far and away the best and most commanding cover of that hoary dissent.
Take a Look doesn't portray Aretha as the Queen in Waiting (a popular phrase for describing these years and the title of one of the new discs in this set). On these discs, she's the Queen Becoming. At first, despite her incredible poise, she doesn't necessarily sound destined for the throne, but by the final songs, her reign seems inevitable. Who knows what would have happened if she had re-signed with Columbia instead of with the more adventurous Atlantic? She might not have gone to Muscle Shoals, might not have become the "Natural Woman," might not have reconsidered gospel on Amazing Grace, but it's likely she would have continued this upward trajectory in ability and popularity. To its considerable credit, Take a Look never comes across as merely commemorative or revisionist. Rather, it has a distinctly celebratory tone to match the music. It's tempting to hear these recordings in light of what Aretha would later accomplish, but for all their historical and biographical weight, these songs are amazing and very often moving in their own right.