Beach Fossils Are Looking Ahead to a Better Year
Brooklyn's dream-pop mainstays kick off summer 2017 with a new album, a new label and a Martin Scorsese story or two
Photo by Evan Tetreault
Music
Features
Beach Fossils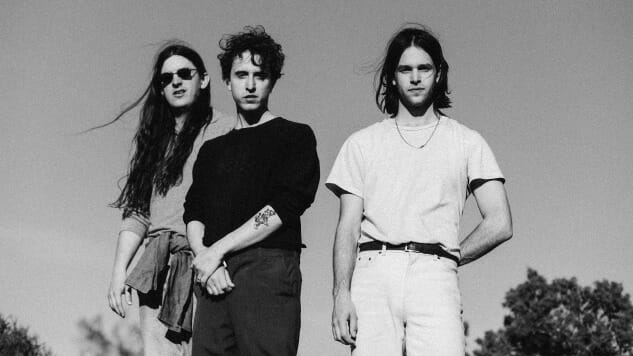 Dustin Payseur has always operated on his own schedule. The 31-year-old Beach Fossils founder and frontman freely admits to having an aversion to deadlines, and thus has never been interested in churning out album after album, even after the overwhelming critical success of his 2010 self-titled debut. Four years since their sophomore full-length, 2013's Clash the Truth, Payseur and his Beach Fossils cohorts — bassist Jack Doyle Smith and guitarist Tommy Davidson — are ready to release their their third, Somersault, on Friday via Bayonet, the label Payseur started with his wife, Katie Garcia, a few years ago.
(Read Paste's review of Beach Fossils' Somersault here.)
"Part of the reason we started the label was so that Dustin could put out records on his own and have his own timeline," Garcia says during a visit to their cavernous Greenpoint office space. "[Payseur] really struggles with timelines—even when I'm giving him a timeline—so it was a way for him and for the band to take their time."
Payseur, who had been signed to Captured Tracks (where Garcia also used to work), is lounging with Davidson and Smith in the Brooklyn office of Bayonet, and he nods along. "If you're gonna do it, you should do it right," he says. "I guess that's just what comes with being on a label. They're like 'Hey, we're investing money in you to put this thing out,' so there's some pressure. I think we've made it a point with Bayonet to be super artist-friendly. We actually haven't had [to pressure] anyone."
Watch the video for Beach Fossils' song "This Year," from Somersault.
Indeed, Bayonet Records has attracted a small but healthy crop of DIY artists, including Lionlimb, Red Sea and Frankie Cosmos. In one of the office's side rooms, two interns sit and divvy up Beach Fossils stickers and pins into tiny Ziploc baggies. Stacks of vinyl are neatly lined up in high-rise shelves. Theirs is a modest setup, but it's functional and well-organized.
And speaking of vinyl, Payseur has some entertaining stories from Beach Fossils' stint on Martin Scorsese's now-defunct '70s rock throwback series, which HBO infamously renewed for a second season before canceling it only weeks later. Payseur, Davidson and Smith were brought on to play the The Nasty Bits, a sniveling proto-punk group fronted by Mick Jagger's son, James, meant to embody the mid-'70s garage thrash of the Stooges and the MC5. "It was definitely a bit of a surreal experience, because none of us had acted before," Payseur says. "I mean, we met Martin Scorsese; he came onstage and shook our hands and was like, 'Great job, guys!' and it was like, 'Whoa, that's pretty cool.'"
The trio wound up on the show after Vinyl's supervisor had seen them play live and was on the lookout for a group with a lot of onstage energy, which Beach Fossils, despite their often gentler sound, have in spades. (If you didn't watch the show, here's the gist: The ahead-of-their-time Nasty Bits are encouraged to soften their serrated sound to be more radio friendly, but when their Kinks cover fails to connect with a room full of punks, they quickly revert to the raucous song that initially earned them the attention of Cannavale's record exec.)
Beach Fossils were flattered, if not terrified. None of them had acted before, yet the show's crew deferred to them as though they'd been on camera a million times. Payseur in particular felt anxious about making mistakes and frequently asked for more direction. "It's like this huge machine," he says. "That was what kind of freaked me out a little bit. In the scenes where we were all together it was really comfortable, like, 'We're together. This is natural,' but then when it came to me having a scene by myself and all the cameras were pointed at me and all the crew is staring at me, and there are people with the lights and boom all just pointed at me, and I'm just standing there by myself thinking, 'I can't fuck this up. Any mistake I make is going to be really expensive.'"
When Vinyl was canceled last year, the band breathed a collective sigh of relief and got back to being Beach Fossils. "We wouldn't have had time for it anyway," Payseur admits. "We were doing this record and getting ready to go on tour."
"I was so relieved because they were writing us into the second season," Smith starts.
"Well, I was already out!" laughs Payseur.
Indeed, Payseur was written off the show before his real-life bandmates were, the victim of intra-Nasty Bits turmoil. Asked if he might have preferred to be killed off instead, he exclaims, "I was really hoping I was gonna die!"
Smith continues: "Our drummer and I were the only ones left on the show and I was like, 'Oh my god, we're writing this record, what the fuck am I supposed to do?'"
I'm just standing there by myself thinking, 'I can't fuck this up. Any mistake I make is going to be really expensive.
"I was hoping you would die too," says Davidson.
"They didn't really go in depth; I think that's why the show struggled," theorizes Smith. "They didn't really go into our stories."
"Yeah there wasn't a lot of character development," agrees Payseur. "But I shouldn't be saying this kind of shit because I'm insulting somebody's writing and I'm not gonna do that."
In any case, Beach Fossils are happily free of their Vinyl commitment and can refocus their attention on getting Somersault out the door. Recorded in a variety of locations—Greenpoint, Union Square, Upstate New York and Los Angeles, in Foxygen member Jonathan Rado's studio—Somersault makes a point to tinker with sound and genre, often falling into mid-century orchestral aesthetics. Though its breezy, head-in-clouds opener, "This Year," recalls the band's earliest lo-fi guitar-pop work, exemplified on 2010's self-titled debut and 2011's What a Pleasure EP, follow-up tracks layer new sonic textures, such as strings ("Tangerine" featuring Slowdive's Rachel Goswell) and piano ("Saint Ivy"). The sax- and vibraphone-tinged "Rise" has experimental rapper Cities Aviv doing a thoughtful spoken-word monologue, while "Closer Everywhere" unfurls with Beach Boys-esque harpsichord and another wave of Somersault's omnipresent strings.
Here's the video for "Saint Ivy," the first song released off Somersault.
"It wasn't even really that purposeful that it was that varied," says Payseur. "We were just like, 'Let's throw flute on this, let's do this on this part.' We really wanted to put strings; we already knew that, we knew we wanted to get harpsichord on the record because that's like my favorite instrument in the world."
Smith adds that the band was listen "to a ton of '60s soundtracks and film score compositions."
"I just love how grand all that stuff is," says Payseur. "There's these crazy classical arrangements on top of a really minimal pop song and I just always loved the way those kinds of songs are put together."
Beach Fossils' gradual deviation from their jangling, college-rock beginnings has been yeas in the making. On the quick-footed Clash the Truth, Payseur drew from punk and post-punk, showcasing Smith's Joy Division-era bass-lines over crashing cymbals. His anxiety was made plain by the album's nervy tone, and it spills over into Somersault. "I guess the overarching theme of Clash the Truth is confusion and figuring out how to go through life and what that means in general," Payseur says. "It's the good and the bad, not necessarily just one."
Payseur described writing his way through a period of intense depression during Clash the Truth, and said the theme was "something I wanted to bring into Somersault; just me dealing with a lot of these personal things and putting it out there."
To that end, Somersault is cautiously optimistic, with the singer admitting on "This Year": "This year I told myself it'd be a better one / Try not to fall back onto the knife."
While he's learned how to cope with periods of despondency and come to understand how it drives him to procrastinate, Payseur was initially nervous to write so openly, both on this record and the last. That's also something he overcame with time. "I was kind of worried at first when I was starting to write songs like that, because I didn't want to bum people out," he says. "Like, you don't want to make people feel shitty when they listen to your music. But I also think it's something everybody feels and something everybody could connect to. I have a lot of people write to me telling me that my music helps them with their depression, so I know that a lot of people are dealing with this stuff, too. If I can write something that helps people deal with their own struggle, and we can relate to that together, there's this personal connection there and it's a nice thing. It's good to just let that out in your art, because I think honesty is the most important thing."