How Ben Folds Beat the Internet in 2008
Best Imitation of Myself
Photo by Kiyoshi Ota/Getty (Fuji Rock 2008)
Music
Features
Ben Folds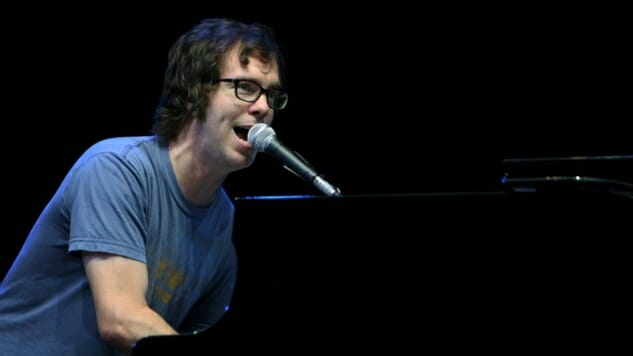 By 2008, album leaks were considered inevitable. Labels not only prepared for the worst, they wholeheartedly expected it, strategizing more about how best to mitigate the negative aspects of a leak rather than to prevent it altogether. Sites like MediaFire, Megaupload, The Pirate Bay, DC++, what.cd, and many more became forces to reckon with as a random, anonymous person could blow up an entire album marketing plan with a single upload.
These leaks changed the way labels did business, sometimes—as was famously the case with Bjork's 2015 album Vulnicura—forcing them to move up the record's release date months ahead of when it was originally scheduled. In mid-2008, piano-pop legend Ben Folds found himself in the same situation months ahead of his third solo full length, Way to Normal.
"We were told that the record was about to be leaked," Folds explains nearing the album's 10-year anniversary. "People knew that it was going up on bitorrent, something. Then there was discussion of rushing the release. Ok, now we're going to put the record out earlier than planned and I thought that sounded horrible. To me, that's like playing the show at six and there's no crowd there. It doesn't make any sense."
In response, Folds thought up of a novel idea, one never really tried before. "Why don't we book a studio and make an album in one day, have all of the same song titles, but the words and the music will be completely different—only the titles will be in common. And it should be absurd—the lyrics should be absurd, like 'Is he serious? Has he lost his mind?'" In doing so, he'd be getting out ahead of the leak itself, confusing the hell out of the listener who downloaded it, only to be completely surprised one the real album came out in late September.
In town for the 2008 edition of Oxegen Festival in Ireland, Folds, along with drummer Sam Smith and bassist Jared Reynolds, booked studio time in Dublin for 24 hours, and the trio got to work making a fake version of Way to Normal. While a riff here or a lyric there were thought up ahead of time, the whole thing was conceived in the studio, six songs (which later were coupled with the real versions of singles "You Don't Know Me (feat. Regina Spektor)," "Hiroshima," and an alternate take on "Cologne") were written, recorded, and mixed in a single day, with the trio working until the sun came up.
The final product—a collection of purposely misplaced political commentary ("You can blame it on the President / But what if it was you"), corny lyrics ("A piano's all I got / And I know that ain't a lot / Music has the power / To change the future), and surprisingly genuine piano-led instrumentals—was leaked on July 16th, 2008 by Folds' friend to two fan sites. But something surprising happened that almost threw the whole operation into disarray—the moderators deleted the leak in fears that it'd anger Folds or spark legal backlash from Sony.
"I actually thought that was really interesting," Folds says. "That was people being pretty damn decent, you know?"
But the fake Way to Normal ended up making its way online, getting out ahead of the real version of the album. Albeit with very subtle clues (Folds talked about the real version of "Bitch Went Nuts" to Paste prior to the fake leak), most fans that found the download link assumed it was in fact the real version of the album. Some of the posts on the fan forums, however, correctly guessed that this wasn't, in fact, the real album, while others argued for its legitimacy on various threads like one titled "Mysterious New Songs?" on TheSuburbs.org.uk:
"some seem real. like free coffee, you don't know me and prob hiroshima… some seem real fake/or at least jokes. it's probably a fake leak ben put out or something. i hope so anyway."
"Props to whoever did this. And I could be easily convinced it was Ben and the boys. I guess I don't know anyone that could imitate Ben's voice so well…."
"a) all the songs on this album ARE ben folds – his voice and piano is on EVERY track. they haven't been made by anyone else, its him.
"b) would he really go to the effort of writing, recording and leaking loads of tracks that aren't actually on the album just for a laugh? i doubt it.
c) they're all pretty highly polished, they don't sound like demos (unless ben does REALLY good demos)
d) sony made andy remove the download like [sic]
so i think we probably actually have some of the album here.
i'm prepared to eat my words but i just can't fathom ben actually recording all these songs just to release them for a laugh."
On August 13, 2008, Folds confirmed—via a track-by-track breakdown on Rolling Stone—what some super-fans had concluded, that the leak was indeed not the final album. Riding a wave of publicity and what Folds refers to as the right timing, Way to Normal debuted at #11 on the Billboard 200, his highest charting record to date.
But something curious happened; some people liked the fake version more. "'I heard the fake record first, though it was real, and I was disappointed when I heard the real one,'" Folds recalls certain fans telling him. "There's that, which hurts."
But as the Way to Normal tour got into full swing, Folds noticed that there was a demand for him to play the fake songs. Suddenly, he let the songs become real, featuring them prominently in his nightly setlist.
"They played really well live because they were born so quickly and intuitively that they weren't trying to be inventive or clever," Folds explains. "There's no fatigue because we hadn't spent all year recording them. I think that they're much better than I would expect. There's a couple that I think are notably good—the fake "Bitch Went Nuts" is very good. It's just a good song. I think the "Dr. Yang" fake song, "Lovesick Diagnostician"—I think that's a good song! It's like, 'Wow, if The Kinks wrote that, I'd be into that!' Even if it's a joke song, there's something inside it."
Due to the nature of the fake collection's lyrics, the songs brought further comic relief to a show bookended by downbeat piano ballads like "Brick" and "The Luckiest"—though Folds' shows almost always have an element of humor in them, famously including his "Ode to Merton" ChatRoulette serenade on the tour directly following this album cycle. The first leg of the tour featured almost all of the fake songs, complete with "Way to Normal" opening almost every show and "The Frowne Song (Feeble Anthem)" closing things out with a man appearing onstage with a giant frown-faced emoji mask.
As these songs got more play onstage and off—the live versions were actually released as singles on iTunes—they became a testament that taking a chance on a crazy idea can pay huge dividends down the road. Complete with absurd tracks where Folds sends up the cliché of songwriters visiting the doctor to cure their lovesick blues and writes from the perspective of a conservative ex-frat boy taking his liberal girlfriend to his law firm's Christmas party only to see her become "Jane Fucking Fonda," the fake version of Way to Normal actually worked and the leak of the real album didn't derail the album cycle and force the label to move up the release date. By booking 24 hours of studio time to write songs with purposefully terrible lyrics, Folds beat the internet at its own game for perhaps the first time in a decade where the music industry was hemorrhaging money due to piracy, leading to his highest charting album to date. For once, the musician had the last laugh and 10 years later, Folds still hasn't stopped chuckling.