The Best Albums of October 2023
Featuring The Rolling Stones, Squirrel Flower, Sufjan Stevens and more.
Music
Lists
Best Albums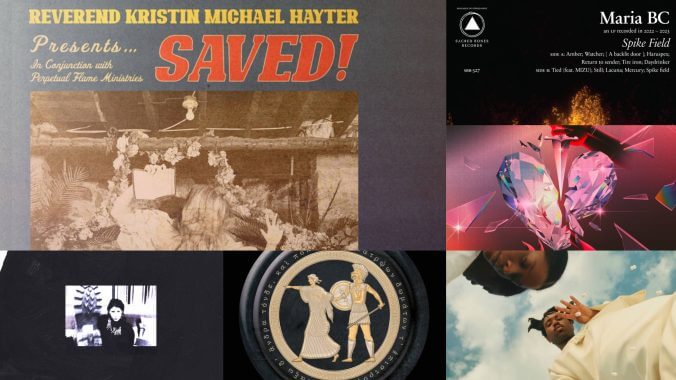 Without a doubt, October was the best month of music that 2023 has given us so far. It's going toe-to-toe with June for 15 rounds and coming out on top. Autumn is upon us, and November is shaping up to usher us into the end-of-year buzz of lists and retrospectives, but we must first look back on everything these last 31 days had to offer. We got exquisite pop records, career benchmarks from longtime Paste favorites and, of course, a comeback album from the greatest rock band of all time. From Sufjan Stevens' most devastating album in years to the dazzling, poised debut from Holly Humberstone, let's recap this great month of terrific music. Here, in alphabetical order, are the 10 best albums of October 2023. —Matt Mitchell, Music Editor
---
Holly Humberstone: Painting My Bedroom Black
Now 24 years old with two widely received EPs under her belt, Holly Humberstone offers a vivid and emotionally raw coming-of-age story on Paint My Bedroom Black, illustrating her journey from being an emerging artist to one of the most captivating alt-pop sensations among her generation. Within a carefully-crafted, dreamlike atmosphere, Humberstone's lyricism captures experiences that are deeply personal yet unflinchingly honest. Though much of the album explores coming into her own power, Humberstone doesn't turn away from exploring the darker sides of her mind. "Cocoon" carries an upbeat tone, even as it holds some rather depressing lyrics. It's reminiscent of that feeling every teenage girl can resonate with—looking at yourself in the mirror, attempting to convince yourself that you're truly happy while, on the inside, you're holding back tears. "I've been paralyzed for more than a week / But don't let it scare you / This is fairly routine," Humberstone sings. "Now I've become a taxidermy version of myself / The laundry's piling up / The plants are dying on the shelf."
Paint My Bedroom Black is as much a love letter as it is a nuanced exploration of self-growth and a discomfort with love that stems from insecurities and past relationships. The album follows much of the same pacing and sound throughout, with the lack of variety occasionally making it difficult to distinguish between songs. However, offerings like "Girl," "Antichrist" and "Kissing in Swimming Pools" are distinct standout tracks. It's clearly a liberating piece of work, and Humberstone's honesty and alluring delivery is bound to resonate with listeners near and far. —Alyssa Goldberg
L'Rain: I Killed Your Dog
L'Rain toys with a wide variety of sounds on I Killed Your Dog, exhibiting the versatility that Cheek and her collaborators have demonstrated on prior work. "5 to 8 Hours a Day (WWwaG)" is equal parts vintage folk and futuristic post-rock, exploring Cheek's evolving relationship with the concept and reality of "practicing" as an artist. Pedal steel and electric guitars have a prominent role in the piece, at one level, to make it abundantly clear that L'Rain is not referencing jazz. Such a genre tag gets thrown onto her work a little too quickly without adequately accounting for the rock and folk references made alongside them. "Uncertainty Principle" is an especially potent listen, with growing vocals, percussion and electronics in conflict—mirroring the experience of being at a crossroads with a potential new mate.
"Knead Bee" is the closest analogue to anything on Fatigue, as the song itself is a full version of "Need Be," one of the album's transitional interludes. As lustrous as the song is, it is direct: Cheek speaks to her younger self, prattling on about her woes, with a simple message of "You're fine." One of the album's biggest stars is the most pop-like track, closer "New Year's UnResolution"—a meditation on the mental checkpoints one reaches throughout and after the end of a relationship: "I've forgotten what it's like to be in love / Swallow sun spit up snow / Days, they don't get old." Cheek's voice feels like an overhead thought-bubble while synths churn into something psychedelic and danceable, coagulating into L'Rain's catchiest work yet. It's an all-around stunner.
Much like on Fatigue, the interludes on I Killed Your Dog are not to be missed. "Sincerity Commercial" opens the album with a looped recording of choreographer Bill T. Jones recalls a dream to an audience, setting up the album's more-than-occasional dreamlike detours. "Oh Wow A Bird" is that simple—a five-second voice message where the sender, at the end, suddenly exclaims upon witnessing a bird. At over a minute, "I Hate My Best Friends" is the most unsettling, with a haunted lullaby singer confessing that she resents her friends for trying to "fix" her. "What's That Song" is a generative exercise, where Cheek's band takes a jazz snippet from a friend's voice message and turns it into a real record. These brief snapshots contain moments of power and humor, all archived on I Killed Your Dog as part of L'Rain's artmaking process. —Devon Chodzin
Maria BC: Spike Field
Maria BC's second album—and their first with visionary label Sacred Bones—is a dreamy soundscape of the multi-instrumentalist's inner conflict of past and future self. As a young artist who began the journey of Maria BC during the pandemic, self-reflection has always been deeply embedded in their work. Spike Field confronts the shame of their past to reconcile who they were to be comfortable with who they become. The ambient folk artist's soft vocals float across the eerie landscape of the raw emotions of "Still" however, they soar in choral passion in "Watcher." In an album wrought with potent imagery, the album's namesake provides a quiet contemplation of human communication through the concept of menacing earthworks. The atmospheric album combines Maria BC's talents as a poet and classically trained vocalist, all emphasized through their passion for experimenting with human sounds. In all its morose beauty, Maria BC provides honest commentary on the painful truth of the shame of growing up. —Olivia Abercrombie
Reverend Kristin Michael Hayter: SAVED!
On Kristin Hayter's new album SAVED!, that reinvention is made literal. It's Hayter's first record under her own name—with a "Reverend" honorific added, after she got ordained as part of the process. She recorded its 11 stark pieces in high fidelity before forcing them onto a 4-track recorder, then churned them through a litany of broken cassette players, remaking the sound at each turn. Inspired by the Pentecostal-Holiness Movement and the brimstone sounds of Old Regular Baptists and the Louvin Brothers, the result is an unspooled revelation, a supplicant's distorted glee—a celebration which Hayter leaves pointedly open-ended. "As you are when the end comes, so will you be when you must face Him," she declares on the website of her label, Perpetual Flame Ministries. "Whether this is enlightenment or insanity is up to the listener to decide."
There are familiar tracks on SAVED! for anyone who's spent time in church pews. Its original compositions are paired with solo piano renditions of hymns like "Wayfaring Stranger," "Precious Lord, Take My Hand" and, of course, "There's Power in the Blood." These are cut with echoes of glossolalia, more commonly known as speaking in tongues—a level of transcendence that Hayter achieved through "sleep deprivation, fasting, repetition of prayer, and sensory overstimulation." This is connected to the album's charismatic aesthetic, but it's also a link back to Lingua Ignota—whose name derived from the Christian mystic Hildegard von Bingen's divinely-given "unknown language."
Hayter uses these self-allusions not only to reflect upon and conclude the Lingua Ignota story, but to revel in the possibilities that could come after it. "All My Friends Are Going to Hell" is a condemnation of an enabling community, another echo of her earlier work. The track leads with warps from the recording process, through which a nasal, unaccompanied warble rings out, warning "cruelty and greed may on Earth serve you well, but when you die you are going to Hell." But there's a new sureness to its lyrics, a shedding. Rather than calling upon the divine to wreak vengeance for her as she used to, Hayter is confident now that vengeance will be wrought, washing her hands of the need to inflict it. In the music video, she races through a thick forest with her hands raised in sublimation and self-protection, until the trees give way to a riverbank. She descends up to her shoulders, takes a deep ragged breath and allows the water to carry her away. —Annie Parnell
Sampha: Lahai
Lahai is a transformative album that explores themes like afrofuturism and magical realism across 14 tracks that span a multitude of genres, including soul, rap, jazz, dance, jungle and West African music. And it's a record that's as intimate as it is imaginative. Over the course of the album's 38-minute runtime, Sampha embarks on an introspective journey that sees him embracing love, self-acceptance and spirituality as ways of increasing his own awareness and understanding of the world around him. The album opens with the frantic, piano-driven stream of consciousness "Stereo Colour Cloud (Shaman's Dream)," where Sampha laments existentialism amidst the always insistent passage of time ("I miss you, time misuse, time flies, life issues"). He echoes that spiritual searching on upbeat, rap-driven second single "Only," one of the project's standouts. The track sees Sampha rejecting hustle culture and putting self-healing and the people around him first, as he croons "I been on this grind like it's gonna break my fall, careerism pot hole, like where my loved ones go?"
Rediscovering the self by embracing the little things in life is a recurring theme throughout the project. "Spirit 2.0," the album's ethereal second song, emphasizes the power of love and spirituality in the healing process ("Waves will catch you, light will catch you, love will catch you, spirit gon' catch you"). Meanwhile, "Jonathan L. Seagull," an uplifting, soulful track driven by a heavenly choir, stresses the importance of finding peace by honoring human differences, with lines like "You are not me, and that's okay" and "Even though we've been through the same, doesn't always mean we feel the same." It also explores the transformative power of love and encourages us to find proof of greater meaning in one another. On the gentle ballad "Evidence," he sings to a loved one: "You're evidence, elegant, best of intentions, prayerful being had those beautiful lessons, lovely way of seeing things, making me believe in things." Lahai sees Sampha figuring out how to navigate this brave new world by forging links with his past (fitting, considering its title is taken from his paternal grandfather's name, which is also his middle name). He sounds self-aware and conscious of the impact his words and actions can have—both on the people in his life and the larger world around him. —Elizabeth Braaten
Squirrel Flower: Tomorrow's Fire
Squirrel Flower's third album, Tomorrow's Fire, is her best work. Leaning in harder than ever to rock music, the roiling catharsis so often found in Ella Williams' vocal performance now bleeds into the production. Tomorrow's Fire is lean, clocking in at 34 minutes across 10 tracks, but Williams doesn't waste a second of it. She produced the album, along with current indie rock go-to Alex Farrar at Drop of Sun Studios in Asheville. Alongside Williams, the album features performances from Matt McCaughan and Seth Kauffman, who have played with the likes of Bon Iver and Angel Olsen for years. Also featured here on guitar is one MJ Lenderman, who's distinct style meshes well with Williams' most fearsome arrangements.
"Alley Light" finds Squirrel Flower taking on the hardscrabble perspective of a down on his luck man who may as well have walked out of a Springsteen song. Writing from outside perspectives is a mode that Williams has tried out before and excels in. The lead single from Planet (i) was a grunge-indebted song called "Hurt a Fly," where she sang from the perspective of a self-assured, narcissistic man. There though, Williams still wrote with a knowing empathy despite her character's lack thereof. With "Alley Light," a song about feeling insecurity while in love, Williams' persona sings with admiration in their voice about someone they worry they'll be unable to keep interested. She slips effortlessly into this role, the caring nature of her character more in line with the breadth of her work. With rough hewn guitar riffs and a country rock sensibility, it's home to one of the album's most rewarding melodic structures, revving up and stalling out like her narrator's dying car. —Eric Bennett
Sufjan Stevens: Javelin
Although the album's promotional cycle would have you believe Javelin is a straightforward extension of the gentle melancholy of Carrie & Lowell, that's a slight misnomer. Rather, Stevens' latest blends the synth-driven freakouts of 2010's The Age of Adz with his quieter endeavors. Take the opening track "Goodbye Evergreen," which makes the album's thesis clear from the outset. Soft piano chords accompany Stevens' diaphanous vocals, and he's soon joined by background singers Megan Lui and Hannah Cohen—who harmonize with him to craft a rich, sumptuous arrangement. Whereas these first few moments are the sonic equivalent of a gilded Victorian mirror, Stevens shatters that mirror just a minute into the song; industrial clanks and clinks usher in a blast of unexpected pandemonium. Imagine The Age of Adz chapters "Futile Devices" and "Too Much" cut apart and pasted back together.
The eight-and-a-half-minute penultimate epic "Shit Talk" repurposes his longtime obsession with 5/4 for an odyssean journey; it snowballs from finger-picked guitars, courtesy of The National's Bryce Dessner, to an accelerated pulse, and—when it reaches a fever pitch—he repeatedly asserts that "I don't wanna fight at all" before his words dissolve into atmospheric horns and gauzy background vocals. It's a compelling push-and-pull exercise that makes Stevens' explorations of sacrifice and self-flagellation hit that much harder, as if he's on his deathbed, issuing his last words to convey a dire message before his heartbeat flatlines. This all makes "Shit Talk" one of the finest songs of his near-30-year career.
Most of Javelin concerns itself with past wrongdoings and the physical atonement, much of it self-induced, that its narrator undergoes as a result. "Give myself as a sacrifice / Genuflecting ghost as I kiss the floor," Stevens' opening couplet of "Genuflecting Ghost" goes, making immolation sound peaceful with arpeggiated acoustic guitars. Later in the song, he's begging someone to "bind" and "insult" him as he "praise[s] your name." This contrast of disturbing imagery and gorgeous, musical tapestries has long been one of Stevens' strengths as a songwriter. The way he illustrates hopelessness is so affecting that, despite his quiet voice and instrumentation, his music refuses to recede into the background. It commands your attention in every conceivable way. —Grant Sharples
The Mountain Goats: Jenny from Thebes
The sounds are different, but fans loyal to All Hail West Texas will recognize plenty here: the house, not least of all, and Jenny's custom yellow and black Kawasaki motorcycle. We first met Jenny in All Hail West Texas, but she's shown up in other Mountain Goats songs, too, always carrying a narrative weight that the listener can't quite pinpoint. Darnielle described her as "a presence known only by her absence," and Jenny from Thebes constructs the context for that absence. Jenny keeps a safe house in West Texas, a southwestern ranch style house where anyone and everyone who needs it can have a place to crash. They take care of each other until they're a little bit more alive again—until there's color in their cheeks.
We get to know Jenny in detail here, and her relationship to one of her final guests and the character of her house—its occupants always shifting but its hospitality always steadfast. "Absence after absence / Keep the place secure," Darnielle sings in "Clean Slate." Darnielle has referenced how his hesitation can grow as he brings in more new musicians for a project—but while Jenny from Thebes feels big compared to the Mountain Goats' stripped-down albums, there's restraint on these songs, and the rock-opera approach never feels garish. The string section on "Jenny III" adds a thoughtful coda to a confessional moment between Jenny and her sometime companion. Prickly horns, confidential vocals and soft, anxious guitar refrains create an undercurrent of dread in "Ground Level," a song sketching the exhaustion and the lingering recovery of Jenny's guests at her safe house—eyes on all the exits, three hours of sleep a night.
These characters are aware of the clocks ticking— "The timer / Ticking in my chest" on "Cleaning Crew"—the sense that, with all these things, it might be the last time Jenny does them. But they insist upon the reality of their experiences. Jenny from Thebes knows that if you push your imagination hard enough, your imaginings can become your lived convictions. And if you act enough on your convictions, you yourself might be expelled into imagination. One of this record's biggest achievements might be building out the character of Jenny while managing to not sacrifice her central mystery. If every endpoint is fixed forever on the day its arc began, Jenny was always like this: a figure who commands the imagination, and whom we can still dream and wonder about, years and miles later. Jenny from Thebes is a fitting new record from the Mountain Goats—a band whose music, for so many, has been a house not unlike Jenny's: a stronghold where anyone is welcome, and in fact not only welcome, but also worthy of being defended. —Laura Dzubay
The Rolling Stones: Hackney Diamonds
If you didn't know The Rolling Stones were putting out a new album, I don't blame you. For them being, quite possibly, the greatest rock 'n' roll band of all time, very little has been mentioned in music circles about Hackney Diamonds—Mick Jagger, Keith Richards and Ronnie Wood's 24th studio album. Maybe folks aren't much interested in what a bunch of 80 year olds have to say or sing about in 2023; maybe Hackney Diamonds just isn't that good. I don't think it's the latter, personally. The record is good; even the Stones' worst albums are listenable. But Hackney Diamonds is not just "listenable." It's the best thing they've made together since 1981, since Tattoo You (which shouldn't even count, since it was a record full of scraps from previous albums).
Being their first full album of new material since 2005, the reservations were fair—and the death of longtime drummer and glue Charlie Watts in 2021 easily cast a worrisome shadow over what the Stones might cook up now. But Watts is on this record, on "Mess It Up" and "Live by the Sword." Elton John, Lady Gaga, Stevie Wonder, Paul McCartney, as is longtime bassist Bill Wyman. You can feel Mick, Keith and Ronnie grasping at every single thing they do great, be it the twang of honky tonk rock ("Dreamy Skies") or heavy, blistering riffs ("Whole Wide World"). No, this isn't a perfect album. It's not Sticky Fingers. But I don't think the Stones wanted to remake their own classics. No, this is a proclamation that the rock gods have still got some magic left in the tank. —Matt Mitchell
Truth Club: Running From the Chase
Running From the Chase, Truth Club's sophomore album and first for Double Double Whammy, is one of the most alluring and uncomfortable records of the year. Placing heavier emphasis on melody and dynamic arrangement, Harrington and his bandmates, Kameron Vann, Yvonne Chazal and Elise Jaffe, have built an album that feels like a nihilistic Trojan Horse. These songs create an impending sense of doom while also getting stuck in your head. Lead single "Blue Eternal" sees them pushing further into the murky dread at the heart of their sound. As though taking on the POV of a poor soul caught in a whirlpool, Harrington sings "held in a wave of some vibration / a trace of our trial / stuck in its cycle"—the tense, driving guitars a riptide of their own.
That trapped feeling extends into songs like "Exit Cycle," where calming guitar strums undergird the description of a wasted day framed as "two dozen hours, deposed." It's a song about the feeling of futility, lack of fulfillment, and hopelessness, and yet it's palpably ambitious. Truth Club has mastered the art of the slow build, and when "Exit Cycle" reaches its peak, it's transcendent. Indigo De Souza makes a cameo here as well, singing a sweet, hazy backup that stands in contrast with Harrington's commanding chant. On one level, there is a silver lining to all of Truth Club's toiling music. Harrington wrote these songs during a particularly aggressive battle with bipolar disorder, and tried to capture his feelings within them. He describes it as though he's placed these feelings "in a jar" to observe down the line. That they exist means he's been able to sublimate them down into something new, something useful to himself and to us. The perspectives we hear from, singing from beneath a crushing weight, are doing so from the past. Running From the Chase is a reminder to let some light fill up darker corners. —EB
---
Listen to a playlist of our favorite songs from these releases below.