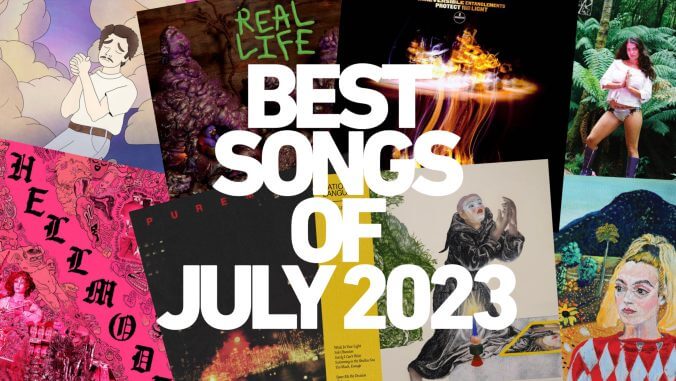 There were so many great new tracks every week this month that it was often difficult to pick just a handful every time! Singles arrived aplenty, and many of them became songs of our summer. From a free jazz benchmark by Irreversible Entanglements to a synth-pop masterpiece by Nation of Language to an alt-country stunner from MJ Lenderman, this month wowed us all. As August begins tomorrow, let's take a moment to recap the abundance of wonderful music released this past month. Here, in alphabetical order, are the best songs of July 2023.
---
Chris Farren: "First Place"
As a follow-up to the brilliance he exuded on "Cosmic Leash" and "Bluish," our favorite artist Chris Farren is back with another offering from his forthcoming LP Doom Singer. "First Place" is a cheeky, self-deprecating rumination on a wavering relationship. "I've been doing the bare minimum, yet somehow it's still not enough," Farren opines. The song is jazzy and bouncy, with lyrics both raw and easily digestible. Jeff Rosenstock provides horn accompaniment, as Farren's talents can't help but guide him into a beautiful, poppy oblivion. —Miranda Wollen
Crooks & Nannies: "Country Bar"
Crooks & Nannies' new single, "Country Bar" is a twanging, melodic exploration of romantic idealization. The third song off their forthcoming album Real Life traipses whimsically and pitifully through the fogged-up landscape of a love that'll never work out, lilting and swelling like a sputtering heart. It blossoms into a desperate, distorted instrumental expression before shrinking back to earth, sweetly begging for honest love. "We'd spend whole days just digging through garbage," Max Rafter sings. "The cat in the afternoons calling for something, and I can't understand all the hidden intention. But a kiss on the head is a sacred offering." "Country Bar" is an exercise in examining romantic failures through a retrospect glossed over by a rose-colored tint. Like "Temper" and "Weather" before it, "Country Bar" is another mountainous stroke of brilliance for the Philadelphia duo. —MW
hinako omori: "foundation"
U.K. artist hinako omori released an acclaimed album last year that worked in modes of sound baths and healing, looking to highlight the therapeutic qualities that music can provide. The work she has released this year has been pitched as something of a departure as she works in more pop forms, but listening to this latest single, "foundation," her ability to soothe and heal remains very much at the forefront of her productions. omori's vocal hook alone works through the muscles and synapses like a gentle flood of warm water. But underneath the downtempo beat are drones and melodies that act like a weighted blanket, pressing down and calming with each gush and blossom. —Robert Ham
Irreversible Entanglements: "Free Love"
Irreversible Entanglements are opening the door to a new chapter on lead single "Free Love." The lead single from the jazz quintet's forthcoming album, Protect Your Light, is, according to the band, a "universal message that provokes unity through a love that lives free, the love that lives in you." "Free Love" is glorious and meticulous, as Camae Ayewa's poetic waxings blend delicately into the mirage of arrangements that her four bandmates (Luke Stewart, Aquiles Navarro, Keir Neuringer and Tcheser Holmes) put into the air beside her. "Sweet notes singing, I love you / It was a flooding / It was a rush of feelings / Coming over me / It was free / It was certain," she muses. Recorded at Rudy Van Gelder Studios in Englewood Cliffs, NJ, where Coltrane recorded A Love Supreme, Protect Your Light dares to join the ranks of jazz adoration. If "Free Love" is any preview, it's a feat that's likely to come. —Matt Mitchell
Jeff Rosenstock: "HEALMODE"
Most notable for his big, belting, energetic anthems, "HEALMODE" finds Jeff Rosenstock taking a turn towards gentleness. The ballad is not just a standout in Rosenstock's long, populated catalog; it's a centerpiece on his new album HELLMODE. A hopeful song to the core, you can't help but get all gushy over the world Rosenstock's made across this track. "When it's gone, the air will clear and we'll have so much more to see," he sings. "The construction will continue and the power tools will screech, and cars will cram the street. And that's just fine with me." Featuring Laura Stevenson's backing harmonies, "HEALMODE" is just a beautiful earworm to fall head over heels in love with. —MM
Knife Girl: "Estrogen"
Considering how emboldened the rest of the known universe is to say pretty much anything they dare to, it feels somewhat refreshing to hear Lili Aslo, the Finnish artist known as Knife Girl, worry about one of the repeated lines in their new single "Estrogen." True, the lyric is, "I love my tits / I love my dick," but even that feels entirely tame compared to some of the nonsense I hear on cable news. And when those words are paired with a joyous dance groove, they become as empowering as Aslo intended. You can't help but chant along no matter if you have tits, dick or none of the above. —RH
Laura Groves ft. Sampha: "D 4 N"
Once known as Blue Roses, Laura Groves has a record called Radio Red on the way. The project's second single, "D 4 N," is one of the dreamiest synth tracks you'll hear this summer—as crystal-clear, shimmering keys pulse patiently, slowly unfurling beneath Groves' airy, angelic singing. It's a ballad that combines retro dance architecture with contemporary pop balladry. As Groves' falsetto cruises up towards an apex, listeners might expect an explosive climax to follow. However, the synths pick up a light pace and Sampha's harmonies come ringing in perfectly. There's nothing glossy here, as the song stands on the shoulders of Groves and Sampha's bright chemistry. Their vocals were meant to meld into each other. "D 4 N" will stick with you long after the last synth twinkle fades out. —MM
Lilts: "Dodge Street"
Lilts, the new collaboration between Wild Pink's John Ross and musician Laura Wolf, has released their inaugural single, "Dodge Street." The track is reminiscent, sonically, of the title track from Wild Pink's last album, ILYSM, in which synthesizers and guitars equipped with angelic distortion pedals envelope euphoric, airy vocals. Wolf's vocalizations shine bright here, as does Ross' instrumentation. "I don't wanna sit here waitin' while you dream," she sings atop a beautiful arrangement that sounds like Springsteen making electro-pop. "I don't wanna waste another day." Together, Wolf and Ross have formed a bond that needs to continue forever. I want a thousand more Lilts singles, and then a thousand more after that. —MM
Locate S,1:"Go Back To Disnee"
Locate S,1's "Go Back To Disnee" is a floaty, bossa-nova inspired track with a surprisingly invective impetus. A flying tour over the collective memory of domestic childhood, the tune's unbothered instrumentals disguise a venom-tinged nostalgia, a tracing of the cracks along the outlines of Christina Schneider's youth and the matrix of innocence. "I believe that we never really lived in America / Go back to Disnee, back to the palace stairs / Back to the hiding places that were never there," Schneider sings. The breezy beauty which pervades her work serves to highlight the confusion of it all, emphasizing the thousand little stabs of an abusive upbringing in wavering pastels. "Go Back To Disnee" is poignant and multicolored, sweet without being innocent. It's a balance Schneider strikes expertly. —MW
Maple Glider: "Dinah"
Melbourne folkstar Maple Glider—aka Tori Zietsch—has I Get Into Trouble, their sophomore album, on the way. New song "Dinah," which follows up her May single "Don't Kiss Me," is an urgent reflection on displacement and feeling unsafe within the Christian church. Combining that with images of the misogny and abuse that occurs within religion, Zeitsch has built a truly breathtaking track. "So I've been in the church making sure no one's looking up my skirt," she sings. "But I do not feel safe here. I wanna feel alive. Do you thrive knowing that our God favours you over me, dear?" Despite its lush, folk-tinged progenies, "Dinah" is a (rightfully) angry track that channels frustration in a moving way. It's a perfect, emotional and resonant return for Maple Glider. —MM
MJ Lenderman: "Rudolph"
The inaugural single from MJ Lenderman after signing with ANTI- Records, "Rudolph" is pure Southern-rock and power-pop that have alchemized into one gigantic, unforgettable track laced with an entrancing pedal-steel. Heavy riffs and full-bellied percussion roar alongside Lenderman's waxing, hypnotic poetics that poke fun at Bob Dylan—as he is one of our best contemporary linguists, coiling slurring prose around the frame of a country track. "Deleted scene of Lightning McQueen blacked out at full speed," he sings. "How many roads must a man walk down 'til he learns he's just a joke who flirts with the clergy nurse 'til it burns?" As a follow-up to Boat Songs, it appears that Lenderman's apex hasn't dissipated one bit. The world is firmly his to spin into a colloquial palace. —MM
Nation of Language: "Too Much, Enough"
The fourth single released ahead of their upcoming album Strange Disciple, "Too Much, Enough" continues Nation of Language's eclipsing, immediate and danceable destiny. On the track, keyboardist Aidan Noell shines greatly—as her craftsmanship shines in technicolor ricochets of harmonized, looping glitz. Vocalist Ian Devaney's brooding octave explodes into a proto-tenor, as the wall of sound that Nation of Language have forged swells into a timely critique about news cycles, media addiction and manufactured anger. Months ago, we named Nation of Language the best synth-pop band in the world. This week, we concur with our own proclamation once again. —MM
Slowdive: "skin in the game"
The latest single from shoegaze legends Slowdive is a cinematic, universe-spanning lamentation. "skin in the game" is a swirling, cathartic exorcism of impossible feeling. Lyrically and sonically poetic, it's a reminder of the beauty of Slowdive's quieter side, which is simultaneously subdued and poignant. The instrumental perfectly wraps around Neil Halstead's levitating vocals and Rachel Goswell's euphoric, supplemental harmonies. "skin in the game" is emotional and multivalent, showing the staying power of a band who have made music together for over 30 years. —MW
Strange Ranger: "Wide Awake"
The best song on Strange Ranger's upcoming album Pure Music was released into the world this week as the project's final single. "Wide Awake" is fantastic, to say the least. It's the perfect rendering of how to fuse 1980s synth-pop with contemporary, mainstream songwriting. It's cybernetic in digital phasing and incredibly soulful. Bandleader Isaac Eiger provides a cool metronome of singing across the track, but the real showstopper is Fiona Woodman's euphoric vocalizations—as she hums and croons overtop an interpolation of random, distorted YouTube clips. It's one of the most hypnotic sequences of 2023 so far, and "Wide Awake" is a perfect composition fit for both nightclubs and long walks back from a faraway rail station. —MM
The Armed: "Everything's Glitter"
Detroit hardcore collective The Armed's latest single, "Everything's Glitter," lives up to its title. It's a perfect montage of punk and glam rock, and it'd position nicely alongside anything from Deafheaven's last LP. With a juxtaposition of delicacy and streamlined, hypnotic energy, The Armed have concocted something wholly unique and exhilarating here. "There's drama on my tortured brow," vocalist Tom Wolski sings. "Am I a caricature? There's just a little between God and Clown. I wanna be an idol you adore." Building on the moment of lead single "Sport of Form," Perfect Saviors is set to be one of the heaviest records of the summer—and we're 100% here for it. —MM
Other Great Songs We Loved This Month: ANOHNI and the Johnsons: "Why Am I Alive Now?"; Big Thief: "Vampire Empire"; Buck Meek: "Cyclades"; Hurry: "Parallel Memories"; Margaret Glaspy: "Memories"; Margo Cilker: "Keep It on A Burner"; The Mountain Goats: "Clean Slate"
---
Check out a playlist of these great songs below.