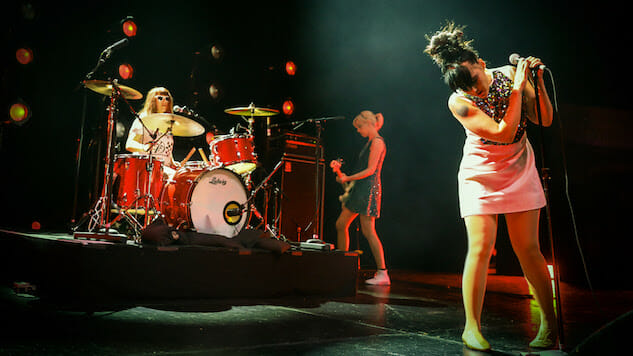 Bikini Kill played their first live shows together in over 20 years on a reunion tour last year—with the extremely limited stops of Los Angeles and New York. Lucky for the rest of the continent (and for Scandinavia), the riot grrrl icons are set to visit many more North American cities this coming spring, as well as play Norway's Øya Festival.
After announcing the first run of tour dates earlier this fall, Bikini Kill have added a few more to the docket today, including a show at Brooklyn's Prospect Park Bandshell, one at Morrison, Colo.'s Red Rocks Amphitheatre, and one at Burger Boogaloo in Oakland, Calif. Founding members Kathleen Hanna, Kathi Wilcox and Tobi Vail (plus guitarist Erica Dawn Lyle) will kick off the tour at the Capitol Theatre in the band's birthplace of Olympia, Wash., with a second date also announced today. Both Olympia shows will benefit the city's Interfaith Works Shelter.
Check out the full slate of tour dates below. Tickets go on sale Dec. 13, at 9 a.m. PST or 12 p.m. ET. If you're signed up for the Bikini Kill email newsletter, you'll receive a presale code for use on Dec. 11 beginning at 9 a.m. PST or 12 p.m. ET.
Bikini Kill 2020 Tour Dates
March
13 – Olympia, Wash. @ Capitol Theater & Benefit For Interfaith Works (SOLD OUT)
14 – Olympia, Wash. @ Capitol Theater # Benefit For Interfaith Works
16 – Seattle, Wash. @ Paramount Theatre & (SOLD OUT)
17 – Seattle, Wash. @ Paramount Theatre #
19 – Victoria, B.C. @ Distrikt # (SOLD OUT)
22 – Portland, Ore. @ Crystal Ballroom & (SOLD OUT)
23 – Portland, Ore. @ Crystal Ballroom ^ (SOLD OUT)
May
10 – Silver Spring, Md. @ The Fillmore Silver Spring
12 – Silver Spring, Md. @ The Fillmore Silver Spring (SOLD OUT)
13 – Philadelphia, Pa. @ Franklin Music Hall
14 – Boston, Mass. @ Boch Center Wang Theatre
16 – South Burlington, Vt. @ Higher Ground (SOLD OUT)
18 – Montreal, Que. @ M Telus
19 – Toronto, Ont. @ Danforth Music Hall (SOLD OUT)
20 – Toronto, Ont. @ Danforth Music Hall (SOLD OUT)
22 – Cleveland, Ohio @ Agora Theatre
23 – Royal Oak, Mich. @ Royal Oak Music Theatre
24 – Milwaukee, Wis. @ Riverside Theater
July
11 – Oakland, Calif. @ Burger Boogaloo
August
4 – Brooklyn, N.Y. @ Prospect Park Bandshell
12 – Oslo, Norway @ Øya Festival
October
21 – Morrison, Colo. @ Red Rocks Ampihtheatre
& w/ Table Sugar
^ w/ Lithics
w/ Mecca Normal