Okay, so "Black Flag" is releasing a new album on Nov. 5, which hasn't happened for 28 years, and it's called What The… The real story here, though, is the truly awful cover art that you see below. Apparently Greg Ginn is no longer retaining Raymond Pettibon, the man who designed Black Flag's previous cover art and is also, incidentally, Greg's brother. The family feud is sad enough on its own, but it became tragic on a larger scale the minute this artistic monstrosity was unleashed on the general public.
Take another look to really let the vulgarity sink in: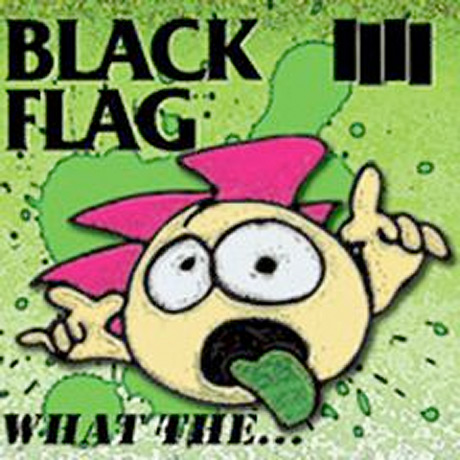 It appears to be a depiction of a cartoon character simultaneously "rocking out" and possibly vomiting some type of green fluid. I can't vouch for that, though, because the artist wasn't what we in the business like to call "detail-oriented." You may notice that the pink mohawk on the character's head seems to be more horizontal than usual, yet also layered, so that it sort of moves diagonally back-to-front on his head. My favorite feature, though, is his left hand. I'm not sure what's happening there on a genetic level, but it appears to be some kind of defect I'm calling "cactus fingers," where the thumb and middle finger sort of grow out as stubby offshoots to the pointer.
In any case, I thought I'd do Black Flag a favor and find 10 MS Paint images from a simple Google search that are less tacky than the current cover. I'm sure they can be had on the cheap, Greg Ginn.
1. Combination Wolf/Eagle/Pony/Duck
Notice the cool colors! That just screams "punk" to me.
2. Morrissey Eating a Live Horse
No idea if that's actually Morrissey or not (I will not be doing any in-depth research here), but this is super edgy and fits Black Flag's music well, maybe.
3. Fat-Shaming Cat Leading Fat Man On Leash
That cat is mean! Just like you, Greg, for cutting your brother out of the cover art game.
4. Three-Legged Candy Bar Man, Tennis Turtle, and Inverted Russian Palace
I like this one because it's simple, straightforward and communicates a clear message we can all relate to.
5. Sad Gandalf
There's so much Gandalf MS Paint art out there, Greg. You could be at the forefront of a bold new movement in cover art.
Still slightly more sophisticated than your current cover, Greg.
The perfect metaphor for what Black Flag has wrought on society. When life hands you lemons, make lemonade. And by "lemonade," I mean a combination of the words "lemon" and "grenade." The citrus drink is for dorks.
8. Alluring, Enigmatic Barbie Shushing You
You guys are getting old now, Greg, and you have to make sure you maintain your sex appeal. This is the image that will keep you relevant among Millennials.
9. Drinking Battery Acid During the Robot Apocalypse
So badass. The "Nero Fiddling While Rome Burns" of our time.
THE MIGHTIEST OF THE MODERN SUPER WEAPONS! THIS IS WHAT HAPPENS WHEN YOU TRANSLATE A BLACK FLAG SONG INTO AN ANIMATED NIGHTMARE! ALSO, THE PIRATE'S NON-HOOK HAND LOOKS LIKE A LOBSTER CLAW! EVEN BETTER THAN CACTUS FINGERS!
SORRY FOR THE ALL-CAPS, GREG! I JUST WANTED TO HELP.