Everything We Know about the New Broken Bells Album So Far
The duo shared the first single, "Shelter," last week
Image courtesy of the artist
Music
Features
Broken Bells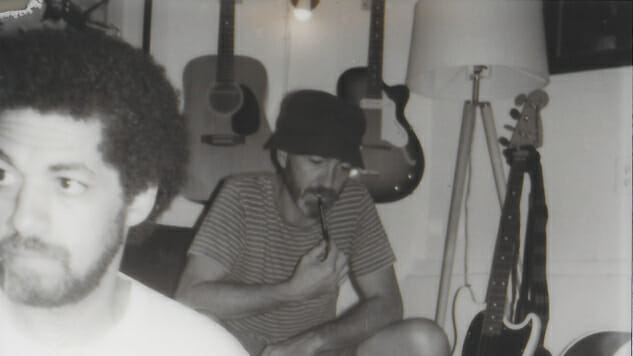 "Everything We Know about … " is Paste's series of deep dives into the forthcoming projects we're most excited about. Explore them all here.
Last week, James Mercer and Danger Mouse released "Shelter," their first new song recorded together as Broken Bells in nearly four years.
"Shelter" is the first single off an as-of-yet-unnamed third studio album, which follows 2014's After the Disco. With the duo seemingly not sharing secrets any time soon, we've decided to take a deep dive to see what we might find.
---
How long have the Bells been back together?
Danger Mouse first teased the Broken Bells reunion via Twitter in August, sharing a photo of himself and Mercer in the studio together. The picture was dated Aug. 13, but based on the two's social media interactions, it might be inferred that the collaboration began again in earnest in the spring of 2018. Starting in March, Danger Mouse's JukeBox playlist began featuring more of Mercer's work, both as The Shins and as Broken Bells.
.@broken_bellspic.twitter.com/WwxL8BW0Ba

— Danger Mouse Jukebox (@DangerMouseJuke) August 29, 2018
This may be reading too much into what is essentially playlist curation, but Danger Mouse's tastes are usually quite varied, with artists as far ranging as Twin Peaks, Nina Simone and Lykke Li often all occupying the same queue. But starting in March, his playlists featured Mercer more or less every week. The timeline makes sense—if the two started tentatively writing together in March, then by August, they'd feel confident enough that the project would see completion to share a teaser picture. A single in December fits, as well. With nine months in the studio, the album is most likely nearing completion, and a single to help kick off the hype cycle is plenty warranted.
What else have they been up to?
While the pair might have been in the studio since last spring, they've been far from laser-focused on the collaboration. This year, as part of his work with The Shins, Mercer released The Worm's Heart, a re-imagined, re-recorded version of his 2017 albums Heartworms. The new album found Mercer "flipping" the songs off Heartworms—"slow songs are played fast, quiet songs louder, fast songs slower and loud songs quieter," according to Mercer. He also contributed to the Fug Yep Soundation 7" mix, a charity release to benefit Richard Swift, who had helped Mercer produce various Shins releases throughout the years.
Danger Mouse may have had an even busier year: He produced Parquet Courts' latest, Wide Awake!, and linked up with Karen O of the Yeah Yeah Yeahs, a collaboration whose forthcoming album's release is similarly up in the air. Meanwhile, Danger Mouse's label, 30th Century Records, put out Grandaddy's "Bison on the Plains," The Babe Rainbow's Double Rainbow and Volume 2 of the Baby Driver soundtrack. The two have not been taking it easy, clearly.
When will it come out?
The pair announced in a press release accompanying "Shelter" that the album was a "work in progress," with no solid release date in sight. "In progress" might suggest that the album still has a substantial gestation cycle ahead, but the release of the first single, coupled with a new line of limited-edition merch just made available today, Dec. 10, hints at a hype machine that's just beginning to roar to life.
---
Watch this space for further updates on the new album from Broken Bells.