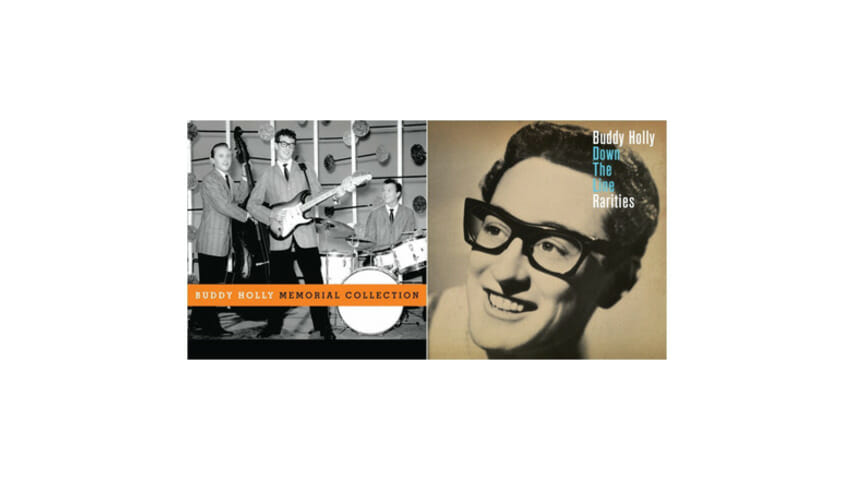 Memorial Collection: 97/100
Down the Line: Rarities: 78/100
Major piece of rock's DNA finally digitized
For those of you late to the party, Charles Hardin "Buddy" Holley—his first records misspelled his name "Holly," so he went with the error—was a bundle of contradictions born in 1936 in Lubbock, Texas, who managed to squeeze out a bunch of classic tunes before dying in a famous plane crash at age 22. His posthumous career has been marked by artistic desecration (the overdubbing of unfinished recordings), a biographical film with a vicious agenda, almost religious adulation (while touring England, he influenced much of the British Invasion's music, not to mention inspiring a certain band to name itself The Beatles, after his band The Crickets) and a seeming inability (whether by his record company or the executors of his estate) to return his seminal catalogue of original recordings to print after a magnificent six-LP box set some decades back.
It'd be nice to have that set on shiny silver discs, but let's count our blessings with the five we have here. The Memorial Collection is pretty much everything a normal fan needs: three CDs, in chronological order, from the early recordings of Buddy & Bob (Montgomery) to the Crickets' various incarnations to the solo recordings made in New York and, finally, a judicious selection from "the apartment tapes," made in Buddy's living room at 11 5th Avenue in New York, with his new bride Maria Elena present. Down the Line: Rarities, as advertised, is two discs of material for fanatics and scholars—from a home recording of a Hank Snow song laid to tape before Holly's voice had changed to the entire Buddy & Bob oeuvre, recordings of the Crickets from the Hollys' garage (home of the cricket that—after ruining countless attempts at recording rehearsals—gave the band its name), outtakes of released material and, finally, the entire apartment tapes, which includes a version of "Wait til the Sun Shines, Nellie," recorded at his mom's request, and Maria Elena (who was Puerto Rican) counting to 10 in Spanish. Here, too, are two slow, solo-with-guitar takes of "Slippin' and Slidin'," interpretations of the song that are simultaneously sexy, dangerous and tender.
Listening to a piece of music after a lengthy time away from it lets you hear with new ears, and I was delighted with what I heard here—and I mean heard: Erick Labson at Universal Mastering West has done an amazing job with these ancient tapes, bringing out subtleties I'm sure weren't this clear on the LPs. For one thing, the insouciance and clarity of the melodies Buddy wrote (with occasional help from Bob Montgomery, his producer Norman Petty and various Crickets) completely erased the mawkishness of the early songs' lyrics from my mind. We can also hear his songwriting undergo a change after he'd had a couple of hits. Suddenly "love" was no longer just a syllable to rhyme.
There's also a duality to Holly: He rips into songs like "Not Fade Away" and "Ready Teddy" with ferocity, and the opening of "Midnight Shift" is still shocking: "If you see ol' Annie, better give her a lift, cause Annie's been workin' on the midnight shift." The song is hard to square with his clean-cut choirboy-with-glasses look. He didn't write it, but he sure sings it knowingly. This duality persists through his recorded career, too: The plane crash, coming, as it did, so soon after his marriage and move to New York, has inevitably given rise to the "what if" question. His last sessions were with Broadway veteran Dick Jacobs, complete with A-list New York session players and strings and material written by overrated icon Bobby Darin. For years, I thought that—between the material success this might bring him, his intensely ambitious young wife, and the fact that he'd just split with both The Crickets and Norman Petty—he'd have been so MOR by the time the Beatles arrived that young people would've considered him as irrelevant as they did Elvis at the time. But then I heard the apartment tapes: one guy, a guitar and a bunch of original and borrowed songs. There's so much emotional promise in "Slippin' and Slidin'," so much lyrical growth in "Learning the Game," that now I'm not so sure.
If you're intrigued by what you're reading here, pick up John Goldrosen' Holly biography; astonishingly enough, there are no liner notes included with the Memorial Collection for the generation now discovering this music, which is as essential to the birth of rock as anything by Elvis or Jerry Lee Lewis or even Little Richard. And Holly's life is as amazing as his music. It's good to have him back.
Click here for a 17-track List of the Day in memory of Buddy Holly, Ritchie Valens and The Big Bopper.
Click here for That'll Be the Day (the Music Died): 50 Years Later, featuring artist commentary from Paul Westerberg, Black Lips, John Doe, The Avett Brothers, Robyn Hitchcock and many more.