No Album Left Behind: Cherubs' Immaculada High
'90s noise rock trio continues post-reunion winning streak
Music
Reviews
Cherubs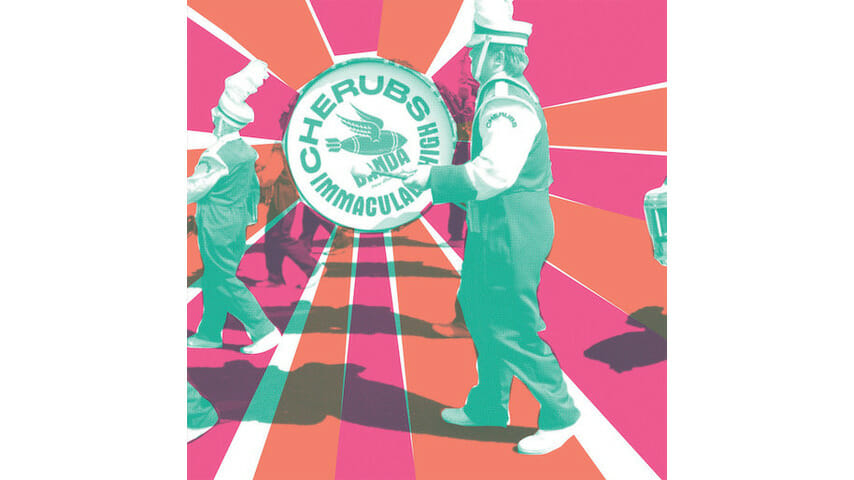 Over the course of 2019, Paste has reviewed about 300 albums. Yet, hundreds—if not thousands—of albums have slipped through the cracks. This December, we're delighted to launch a new series called No Album Left Behind, in which our core team of critics reviews some of their favorite records we may have missed the first time around, looking back at some of the best overlooked releases of 2019.
By all rights, Cherubs should have been all but forgotten by history—which is not to say that the Austin trio's blend of noise rock and psychedelia didn't have an impact, or that it doesn't deserve to be remembered. If you ask modern heavy rock outfits like Red Fang and KEN Mode, or survey folks who watched as underground acts like The Jesus Lizard, Cows, Helmet, Ministry and The Butthole Surfers stormed the music industry gates three decades ago, you'll certainly find enthusiastic praise for Cherubs. Indeed, anyone who harbors an affinity for the trudging, Sherman Tank-like cadences pioneered by The Melvins is almost certain to respond to Cherubs. (The band even reported to Paste via e-mail that Jeff Tweedy once professed his love for Cherubs' music after a show in Chicago, way back when Tweedy was still in Uncle Tupelo.)
But Cherubs broke up just as their 1994 sophomore album Heroin Man was set to hit stores (via Butthole Surfers drummer King Coffey's Trance Syndicate label). Famously, bassist/vocalist Owen McMahon and drummer Brent Prager got into an altercation before a gig in San Diego literally the night before the release date. The band sputtered out after just a few more shows. When McMahon, Prager, and guitarist/singer Kevin Whitley returned 20 years later, it's not like anyone necessarily saw it coming, but it didn't exactly come out of left field either: By the time 2013 tribute album Everyone's Dead Before They Leave re-invigorated the trio's sense of purpose, the members of Cherubs were already in communication with fans from around the world.
What was unexpected was the group's hardline intention to come up with a whole album's worth of material that would be worthy of its legacy. (According to Prager, tempting offers to reform had been coming in for years, but the band stood its ground.) So it would be too reductive to say that 2015's 2 YNFYNYTY summoned all the gnarled fury the band was known for. The truth is, Cherubs 2.0 actually one-upped their back catalog by achieving a new level of vibrance with their sound. And they did it for a second time with this year's Immaculada High.
In a 2016 Austin Chronicle piece, McMahon hilariously recalled how the band pushed the volume levels so far during the recording of Heroin Man that it caused the digital ADAT tapes they were using to distort. "It's not the most pleasant thing to most ears," McMahon quipped, "but that's what made it work." At various points throughout Immaculada High, a similar effect seems to be at work. "Breath U Can C," for example, starts off as a queasy, sludge metal-esque crawl where Whitley's guitar sounds so mangled it verges on sonic gore. Likewise, on "IMCG," Whitley's guitar chords go off like flare gun trails over an ominously spare bass-drums groove that points back to that glorious early-'90s climate where noise, metal, industrial and experimental sounds ricocheted off one another in both the underground and the mainstream.
That said, Immaculada High is clearly the product of a group that's still hell-bent on covering new ground. As hard-charging as their sound was, Cherubs were never a band that simply pummelled you—King Coffey couldn't actually keep up with the odd time signatures when asked to try out for the drum stool way back when the band first formed—but aggression was still the primary color they were working with. When Cherubs reunited, it was clear that they'd embraced melody in a big way. And as it turned out, as counter-intuitive as it might seem, Cherubs' dense maelstrom contained the perfect pocket for Whitley's falsetto to soar. On Immaculada High, the combination of abrasion and beauty once again pays off in ways no one could have anticipated based on the band's '90s output.
If Cherubs' first two records owed their crunch and drive to The Melvins, Immaculada High would be more like blaring The Melvins from a car stereo at the edge of the Grand Canyon, hallucinogenic enhancements optional. Case in point: Whitley creates gigantic funnel clouds with his guitar on "Sooey Pig," his high-pitched vocals trailing off toward the heavens. The band is fond of making casual LSD references to describe its own sound, but there's something almost cheap about framing the transcendent quality of songs like "Sooey Pig" in druggy terms.
Meanwhile, Cherubs have grown quite adept at rhythmic variation as well. On the aforementioned "Breath U Can C," the trio executes a perfectly smooth switch from the song's dirgey, near-atonal first half to the kind of hip-swaying psychedelic dance groove that would make the likes of Black Rebel Motorcycle Club and The Dandy Warhols proud—the difference is that Cherubs aren't trying to take us back to '60s aesthetics as an affectation. The density, texture and overall vibe of the music all feel startlingly modern.
One of the most exciting things about a band like Cherubs coming back from the brink of obscurity is that they're just as unlikely to infiltrate mainstream tastes as they were back before they quit. And that's precisely what makes Immaculada High such a bold, important statement. However much their loyal cult following grows as a result of this album, from an artistic perspective, Cherubs have undeniably made their mark.