Dolly Parton Seizes Her Rockstar Moment
The country legend's 49th album boasts some of her funnest work to date and features an all-star lineup of all-time greats.
Music
Reviews
Dolly Parton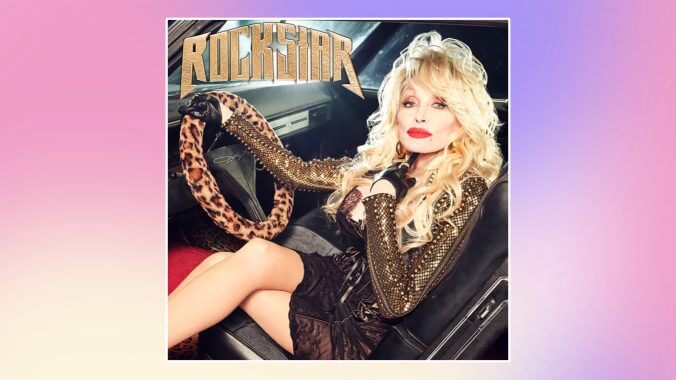 Dolly Parton has been described as a living legend, one of the world's most loved celebrities and a national treasure. All of the above are accurate—but still, they can't quite seem to sum up just what she means to people. The country crooner's decades-long music career has seen 47 of her albums (yes, you read that right) reach the Top 10 on Billboard's country chart and is bookended by a massive songwriting catalog of an estimated 3,000 tracks—including smash hits "I Will Always Love You," "Jolene" and "9 to 5." She's a Golden Globe-nominated actress and the first country singer to reach EGOT-nominated (Emmy, Grammy, Oscar and Tony) status. She achieved those astonishing feats after growing up in a one-room log cabin in rural Appalachia—the fourth of 12 children born into a poor farming family.
But despite the massive success and overwhelming number of accolades, she's never forgotten where she came from. Time and again, Parton uses her platform to do good for others—whether that be donating $1 million to coronavirus research, part of which was used to help develop the Moderna vaccine, or giving back through her Dollywood Foundation's Imagination Library program, which gifts over 2 million free books every month to children around the world. And, of course, who could forget her trademark blonde updo?
In a world governed by an ever-expanding attention economy, Parton's quiet confidence and humility shine like a beacon of light. Last May, after being nominated for 2022's Rock and Roll Hall of Fame, she made waves by pulling out of the running, justifying the decision in forever-charming, self-effacing Dolly fashion by saying she didn't feel she'd earned the right. "It was always my belief that the Rock and Roll Hall of Fame was for people in rock music," she later told NPR after eventually deciding to accept the honor. "I have found out lately it's not necessarily that. But if they can't go there to be recognized, where can they go? And so I felt like I was taking away from someone that maybe deserved it certainly more than me since I never considered myself a rock artist."
Now, "rock artist" is one more title Parton can add to her long list of achievements. Determined to do justice to her Rock & Roll Hall of Fame induction, Parton announced that her next project would be a rock album, the first of her career. Out of the ashes sprung the aptly-titled Rockstar, Parton's long-anticipated 49th career LP. The album is a monstrous undertaking, spanning a whopping 30 tracks (21 covers of classic rock songs along with nine originals) and featuring more than 40 guests.
For the project, Dolly Parton enlisted a number of the world's most celebrated rock stars to perform new versions of their greatest hits. The result is a staggering tracklist that looks like it just stepped off the Hollywood Walk of Fame. Parton shines alongside Paul McCartney and Ringo Starr, the last two surviving members of The Beatles, on a nostalgic rendition of their hit "Let It Be" that also features Peter Frampton and Mick Fleetwood. Her voice is a perfect match for The Police's "Every Breath You Take," with backing vocals provided by the band's frontman and bassist, Sting, and meshes beautifully with Elton John on his soaring ballad "Don't Let The Sun Go Down on Me."
Parton is as endearing as ever when belting out quick quips alongside Stevie Nicks on "What Has Rock And Roll Ever Done For You," a fresh take on a song Nicks originally wrote for Fleetwood Mac that the duo reworked and recorded specially for the album. It's wonderful to hear her snarl alongside Joan Jett and The Blackhearts on the band's "I Hate Myself for Loving You." And her duet with her goddaughter Miley Cyrus for "Wrecking Ball" is one of the album's best moments.
There are noticeable absences and misfires. P!nk and Brandi Carlile are solid stand-ins for Mick Jagger on The Rolling Stones' "I Can't Get No Satisfaction," while flutist and pop star Lizzo features on Led Zeppelin's "Stairway to Heaven." Parton backed up her eyebrow-raising decision to perform with Kid Rock, calling cancel culture "terrible." Rock recently faced backlash for his actions after Bud Light's partnership with trans social media influencer Dylan Mulvaney was revealed, as a video of him shooting an assault rifle at a tower of Bud Light surfaced online. His duet with Parton on "Either Or" leaves a blemish on an otherwise triumphant late-career record.
But throughout the rest of the project, Parton's original tracks (including "World on Fire," a stadium-ready stomp-stomp-clap protest anthem) and faithful renditions of classic rock favorites help her get the band back together for one last encore shine through. At age 77, Dolly Parton sounds fresh, brand new and like she's having the time of her life. And really—what's more rock and roll than that?
---
Elizabeth Braaten is a writer from Houston, Texas.