Judge Orders Lawsuit Alleging Ed Sheeran Copied Marvin Gaye's "Let's Get It On" to Trial
Photo by Phil Walter/Getty
Music
News
Ed Sheeran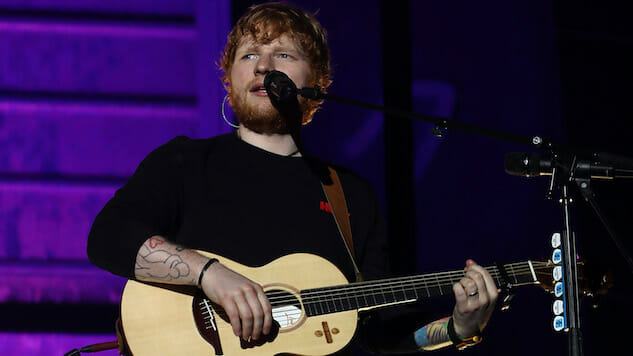 Singer-songwriter Ed Sheeran has come under fire after the estate of Ed Townsend Jr., co-writer of Marvin Gaye's "Let's Get It On," filed a copyright infringement suit against the Brit, claiming Sheeran's "Thinking Out Loud" copied the Gaye classic. Now, as of Thursday, Jan. 3, Sheeran will officially have to face the suit, according to the ruling of the district judge handling the case.
Denying any wrongdoing, Sheeran asked for dismissal of the suit, which Judge Louis Stanton has officially denied. In his opinion, the judge ruled that the similarities he found between the two songs—citing things such as harmonic progressions, melodies and aesthetic appeal, to name a few—were strong enough to warrant further examination via trial.
"Although the two compositions are not identical, an average lay observer could conclude that parts of TOL were appropriated from LGO," wrote Stanton. "Even applying the 'more discerning' analysis for works that have both protectable and unprotectable elements, the overlap of the protectable elements alone prevents a judgment of noninfringement as a matter of law."
Sheeran is no stranger to copyright infringement cases, and is in fact currently facing two other suits—one other regarding "Thinking Out Loud" and one regarding "The Rest of Our Life," which he wrote for Tim McGraw and Faith Hill.
With that, the case progresses. Check out the two tracks below and compare for yourself. You can hear Sheeran's 2013 Daytrotter Session further down.