Watch Eddie Vedder Perform with Johnny Marr, Liz Phair at Ohana Fest
Photo by Kevin Winter/Getty
Music
News
Eddie Vedder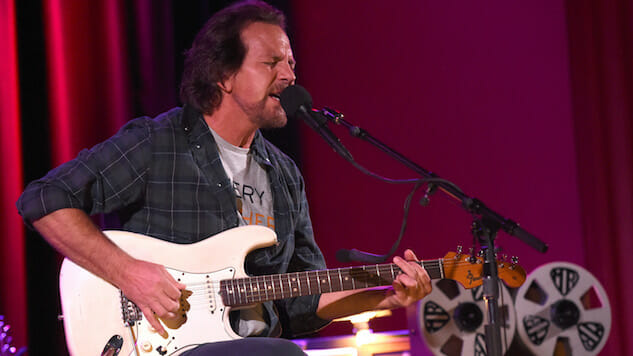 This past weekend's Ohana Fest saw pairings to go down in indie/grunge history when Pearl Jam's Eddie Vedder joined The Smiths' Johnny Marr and later, Liz Phair to perform.
The festival was held in Dana Parks, Calif., and benefitted the San Onofre Parks Foundation, which works to preserve and enhance the state's coastal parks. The beach-y festival tapped Vedder to headline and in the set he played Pearl Jam tracks, and covers of Cat Power and Bruce Springsteen.
Earlier in the day, Vedder joined Marr (also of The Pretenders and Modest Mouse) onstage to cover The Smiths' "There Is a Light That Never Goes Out." The track, taken from the band's third album The Queen is Dead, was released as a single in 1992, five years after the band split up in 1987. The performance was the epitome of cool-guy casual, with Vedder and Marr trading off vocals and the crowd singing along.
During his stripped-back headlining set, Vedder brought out singer-songwriter Phair to perform Pearl Jam's "Better Man," taken from the band's fourth album Vitalogy in 1994. Despite never seeing a commercial release as a single, the track spent eight weeks topping Billboard's Mainstream Rock Chart and was later included on the band's greatest hits album. Before the performance, Vedder noted that the track was originally written for a female vocalist and that Phair would be the first to take on that challenge.
You can check out both performances below, along with Paste archival footage from a 1994 Pearl Jam show, and revisit Paste's listings of the 10 best Smiths songs and the 50 best grunge songs while you're at it.