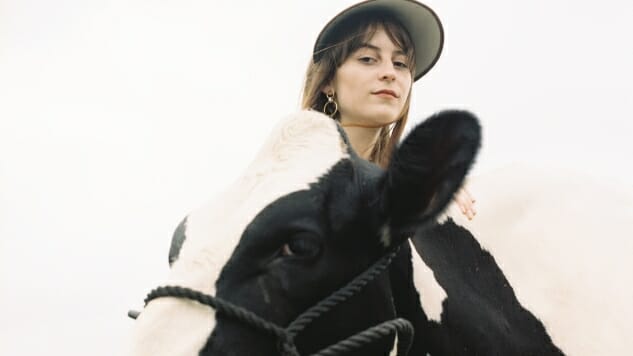 Dreamy songstress Faye Webster has teamed up with rapper Father on the next single from her forthcoming album, Atlanta Millionaires Club. In classic Webster style, the spring-appropriate song, titled "Flowers," effortlessly blends healthy doses of both Americana and hip-hop influence for a final product that can be summarized with two words: Atlanta excellence.
With only a little over a month until the May 24 release of Webster's third studio album, 2019 is looking to be a bustling year for the Atlanta native. She just wrapped up a tour alongside Stella Donnelly, and has announced her own headlining tour starting in June. No stranger to photography and visual direction herself, Webster co-directed (alongside Kevin Hayes) the blossom-speckled music video for "Flowers," also released today (April 9).
"Everything is way personal," Webster says of the songwriting on her forthcoming album. "I have to write about very personal things for me to even want to write."
Webster's sound is in and of itself highly personal. It's one that pays homage to growing up in Georgia. It's a delicate, storytelling sound that balances the inescapable trappings of folk alongside the city's richly infectiousR&B groove. Honey-sweet crooning layered over sleepy hip-hop beats makes "Flowers" no exception. It isn't just her sonic style that honors Webster's Atlanta roots, though.
"Flowers" also pays tribute to Father, along with Webster's time at Awful Records—the Atlanta rap collective that helped kickstart her career. "I learned a lot about making music with other members," Webster explains of her time at Awful. Writing "Flowers" amid her original stomping grounds provided a particular sense of refreshing comfort for the singer, who adds, "It's always a spontaneous thing to be in the same room as someone and start working on a song without overthinking. This song is one of those."
Watch the music video for "Flowers" below and check out Webster's tour dates further down. You can find out more about Atlanta Millionaires Club and revisit its lead single right here.
Faye Webster Tour Dates:
May
24 – Manchester, U.K. @ Dot to Dot Festival
25 – Bristol, U.K. @ Dot to Dot Festival
26 – Nottingham, U.K. @ Dot to Dot Festival
28 – London, U.K. @ Bermondsey Social Club
29 – London, U.K. @ Bermondsey Social Club
31 – Hilvarenbeek, Netherlands @ Best Kept Secret Festival
June
03 – Paris, France @ Le Boule Noire
16 – Manchester, Tenn. @ Bonnaroo Music and Arts Festival
18 – Minneapolis, Minn. @ 7th Street Entry
19 – Chicago, Ill. @ Schubas Tavern
21 – Toronto, Ont. @ The Drake
22 – Pittsburgh, Pa. @ Club Cafe
23 – Philadelphia, Pa. @ Johnny Brenda's
24 – Allston, Mass. @ Great Scott
26 – Brooklyn, N.Y. @ Baby's All Right
27 – Washington, D.C. @ DC9
28 – Asheville, N.C. @ The Mothlight
29 – Atlanta, Ga. @ The Earl