Mick Fleetwood Chats About Starting Fleetwood Mac: "It Was to Do With Pain"
The legendary drummer chronicles the first chapter of his band in Love That Burns.
Photo: Daniel Sullivan
Music
Features
Fleetwood Mac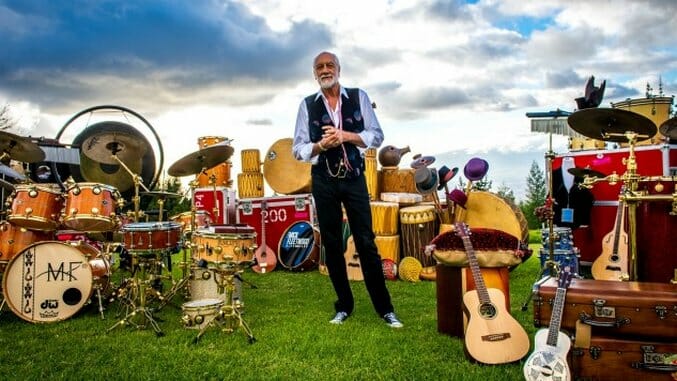 Any music fan with a working knowledge of Fleetwood Mac can probably name at least five of the classic-rock titans' hits: "Landslide," "Rhiannon," "The Chain," "Dreams," "You Make Loving Fun"—that is, the omnipresent radio fare that dominated airwaves in the late 1970s and early '80s, bolstered by Lindsey Buckingham's guitar and Stevie Nicks's and Christine McVie's vocals. But that band was really the American sequel to Fleetwood Mac. Their origins trace back to 1967 and London's mid-century blues explosion, with guitarist Peter Green at the helm and guitarist Jeremy Spencer, bassist Bob Brunning and percussionist Mick Fleetwood (the only member to survive every lineup change) at his side.
The newborn Fleetwood Mac played a well-crafted facsimile of Chicago blues, plus some faithful covers of its progenitors, mostly Elmore James and Howlin' Wolf. The group's lineup would famously turn over in the years ahead, with John McVie assuming bass duties and his then-wife, keyboardist Christine McVie, coming on board later. Once Buckingham and Nicks joined up in 1974, the California edition of Fleetwood Mac found overwhelming mainstream success with celebrated records like Rumours (1977), Tusk (1979) and Mirage (1982).
It's too much to fit in one book, so Mick Fleetwood has essentially written Chapter 1 with Love That Burns: A Chronicle of Fleetwood Mac, which came out Wednesday via Genesis Publications. It chronicles the band's blues era via essays and photos, and pays homage to Green, who left the band in 1970 and has struggled off and on with mental illness in the decades since.
Paste caught up with Fleetwood, who turned 70 in June, for a conversation about his role in the formation of Fleetwood Mac, what Green said to convince him to join, and what's kept him invested in the band after half a century.
Paste: What inspired you to discuss the genesis of the band in this way, and why did you choose to do it with the visual aspects of this book?
Mick Fleetwood: More than 20 years ago, I saw one of the lovely presentations of George Harrison's original book. George used to be my brother-in-law, so that's how I blundered into seeing the book. Beautiful, it was like a piece of art. The book itself started the original fantasy of, "One day, I'll do that," type of thing. It went off the radar, but that's how they're connected to this book. I wanted to do "Part 1," or whatever you want to call it. I was totally unaware of the fact that, apart from the original members, in August, it's 50 years [since Fleetwood Mac formed]. Totally not a part of why we were doing this. Now it's hugely relevant.
And you intend to put out a second volume, is that right?
It has to be. That's what's so cool about this. Whether that happens or it [doesn't], Genesis were super, super focused and cool with saying it, and that has real value just in it—If we never did another thing, this existed. Most people would say, "I want the whole thing."
Why do just the band's earliest days?
It's too much information [otherwise]. Fleetwood Mac's had so many incarnations and have delineated lines that are so clear, you go, "it should be done like this." That's what we did, and it's been revealing. The title itself is a song that Peter [Green] used to sing.
And why choose Love That Burns for a title?
None of this would've happened without Peter. At all.
When the band took off commercially in the mid-'70s, did it feel strange that somebody who was your reason for being in Fleetwood Mac was no longer involved?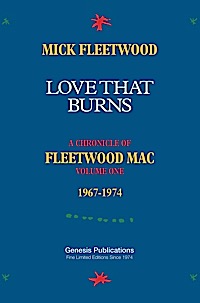 Someone else framed the question in a way that was very similar, but in truth, I've never been asked that before. You have to understand that when we started the band, very shortly after it, unbelievably quickly, the first album we made was a No. 1 album. The funny blues album we made, all the Elmore James stuff, that was Peter. Then he started writing even more stuff.
Peter's experience was from nothing, although he had a great reputation as a guitar player already with John Mayall. A little earlier on, we were totally unknown. I worked with Peter in a small instrumental band. Then he joined John Mayall, took over from Eric [Clapton], and he became "the dude," the gunslinger. He saw and experienced huge success from that early band, so it's all relative. Not on the level of what you're talking about, I get, but it is all relative. In our world and his world, we went from nothing to the biggest band in our world, which was Europe. The band was huge, and there was some joke—which I still think is a joke, but it actually was true—that there was a period where we were outselling The Beatles—which you go, "Well, who cares?" It wasn't true—well, it sort of actually is true, but probably for about five days or something. Whatever it was, Peter wasn't devoid of his own realization of huge success. The reality is that he didn't want that, and it became his nightmare, so he certainly wouldn't have been comfortable with the journey that we were later to take. With the dynamic of his personality, and what happened emotionally to him, which is truly another book. It's touched on, but Love That Burns, the title, is about that.
You collected the essays in the book from different people in your orbit at that time, as well as from Peter. What was the process like when you reached out to him?
We spoke on the phone over a couple of hours, and we taped it all. It was very hard to listen to it, really. I was not dreading it, but I was going, "Oh my God, he's like my mentor." It's like an ex-lover; it's sort of more major [than other interviews].
The 10 Best Books About Fleetwood Mac
So I get on the phone, and it was powerful. Some of his memories were unbelievably accurate, and at some I was going, "Wow, I never thought that." He was almost forced to form a band, he didn't really want to do it. He probably had agents going, "You gotta do this, you gotta do that!" So he asked me to do it with him, and I don't remember even being asked, it just sort of happened. But in this phone conversation, when I asked him [why he decided to start a band], I thought it would be more of a musical thing. I don't know what I was thinking. I wanted to know, "What was it that you reckoned that we put this band together?" And it had nothing to do with music at all. He said, "You were so sad and unhappy." I had just broken up with my girlfriend, who he knew, Jenny [Boyd], who I'd later marry. I burst into tears after the phone call. That's Peter. He was concerned about that. The irony and the joke would be, if I hadn't have been sad and fucked up and unhappy, Fleetwood Mac would never have happened. [Laughs.] And that struck me as unbelievable. There wouldn't have been a Fleetwood Mac if Jenny hadn't [broken up with me]. So I phoned Jenny up, and I said, "Jenny, good job you left me, or none of this would've happened! Thank you!" It's probably the truth. How about that? I found out all these years later [it] had nothing to do with, "Well you're a pretty good drummer, and you're my mate." It was to do with pain.
The best art often comes out of the worst pain.
It's certainly the inception of what we were doing. It was a bunch of guys led, certainly at that point, majorly by Peter. I was the last in line to be a real blues player. John was so conversant, having played with John Mayall, and his whole life was playing blues. Peter, no wonder, he was wired to be blue. And later on, it really manifested in a way that wasn't great for him, and there's nothing more we can do about it.
So many members rotated in and out of Fleetwood Mac through the years. What was it that kept you there year after year?
Fear of losing a job! [Laughs.] No, it was my nature I think, and also what I had to do. It [would've been] a pretty lonely entity; you can't exactly drum on your own, you know. By nature of the rhythm section, me and John go like, "Shit, we're still here!" After you put the humor into it and say, "Well, you know, we needed someone to play with," there's sort of some truth to that: We don't do what we do without other people. I don't sit in a room and sing and write songs, that's just the way it turned out. But as a team player, I'm "it." I was wired to keep that around me, because I love it, need it, want it. It became a part of my expression.
The 20 Best Fleetwood Mac Songs
When Peter left, we were all frightened. Really, it was a form of fear. But John, Jeremy, Danny and myself made Kiln House, that funny little album. Christine [McVie], who was now married to John, she watched us all and suddenly, after we made the album, we were like, "Would you like to join?" She didn't even play on the album—I think she played one bit of piano, didn't sing—but it was about holding together. My version of that was: When you're a little fearful that the structure is falling apart, it's human nature. You'll even make friends with some of your enemies quickly, if the overview is saying, "You're in trouble, you better start rowing the boat, or we're all going to die."
Did you ever feel like you were keeping at it for someone else, or was it always for you?
No, I think it was just my instinct not to give up. I do think it was a combination of how I was wired anyhow, and being a drummer and part of something Peter predetermined. He gave the name of the band to the rhythm section. All these things came out, and I found out a lot later, in an interview, I never knew, he said, "Well, I always thought that I would leave, but I wanted Mick and John to have the band." This is him. It was almost like he knew what was going to happen.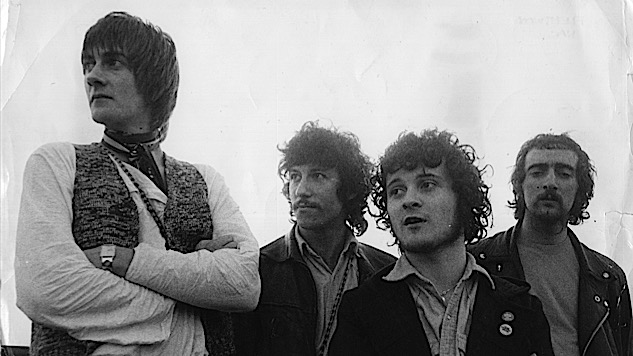 Fleetwood Mac in 1968: Mick Fleetwood, Peter Green, Jeremy Spencer and John McVie.
Do you think that you'll keep in contact with Peter more going forward?
No, I don't think Peter is interested in that. I know when I go to England—I saw him on the last [Fleetwood Mac] tour, and he was happy enough to come. He came to two shows which, for him, was a lot. You can tell he has no interest. Lindsey [Buckingham], who has total respect for who Peter is, doesn't know Peter, but knows of him through me and through John, had more than a couple at certain shows in London. Lindsey said, "Did you see Peter?" I said, "Yeah, I said hello to him." I [used to] be like, "God, I just want Peter to say that he really enjoyed it, something." We had played a great show, and Lindsey just said, in good humor, "I don't know whether [Peter] liked it or not, he just talked about something that had nothing to do with anything, really." But that's Peter. He's sort of disconnected from ego. That part was only really revisited after that phone call. I was realizing that Peter truly is not coming back from his particular change of life. It's selfish, but I don't have what I used to have, and I was re-reminded of all the withdrawals that we had as a band. The good graces of that was that it led to an ability to keep going.
I think the tragedy of losing [Peter] enabled me and my connection to this band. It's not him we're [following] with that fucking flag; who's picking the flag up again and going, "C'mon, we can do this?" It's like that Monty Python skit where you go, "You ain't got no legs! You've got nothing! C'mon, c'mon, get me!" And in the end you say, "I got no teeth, but I'll gum you!" I think that I suffered from a bit of that. But in the end, who cares really? We are where we are. A lot of those sensibilities come from these days and all the changes.